Description




We're building a community of researchers and developers to foster learning and innovation - find out more online:

▶ Website | Twitter | YouTube | Telegram
For group discounts or student discounts please email hello@binarydistrict.com

On September 10th, leading academics, developers, lawyers and government figures will come together for a day-long conference, providing a cross-disciplinary investigation of the ethical challenges around AI, what needs to be done and how it can be achieved.
The chorus of cautionary voices around unchecked AI is growing louder, with activists, researchers and journalists voicing concerns over biased, deceptive and malicious applications. These are not the ravings of people who have seen too many Terminator films, wildly predicting the apocalypse in 100 years. Bad AI is a problem today. Respected academics such as Cathy O'Neil have observed how existing human bias in police forces' data sets is being intensified as a result of machine learning. We are witnessing the rise of AI forgeries and artificially-created fake content, making it harder to know what is real and what is not real online. Automated weaponry is being developed that could cause destruction on a scale never before seen.
You'll join more than 100 of the foremost minds, with speakers exploring topics such as the need for transparency in machine learning, the potential for social bias in AI, and everything we must do to balance regulation with innovation and ensure we safely harness the opportunities that AI is creating — whether that be in transportation, farming, medicine, finance or national security.
The companies building this technology are responding to the concerns. Everyone from Google to the startups are introducing ethical frameworks designed to ensure their systems create positive outcomes. But do they go far enough? Will commercial concerns trump those of society, leading to what Brad Smith, Microsoft's president and chief legal officer, described as "a commercial race to the bottom"? Is regulation the answer? We look forward to finding out.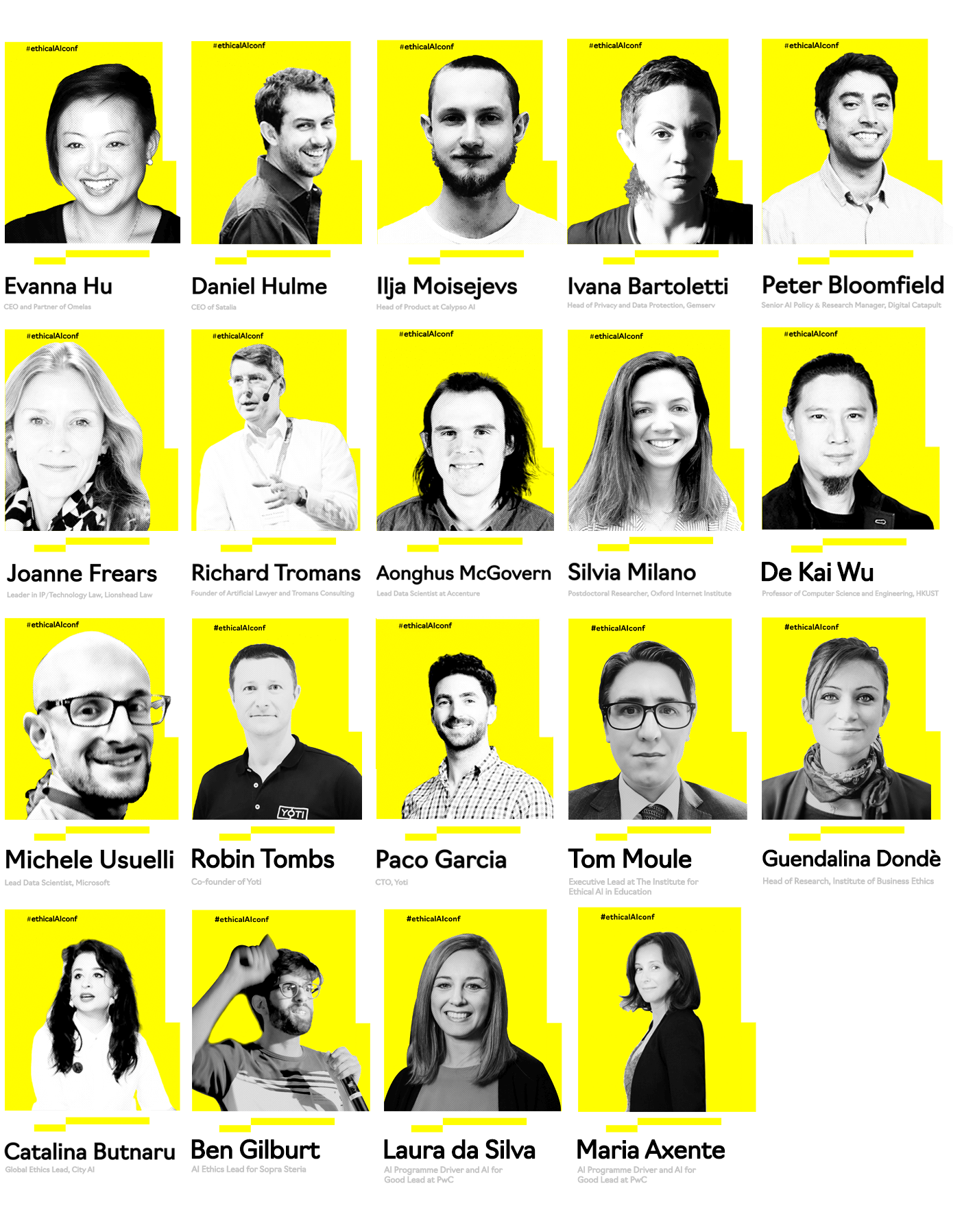 ▶ Evanna Hu, CEO and Partner of Omelas and non-resident Senior Fellow at the Atlantic Council. Omelas is a a cutting edge technology company that exposes imminent risks among digital data. By utilizing machine learning/ artificial intelligence and data analytics, Omelas focuses on physical threats and identifies online campaigns of adversarial state and non-state actors. Prior to Omelas, she successfully founded two technology ventures, one based in Nairobi, Kenya and another in Amman, Jordan. To date, she has briefed 6 national heads of intelligence and has advised 12 Cabinet/Ministerial members on tech and security. At the Atlantic Council, she specialises in acquisition pathways for emerging technologies for NATO and member countries and the ethics of emerging technologies. She has won numerous high-level accolades and recognition for her work.
▶ Daniel Hulme, CEO of Satalia. Satalia a London-based company that provides Artificial Intelligence solutions to solve industries' hardest problems. Daniel is also the Director of UCL's Business Analytics MSc, applying Artificial Intelligence to solve business, governmental and social problems.
▶ Ilja Moisejevs, Founding Team and Head of Product at Calypso AI. Calypso is on a mission to create trust in AI systems, especially when AI is used in mission-critical capacity (military, cybersecurity, autonomy). Calypso spun out from the Department of Defense and is funded by some of the best known VCs in SV, including Lightspeed and 8VC. Before Calypso Ilja spent years deploying AI in critical capacity to fight fraud and money laundering in the financial sector, overseeing $10bn+ of transactions/year. Graduate of Merrill Lynch's Investment Banking class and proud Fellow at the Institute for Ethical ML & AI.
▶ Ivana Bartoletti, Head of Privacy and Data Ethics at Gemserv. Ivana helps businesses with their privacy by design programmes, especially in relation to Artificial Intelligence (AI) and blockchain technology. In May 2018, Ivana launched the Women Leading in AI network, an international lobby group of women advocating for responsible AI. The network's 2018 report garnered mass interest from tech leaders, international institutions and the media. A regular contributor to media platforms, Ivana comments on privacy, data ethics, and innovation for international programmes and publications, including the Victoria Derbyshire programme, BBC, the Telegraph and the Guardian.
▶ Peter Bloomfield, Senior AI/Machine learning Policy & Research Manager at Digital Catapult. Peter works with startups to provide them with the resources and expertise needed to scale their machine learning and commercial capabilities. He is also working on AI public policy, government strategy and mapping the UK's evolving AI ecosystem. Before working at the Digital Catapult, Peter was a Neuroscientist investigating problems including how different cell types integrate to circuits when learning new skills, brain changes associated with schizophrenia and novel ways to treat multiple sclerosis. He has worked as a scientific consultant on projects developing human-computer interfaces for immersive environments.
▶ Joanne Frears, Leader in IP/Technology Law at Lionshead Law Ltd. Joanne is a solicitor whose legal career has been all about technology, and she fills her time helping clients to protect IPRs across a range of outputs. Joanne's current focus is on AI and Machine Learning, and on Augmented Reality and Blockchain, but Joanne describes herself as a geeky butterfly who is easily distracted by interesting or innovative tech.
▶ Richard Tromans, Founder of Artificial Lawyer and Tromans Consulting. Richard advises lawyers on strategy and innovation, including the adoption of legal AI and other automation technology. He has spent 20 years working in the legal sector focused on the UK and global legal markets. Richard is also the founder of the global legal AI and new technology site, Artificial Lawyer.
▶ Aonghus McGovern, Lead Data Scientist at Accenture. Aonghus' PhD focussed on structured representations of unstructured content for the purposes of personalisation. His work at Accenture focuses on leveraging advanced analytics and AI to solve challenges faced by Accenture's internal departments. Lately, his work has begun to focus on principles of Responsible AI such as algorithmic fairness.
▶ Silvia Milano, Postdoctoral Researcher at the Digital Ethics Lab, in the Oxford Internet Institute, University of Oxford. Her work explores the ethical impacts of artificial intelligence and machine learning, particularly in areas such as personalisation and recommendation systems. Prior to joining the DELab, Silvia earned a PhD in Philosophy from the London School of Economics and Political Science in 2018.
▶ De Kai Wu, Professor of Computer Science and Engineering, HKUST. Cross-disciplinary work relates language, music, artificial intelligence, cognition, evolution, and culture. 2011, named Founding ACL Fellow, Association for Computational Linguistics, for pioneering contributions to machine learning of the relationships between different languages. Developed foundations of modern statistical machine translation technology, and built the world's first Web translator.
▶ Michele Usuelli, Leading Data Scientist at Microsoft. Leveraging his data scientist consultant background, Michele has helped in defining the role of delivery data scientist, working in the worldwide CTO office as a lead data scientist. As a data science architect, he designed and delivered a predictive maintenance engagement with Centrica, the largest data science project in MCS EMEA.
▶ Robin Tombs, co-founder of Yoti, a groundbreaking digital identity system which is free to use for individuals and provides secure verification based on passports and other trusted identity documents. Robin studied at Bristol University and worked at PwC to hone his financial accounting and business skills between 1993-97, before working alongside Noel Hayden in IDM. IDM was sold to Gameplay in 1999 and in 2001 Robin co-founded Gamesys alongside Andrew Dixon and Noel Hayden. Robin invests in start-ups and is a trustee of Future First and Zing, a charity which supports charities helping young people to realise their potential.
▶ Paco Garcia, CTO at Yoti. Paco has a background in the space industry and worked at the European Space Agency and Airbus in a number of high profile missions including the Galileo navigation system where he was involved in the classified secure testing of the constellation of satellites and was technical lead for the assembly, integration and test of the fifth satellite payload. He's also been involved in the cryptography and security aspects of telecommunications military satellites. Paco loves challenging projects and making them a reality. He's both a developer and a facilitator making sure that projects progress in an innovative but also practical way. He enjoys working on secure and reliable systems with a talented group of people. He strongly believes that the individual should always be in control of his personal information and rejects the idea of trading off privacy for free services or security. In his view, privacy is a fundamental right that shouldn't be subject to exploitation.
▶ Tom Moule, Executive Lead at The Institute for Ethical AI in Education. Tom started his career as a teacher, completing the Teach First Programme and teaching maths and science in secondary schools in West Yorkshire before teaching in China. Always passionate about addressing underlying problems in the education system, he became particularly interested in the applications of AI and advanced technologies in education whilst working for CENTURY Tech- the social impact company that provides a pioneering artificially intelligent learning platform to schools and colleges. Tom is currently leading the operations of the Institute as it works towards realising its vision of ethical AI in education.

▶ Guendalina Dondè, Head of Research, Institute of Business Ethics. Guen is Head of Research at the Institute of Business Ethics (IBE). She writes and researches on a range of business ethics topics at the IBE. Her most recent publications include the IBE Ethics at Work: survey of employees report, which is aimed at assessing employees' perception of ethics in the workplace in 12 countries worldwide. As part of her role at the IBE, she provides advice to organisations and reviews corporate codes of ethics and policies, as well as other aspects of organisations' ethics programmes, benchmarking them against other organisations. She collaborated in the development and delivery of corporate ethics training to different audiences. Before joining the IBE, she collaborated with the inter-university centre for business ethics and corporate responsibility EconomEtica in developing the code of ethics for the Italian Association of Management Consultants and worked for CSR Europe, a European CSR Business Network based in Brussels. She holds a Master's degree in Business Ethics and CSR from the University of Trento in Italy.

▶ Catalina Butnaru is a City AI and Women in AI Ambassador in London, where she works with the local community of AI practitioners, researchers, academics, and professionals on democratizing access to accurate information about the state of AI and its applications. She was part of the IEEE's Ethics in Action working groups drafting ethical standards for AI and Autonomous systems, and developing measures of transparency, wellbeing, and privacy in AI. She is developing an agile ethics design process to help teams expand their responsibility when developing AI systems that will positively impact individuals and society as a whole.
▶ Ben Gilburt, AI Ethics Lead for Sopra Steria. Sopra Steria are involved in the technology transformation of some of the most critical services for our lives, including government and NHS services. Ben works to ensure that digital technologies are applied in a way which is beneficial to the lives of people and society, rather than purely striving for faster, more profitable services. Ben also works on the IEEE P7003 'Algorithm Bias' standard, leading on cultural aspects.
▶ Laura da Silva, Customer Facing Data Scientist at DataRobot, Founder & co-organiser of IWDS, Microsoft MVP in AI. Laura is an experienced Data Scientist that believes in Community and Inclusion. She is the founder and co-organiser of the Meetup group Inspiring Women in Data Science (IWDS) promoting and inspiring women to engage in the world of Data Science. Given her strong commitment and support, she recently received the Microsoft MVP award in AI for the second year in a row. Laura is currently working in DataRobot helping companies succeed in AI adoption by using Auto ML. She's always willing to grab a coffee and share experiences around Data Science, Entrepreneurship and Diversity. In her spare time, Laura will be practicing all kind of sports, or just enjoying the sun in Spain where she's originally from.
Moderators:

▶ Jemima Kelly, FT. Jemima writes for FT Alphaville, where she documents the financial circus, covering about a range of topics, from blockchain and technology to secretive billionaires and Russian amber gangsters. She was previously a reporter at Reuters, where she mainly wrote about the foreign exchange market, cryptocurrencies and fintech. She has also written for The Economist.
▶ Ben Woods, technology, media and telecoms correspondent for The Sunday Times. Ben Woods is the technology, media and telecoms correspondent for The Sunday Times. He reports on areas such as the newspaper industry, digital connectivity, artificial intelligence and the business of sport.
▶ Zoe Kleinman, BBC senior reporter & presenter - tech, business & global news. Zoe Kleinman a leading technology journalist and presenter with a real passion for all things tech and over ten years of broadcasting experience. From cybersecurity and hacking to artificial intelligence and driverless cars, she brings tech stories to a mainstream global audience of millions across international radio, TV and online outlets including Radio 4's Today programme and BBC World News.

▶ 08:30 | Doors open
▶ 08:50-11:00 | Introductions, AI and regulation
- The importance, and current state, of Ethical AI
- Where the government stands
- Panel: AI and the law
▶ 11:00-11.30 | Morning break (snacks, coffee, tea and soft drinks)
▶ 11:30-13:30 | Building AI: Developer perspectives (presentations and panel)
- Three types of biases in algorithms
- Do you trust your AI? 3 reasons not to
- Panel: Bias in data sets

▶ 13:30-14:30 | Lunch
▶ 14:30-16:30 | Social applications of AI (presentations and panel)
- Social challenges of AI
- Ethical challenges posed by recommender systems
- Panel: AI and gender bias

▶ 16:30-17:00 | Afternoon break
▶ 17:00-19:30 | AI in business (presentations and panel)
- Case study - a business at the cutting edge of AI
- How businesses are using AI
- Creating an ethical AI framework
- Panel: Applications of AI for social good
▶ 19:30-21:00 | Networking and drink