EU Digital Single Market - Industry strategy and roadmap for the future
Sales Have Ended
Registrations are closed
Thank you for registering for the event. We are looking forward to meeting you in Amsterdam!
Sales Have Ended
Registrations are closed
Thank you for registering for the event. We are looking forward to meeting you in Amsterdam!
Description
Industry strategy for building trust in the European Digital Single Market
How Codes of Conduct and a common framework for cyber security certification create the competitive advantage for the European market
Cornerstones of EC regulations for the Digital Single Market include the much discussed GDPR. Lesser known yet equally important are the upcoming regulations regarding the Free Flow of non-personal Data (FFoD in short) and the Cyber Security Regulation. Together, these three regulations address key concerns of the market and its consumers:
How digital personal data will be treated, processed, shared, protected (GDPR)

The state of security of cloud services (Cyber Security Regulation)

Vendor lock-in in cloud computing services (FFoD)
This event provides direct insights into the state of the art of the EU's regulatory process, and industry's collaborative activities on a common certification framework and COdes of Conducts enabling anyone to switch anytime between cloud providers.

This event is brought to you by the EU Digital Single Market stakeholder working groups on cyber security certification (CSP CERT), and switching and porting between cloud service providers (SWIPO). The event is kindly hosted by Microsoft Europe.
The event is free to attent, but prior registration is required.
---
SPEAKER LINEUP:
F.W. (Focco) Vijselaar - Director of General Political Economy, Ministry of Economic Affairs and Climate Policy
Mr. F.W. (Focco) Vijselaar MSc is Director of General Political Economy/Chief Economist in the Dutch Ministry of Economic Affairs & Climate Policy (since August 2016). Before taking up this position, Mr. Vijselaar was Director International Financial Relations in the Ministry of Finance and Deputy Director Consumers & Market in the Ministry of Health, Wellbeing & Sport. Mr. Vijselaar studied Economics at University of Groningen.
Ir Tony van der Togt - CISO Ministry internal affairs
Tony van der Togti is a graduated MBA in General Management from the Rotterdam School of Management (Erasmus University). Since 2006 he is working for the Dutch Government in innovation and security related roles. He is currently one of the security advisors to the 'CIO Rijk'.
Irene Vettewinkel - Vice chair NOREA
Irene Vettewinkel is a post-graduate in IT Auditing at the VU Amsterdam. Since 2011 Irene is a member of the Management Team of Group Audit at ABN AMRO and as Audit Director she is responsible for the IT and Operational audit activities in the area of Innovation & Technology. Furthermore she is participating in the workgroup IT Auditing of the Dutch Banking Association and is Vice President of NOREA, the professional association for IT-auditors in the Netherlands.
Borja Larrumbide Martinez - Head of Cybersecurity Institutional Affairs, BBVA
Borja Larrumbide Martinez is a graduate of the Executive MBA programme of the University of Barcelona. Next to being co-chair of the DSM CSP CERT working group, he leads and participates in different international stakeholder groups and associations dealing with Cybersecurity, promoting solutions to global challenges that will promote trust and safety in the digital market.
Babak Jahromi - Tech-Policy Solutions Architect, Microsoft
With 30 years of industry experience in software development and technology policy management, Babak helps develop consensus solutions to global technology policy challenges which can be persisted as international standards, codes of conduct, open source solutions, or other similar global venues.
Maurice van der Woude - CEO BPDelivery
Maurice van der Woude is CEO of BPdelivery B.V. and is as co-chair representing users in the SWIPO SaaS sub working group. He is specialist on Cloud adoptions and acts as business process innovator within companies, helping them to digitally transform their business with high level advice and tooling. Mr. van der Woude has been involved in the Digital agenda before and has been Working group leader for the C-Sig DSM Cloud industry group in 2012.
---
Agenda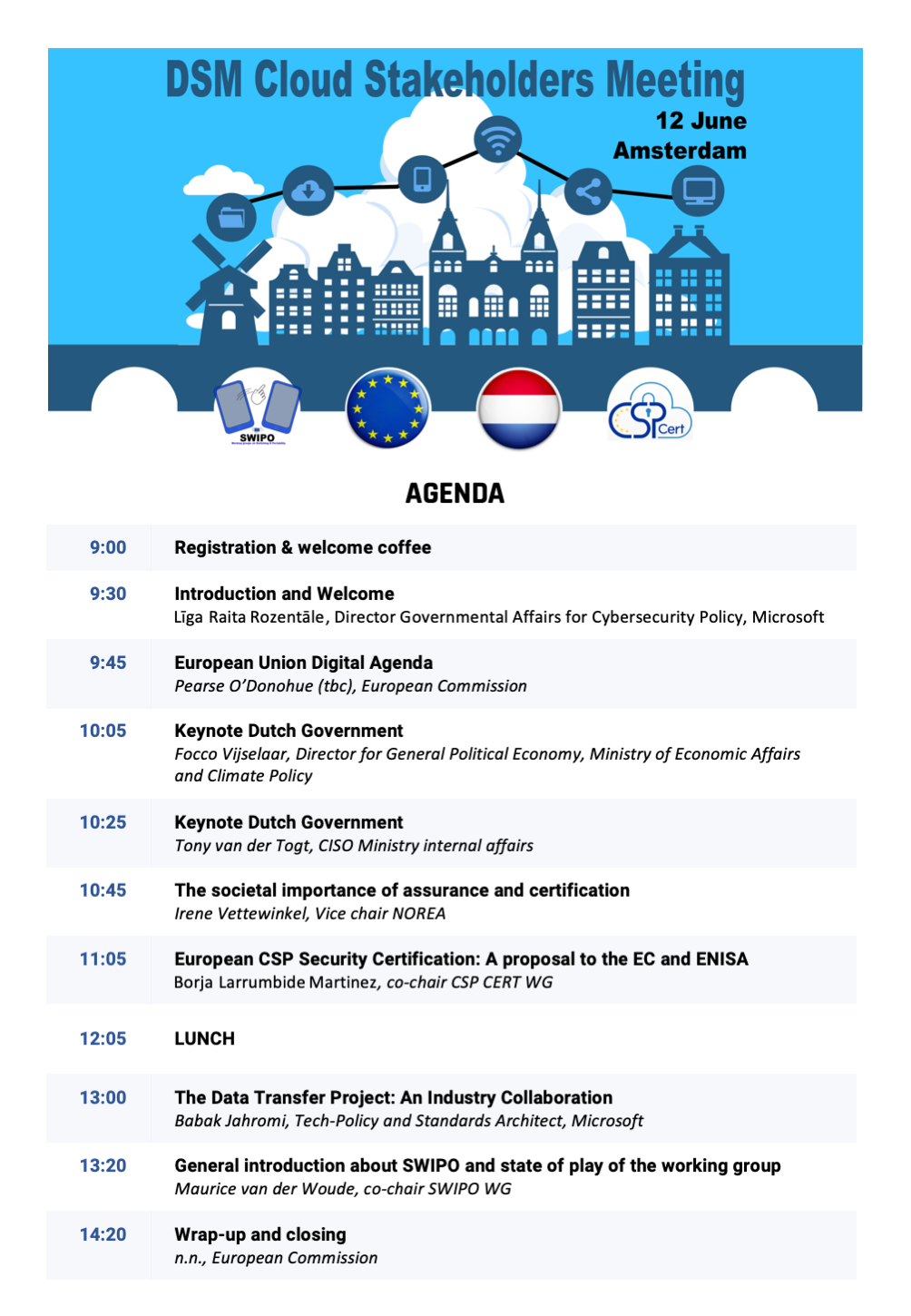 Organiser of EU Digital Single Market - Industry strategy and roadmap for the future