EU Films of the 70's: Alice in den Städten

Tuesday, November 5, 2019 at 8:30 PM (GMT)
Event Details
 As the UK is dealing with Brexit, Sands Films Cinema Club proposes a series of European films released 40 years ago when the UK was joining the EU 
ALICE IN DEN STADTEN (1974)
by Wim Wenders
110 mins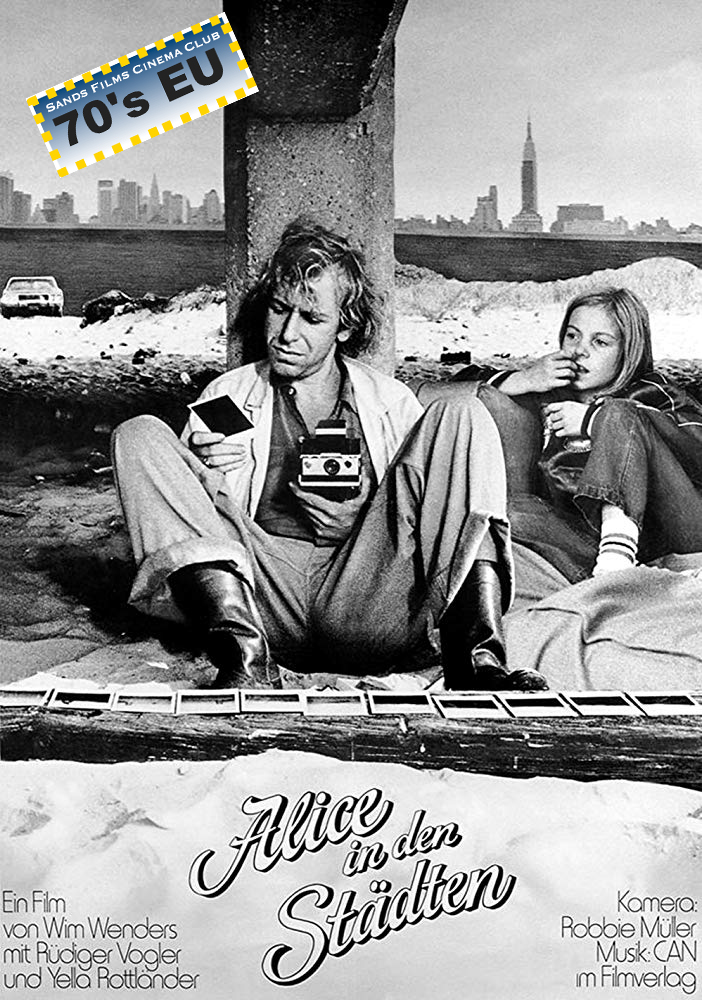 A fine and perhaps unique example of that trickiest of genres, the road movie, and the sort of film that really does deserve the cliched response: they don't make them like that any more, because they really don't. This is Wim Wenders' black-and-white 1974 film, whose cerebral, confident strangeness looks even more distinctive than ever.
Rüdiger Vogler plays Philip, a writer and journalist driving across the United States, having evidently been commissioned to write a long piece of reportage, summoning up the soul of America from the standpoint of a sharp-eyed, sceptical European. But as Philip drifts around from motel to motel - and Wenders' movie really does look as if it has been composed on the spot - he is blocked. Something in America has defeated him as a writer and all he can do is take numb, alienated photos with a prototype Polaroid camera. It is only on deciding to return to Europe that he finds he can write again, and he intends to return in the company of a young woman and her small daughter Alice who he's simply picked up at the airport.
But enigmatically, the woman disappears just before departure and leaves Philip in charge of Alice on the plane, with a plea that the pair should meet up with her in Amsterdam. In 2007, when the danger to children is so paramount in culture, all this seems utterly astonishing, and yet Wenders' film and his jaded protagonist simply go with the flow - and the flow is in a historically regressive direction, from America back to Old Europe.
Philip and Alice drift through Germany on an unlikely quest to find Alice's grandmother. Philip doesn't obviously get into trouble; neither one learns life lessons in the modern Hollywood style; they don't appear to learn much about each other or themselves, and they don't go on much of a "journey" in the reality-TV-contestant style. All that happens is that the psychological weather progressively lightens; Philips finds himself writing again and the film concludes with a thrilling scene of elation: a feeling of exhilaration and freedom on board a train. It is an intriguing movie that lives in the mind for hours after the lights have come up.
- Peter Bradshaw taken from theguardian.com
---
 Please do not eat in the cinema and please switch off your phone.
_
Please DO NOT book a seat if you are not sure of your availability. Seats are limited and each booking reduces the number of seats available to others. If you cannot attend, please cancel your reservation as soon as possible by going to "MY TICKETS" on the email from Eventbrite; this will release your seat to someone else.

If the film is SOLD OUT, there will be an automated waiting list, which will contact you if/when a seat becomes available.
_
Upon leaving the cinema, please make a donation towards our running costs and support your club. 
Thank you!
Save This Event
When & Where

Sands Films
82 Saint Marychurch Street
SE16 4HZ London
United Kingdom


Tuesday, November 5, 2019 at 8:30 PM (GMT)
Add to my calendar
Organizer
Sands Films Studio is a film production facility servicing films and TV since 1975. The Studio is also home to The Rotherhithe Picture Research Library which is an educational charity providing a free visual reference library to designers and students. Since 2005 Sands Films Cinema Club has provided regular programmes of film screenings and live events with a non-commercial agenda of culture, education and politics. Most screenings are free and supported by donations, subscribers and shareholders. Visit Sands Films website to discover ways of getting involved with Sands Films.