EU Films of the 70's: Angst Essen Seele Auf

Tuesday, October 8, 2019 at 8:30 PM (BST)
Event Details
 As the UK is dealing with Brexit, Sands Films Cinema Club proposes a series of European films released 40 years ago when the UK was joining the EU

ANGST ESSEN SEELE AUF (1974)
by Rainer Werner Fassbinder
94 mins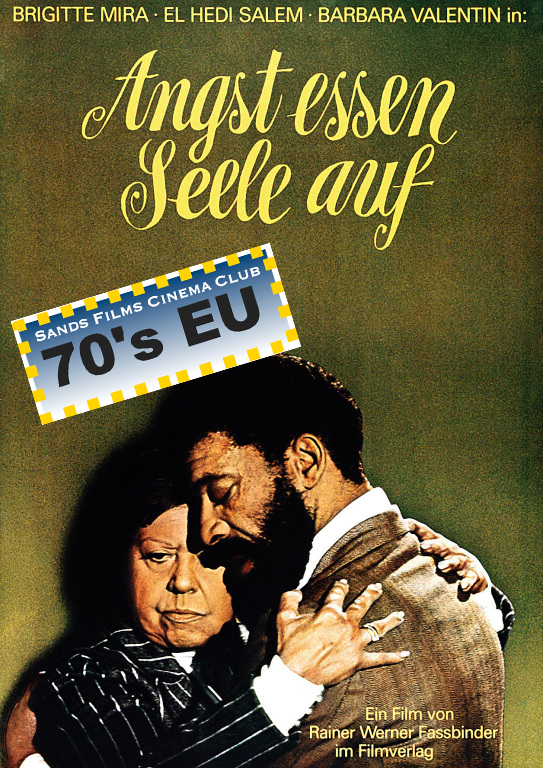 "Ali, who lives in a hostile world, drinks to dull his sense of estrangement from it -- ''Think much, cry much,'' he explains. And so, Fassbinder opens the film in Ali's favorite bar. It's raining outside, and when Emmi ducks in for shelter, a contemptuous barfly dares Ali to dance with her. Ali is handsome, and in his 40's. Emmi is plump and plain and much older -- what follows should be cruel. Instead, something miraculous happens: the dancers recognize a loneliness in each other. As society closes ranks against them, that intimacy grows; like the love in Sirk's film, and Haynes's, their love is worth fighting for.
But just as you begin to think the couple is doomed, the needs of other people begin to outweigh their prejudice: Emmi's children need a babysitter for their own children, her neighbors need a man to move boxes in the basement and the shopkeeper needs customers to compete with the supermarket down the street. Just as quickly as they've been shunned, Emmi and Ali find themselves welcomed. And here, the director gets very close to the truth about people: when Emmi and Ali win their struggle with the world, they begin hurting each other. Emmi begins treating Ali like an exotic animal. Ali turns to another woman. Only in the last scenes does Emmi offer a forgiveness it would be cruel and self-defeating to withhold, and suggest the simplest of solutions: ''When we're together, we must be nice to one another,'' she says.
Somehow, you doubt that she and Ali are capable of it -- they are too much like themselves. ''That's what he makes films about, Douglas Sirk,'' Fassbinder wrote in 1971. ''Human beings can't be lone, but they can't be together either.""
- Alex Abramovich taken from nytimes.com
---
_
 Please do not eat in the cinema and please switch off your phone.
_
Please DO NOT book a seat if you are not sure of your availability. Seats are limited and each booking reduces the number of seats available to others. If you cannot attend, please cancel your reservation as soon as possible by going to "MY TICKETS" on the email from Eventbrite; this will release your seat to someone else.

If the film is SOLD OUT, there will be an automated waiting list, which will contact you if/when a seat becomes available.
_
Upon leaving the cinema, please make a donation towards our running costs and support your club. 
Thank you!
When & Where

Sands Films
82 Saint Marychurch Street
SE16 4HZ London
United Kingdom


Tuesday, October 8, 2019 at 8:30 PM (BST)
Add to my calendar
Organizer
Sands Films Studio is a film production facility servicing films and TV since 1975. The Studio is also home to The Rotherhithe Picture Research Library which is an educational charity providing a free visual reference library to designers and students. Since 2005 Sands Films Cinema Club has provided regular programmes of film screenings and live events with a non-commercial agenda of culture, education and politics. Most screenings are free and supported by donations, subscribers and shareholders. Visit Sands Films website to discover ways of getting involved with Sands Films.