EU Films of the 70's: Cria Cuervos

Tuesday, October 22, 2019 at 8:30 PM (BST)
Event Details
 As the UK is dealing with Brexit, Sands Films Cinema Club proposes a series of European films released 40 years ago when the UK was joining the EU. 
Cria Cuervos
by Carlos Saura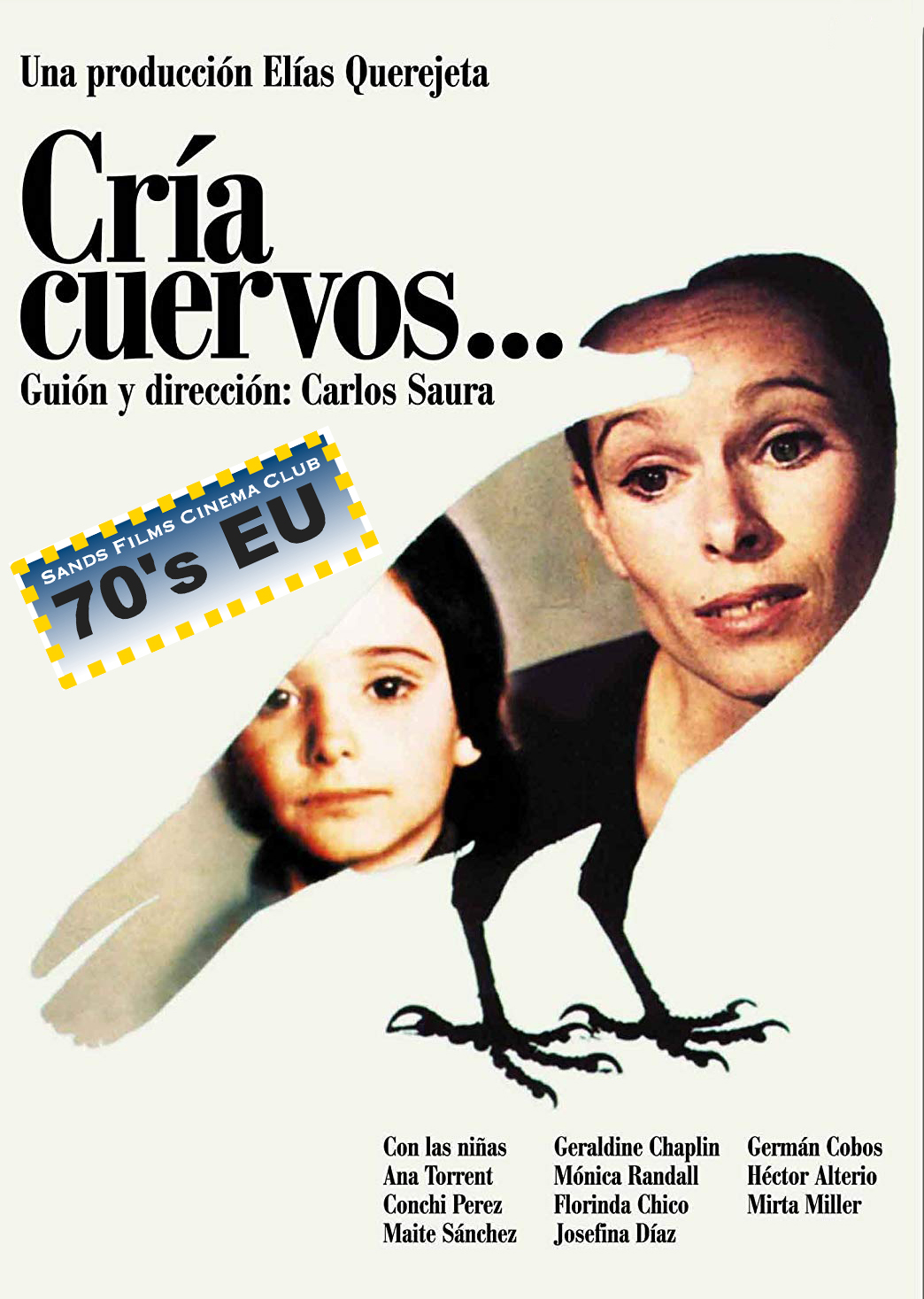 Raise ravens, and they will pluck your eyes out. — Spanish proverb
     Carlos Saura's Raise Ravens—nonsensically in the U.S., Cria!—is, like his Garden of Delights (1970), a political allegory about Spain under Franco, who died around the time of production. It is also a sensitive evocation of a nine-year-old's childhood, but this childhood, described by the adult Ana as "sad" and "indeterminate," itself suggests the imprint of fascist Spain.
     The film opens with black-and-white photographs of Ana and family. Color photos follow—also snapshots of the past, but, in juxtaposition with those preceding it, also suggesting the present. Finally, the appearance of both color and black-and-white photos within the same shot, intermingling time frames, suggests memory. Ana's mother, Maria, is dead; Ana's father, in bed with his mistress as Ana listens outside his door, is about to be, from a heart attack.
     Ana's father was a military officer—one of Franco's soldiers. The night of his death the camera moves through the darkness of his house; emblematic of Francoism, he is the darkness in the house. Maria might have been a concert pianist, but her husband's rigid authority denied her this. He had translated the home into Francoism.
     Geraldine Chaplin plays (beautifully) two roles: Maria, as the adult Ana recalls or reimagines her; the adult Ana. The film is surrealistic, so there is really no way to determine whether or when Ana the child is imagining herself as a grown-up or remembering her mother, or whether or when the adult is Maria or Ana, or a conflation of both. In the same frames, both child and adult appear; but who is comforting whom? Daughter bereft of mother reflects mother bereft of daughter, and fascism has tightened the tangle of experiences and memories entrapping both Anas.
- Dennis Grunes taken from https://grunes.wordpress.com
---
 Please do not eat in the cinema and please switch off your phone.
_
Please DO NOT book a seat if you are not sure of your availability. Seats are limited and each booking reduces the number of seats available to others. If you cannot attend, please cancel your reservation as soon as possible by going to "MY TICKETS" on the email from Eventbrite; this will release your seat to someone else.

If the film is SOLD OUT, there will be an automated waiting list, which will contact you if/when a seat becomes available.
_
Upon leaving the cinema, please make a donation towards our running costs and support your club. 
Thank you!
Save This Event
When & Where

Sands Films
82 Saint Marychurch Street
SE16 4HZ London
United Kingdom


Tuesday, October 22, 2019 at 8:30 PM (BST)
Add to my calendar
Organizer
Sands Films Studio is a film production facility servicing films and TV since 1975. The Studio is also home to The Rotherhithe Picture Research Library which is an educational charity providing a free visual reference library to designers and students. Since 2005 Sands Films Cinema Club has provided regular programmes of film screenings and live events with a non-commercial agenda of culture, education and politics. Most screenings are free and supported by donations, subscribers and shareholders. Visit Sands Films website to discover ways of getting involved with Sands Films.