EU Films of the 70's: Il Caso Mattei

Tuesday, October 15, 2019 at 8:30 PM (BST)
Event Details
 As the UK is dealing with Brexit, Sands Films Cinema Club proposes a series of European films released 40 years ago when the UK was joining the EU

IL CASO MATTEI (1972)
by Francesco Rosi
118 mins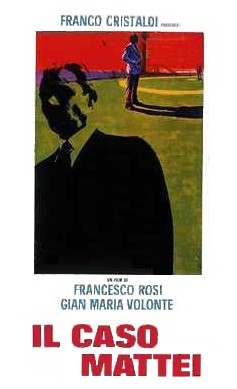 Again Francesco Rosi applies documentary and fictional elements to an actual set of circumstances: the life and death of oil industrialist Enrico Mattei (Rosi's indispensable Gian Maria Volontè, superb), whom Time magazine called "the most powerful Italian since Cæsar Augustus."
The film takes the form of a journalistic investigation, especially into the matter of the ambiguity of Mattei's death in a plane crash in 1962, for which it offers alternative explanations as though trying to get to the truth by finding the most suitable script. One way or another, whether by dint of mechanical failure or of a conspiratorial something-else, Mattei was taken down This becomes the take-off for a consideration of everything surrounding Mattei and what he represents: Italy's past hopefulness and national spirit (during the war Mattei had fought in the Resistance), a growth of experience in capital investment in public companies, and the corruption into which Italy's postwar economic recovery summarily fell, and the exploitation of Third World oil resources that the new global fascism required.
Rosi and his writers, including Tonino Guerra, take their largest aim at capitalism and the means by which it prevails. What, if anything, lay behind Mattei's death? None of the film is idle speculation, because the analysis it ultimately provides illuminates Mattei's life, not death, and his corporate empire-building (in what the state intended to be its own operation).
This piecing together of a man's life owes a debt, of course, to Orson Welles's  Citizen Kane(1941) as well as Rosi's own past work, all the while aiming at a nation-as-pilgrim's progress. Rosi's Communist heart weighs the price to Italy's soul of postwar upturn. Il Caso Mattei is the ultimate Invasion of The Body Snatchers. The patient has recovered; but is the patient at all the same person?
- Dennis Grunes taken from https://grunes.wordpress.com
---
_
 Please do not eat in the cinema and please switch off your phone.
_
Please DO NOT book a seat if you are not sure of your availability. Seats are limited and each booking reduces the number of seats available to others. If you cannot attend, please cancel your reservation as soon as possible by going to "MY TICKETS" on the email from Eventbrite; this will release your seat to someone else.

If the film is SOLD OUT, there will be an automated waiting list, which will contact you if/when a seat becomes available.
_
Upon leaving the cinema, please make a donation towards our running costs and support your club. 
Thank you!
When & Where

Sands Films
82 Saint Marychurch Street
SE16 4HZ London
United Kingdom


Tuesday, October 15, 2019 at 8:30 PM (BST)
Add to my calendar
Organizer
Sands Films Studio is a film production facility servicing films and TV since 1975. The Studio is also home to The Rotherhithe Picture Research Library which is an educational charity providing a free visual reference library to designers and students. Since 2005 Sands Films Cinema Club has provided regular programmes of film screenings and live events with a non-commercial agenda of culture, education and politics. Most screenings are free and supported by donations, subscribers and shareholders. Visit Sands Films website to discover ways of getting involved with Sands Films.