About this Event

Presents:
EMC19
Arrive, Survive and Thrive
November 4-6, 2019
Institute of Physics
King's Cross, London
The European Mars Conference is the pre-eminent forum on Mars. With a track record of attracting the most enterprising and distinguished figures in the industry, the event this year will be named 'Arrive, Survive and Thrive'.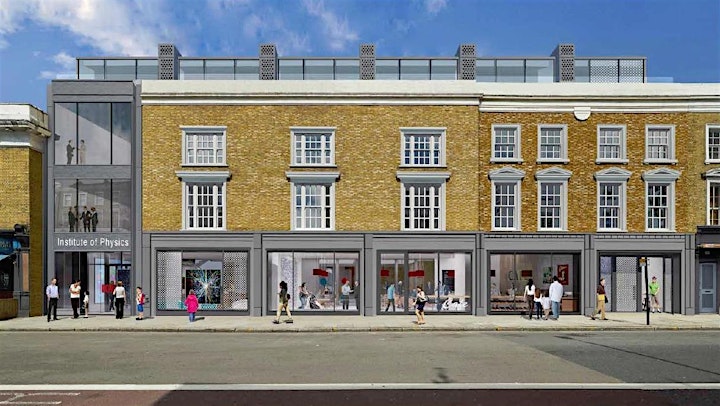 In partnership with the Institute of Physics, the conference is opened to the general public for three days of Mars talks, rovers and events featuring some of the world's leading experts on the planet Mars.
We have confirmed plenary speakers from Airbus, Lockheed Martin, Cranfield and Oxford universities, plus, Mars Society European delegates have been invited from Spain, Germany, Italy, France, Switzerland, Poland, Austria, Scandinavia and the Netherlands. Hear what Europe has been up to in forwarding humans to Mars through exploration and research.
The conference will include a networking event, dinner, special guest speakers Anastasia Stepanova from NASA/NEK Lunar Analog Mission SIRIUS-19, AMADEE Mars Analogue graduates, rover teams from the UK and the EU who participated in Mars Society rover challenges: the University Rover Challenge (URC) in the USA and the European Rover Challenge (ERC) in Europe. In addition, Dr. Robert Zubrin, Founder of the Mars Society and author of The Case for Mars and his most recent book, The Case for Space, will present on how the benefits of a competitive space industry will have a positive impact on our future.
Concurrently on Monday and Tuesday the Mars Society UK and the IOP have invited students from local secondary schools and sixth form colleges to attend the event for free and meet with rover teams from the University College of London (UCL) and University of Sheffield for close-up Q&A sessions and demonstrations of remote science first-hand. 2019 URC winners Team IMPULS from Poland will also be there to share their experiences competing for first place.
Optional excursions include a dinner with Dr. Zubrin and Anastasia Stepanova at Camino restaurant, an opportunity to experience a bit of British culture and see some fireworks as the nation celebrates Guy Fawke's Night and a group tour of the Design Museum's new exciting exhibit, Moving to Mars!
Find out more at the Mars Society UK website: https://marssocietyuk.org/events
We hope you will join us!
Schedule: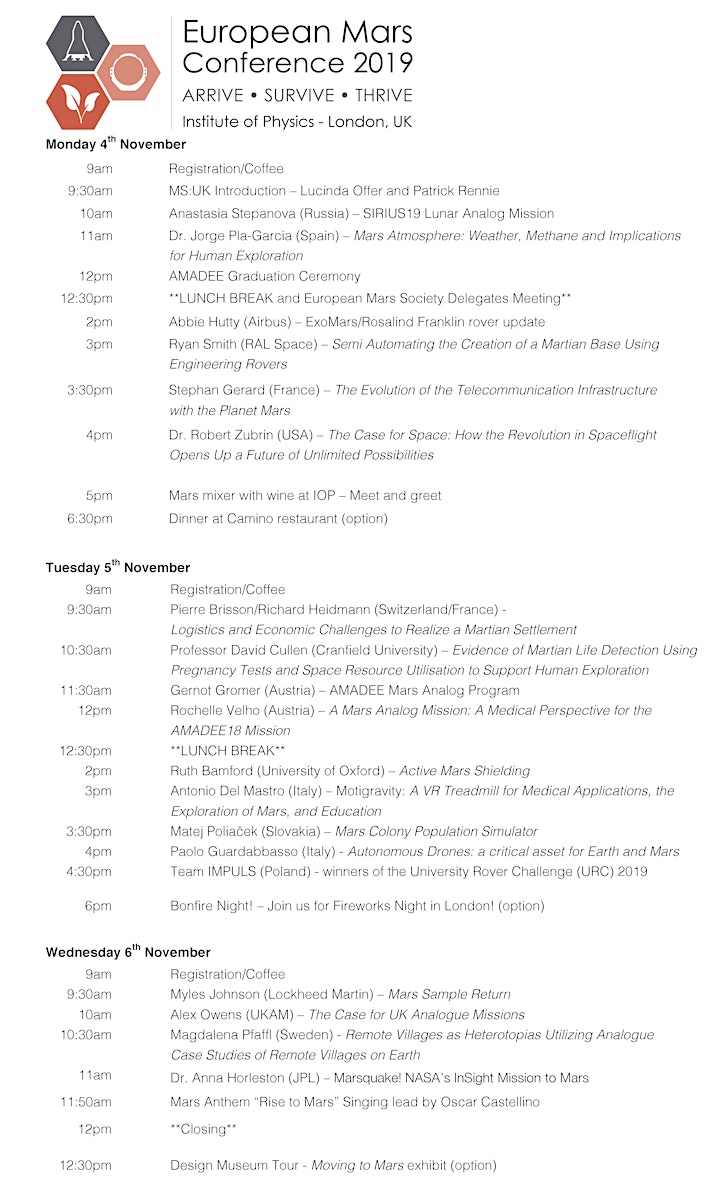 Venues:
IOP
Camino
Design Museum