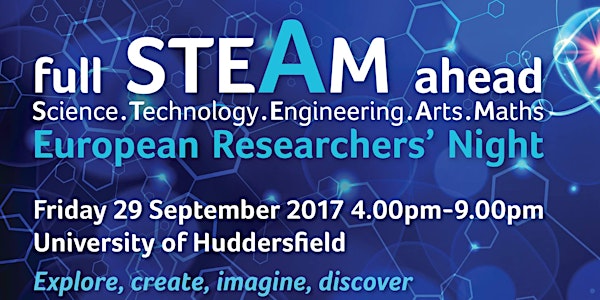 European Researchers' Night Bookable Activities
Location
University of Huddersfield
Queensgate
Huddersfield
HD1 3DH
United Kingdom
Sales Have Ended
Registrations are closed
Thank you for your order. We look forward to seeing you on the night!
Description
The Full STEAM Ahead European Researchers' Night Bookable Activities
The list below gives you a description of the activity, an age guidance, and the sessions available for you to book. Take a note of the session(s) you are interested in and proceed to the 'Register' button. From here you can choose which session(s) you want to attend and how many tickets you wish to order.
Each activity has a different capacity limit, so to avoid any disappointment please book as early as you can.
Please note: children under the age of 16 need to be supervised. Parents who are booking tickets for their children DO NOT need a ticket for themselves for the session. However this isn't applicable for the Vortex Performance, everyone attending the performance will need a ticket.
There will be more activities on the night however these will be drop in and will be listed in the programme which will be available in September.
Bookable activites:
Vortex Performance
Age recommendation: All
Experience a sculptural sound installation on a grand scale, with live music from IOU theatre and University of Huddersfield musicians. Engineered by Professor Rakesh Mishra, the performance uses large steel air-ducts and cones to produce sound inspired by vortex rings travelling through the atmosphere.
Sessions available:
7:00 – 8:00 - SOLD OUT!
Please note that if you are booking onto the Vortex Performance you will need to order the number of tickets for everyone in your group who will be attending the performance.
Circus of Six: The Science of Colour
Age recommendation: 7+
Dr Fiona Woodhouse is putting the ART in STEAM with fireworks, chromatography flowers, chemical garden jewellry, colour mixing, splitting light and rainbow indicators - can you complete all six challenges?
Sessions available:
4:00 – 4:30 - SOLD OUT!
4:30 – 5:00 - SOLD OUT!
5:00 – 5:30 - SOLD OUT!
5:30 – 6:00 - SOLD OUT!
Build a Railway Locomotive
Age recommendation: 8+
Meet the team at the Institute for Railway Research and work in a group to build an aerodynamic railway locomotive. Have fun competing to achieve the course in the fastest time.
Sessions available:
4:45 – 5:50 - SOLD OUT!
6:00 – 7:05 - SOLD OUT!
Feminism in the digital age
Age recommendation: 15+
Young feminists now tend to begin their feminist journey online on social media. This workshop with Dr Grainne McMahon, is where you can debate "doing feminism" and "becoming feminist" online and being a feminist in the digital age.
Sessions available:
6:00 – 6:45 - SOLD OUT!
7:00 – 7:45 - SOLD OUT!

Roller-Rig Tour
Age recommendation: 8+
Join Professor Simon Iwnicki and his team for a whistlestop tour around Harold, the largest roller-rig in the UK and find out how it is used to test rail safety. A must-see for all engine enthusiasts!
Sessions available:
4:30 – 4:50 - SOLD OUT!
6:45 – 7:05 - SOLD OUT!
8:00 – 8:20 - SOLD OUT!
Let's Play Vinyl
Age recommendation: 5-11 years
This is an opportunity to discover the magic of vinyl records with Sound System Culture and Professor Paul Ward and visiting Research Fellow, Mandeep Samra, from Let's Go Yorkshire. You can have a go at using a 1960s Dansette record player and play vinyl records on a turntable. Use your imagination to create colourful decorations using vinyl records.
Sessions available:
4:45 – 5:45 - SOLD OUT!
6:15 – 7:15 - SOLD OUT!
Synth building workshop
Age recommendation: Girls aged 11+
Last year this workshop was very popular, so we decided to run it again! Learn basic electronics and solder a sound making printed circuit board with Dr Liz Dobson and synth developer and composer Nina Richards. Supported by the Yorkshire Sound Women Network this workshop encourages girls to try electronics and music/sound technology. For more information see this short film about the workshop http://tinyurl.com/noisetoy
Sessions available:
4:30 – 6:00 - SOLD OUT!
6:30 – 8:00 - SOLD OUT!
Hands-on radio presenting


Age recommendation: 13+

Have you ever wanted to have a go at being a radio presenter? This is your opportunity to read and record a news bulletin and find out all about the history of radio with Dr Martin Cooper, by exploring the University's research into this fascinating area.

Sessions available:
5:00 – 5:45 - SOLD OUT!
7:00 – 7:45 - SOLD OUT!
3D Printing


Age recommendation: 8-12 years

Join researcher Rob Lovett to learn about using a laser scanner and scan a full size emergency vehicle! Send this information to a 3D printer so that you can create a replica to take home.

Sessions available:
6:30 – 7:00 - SOLD OUT!
7:00 – 7:30 - SOLD OUT!
7:30 – 8:00 - SOLD OUT!
8:00 – 8:30 - SOLD OUT!
3D Holograms


Age recommendation: 10+

Did you know you can make a 3D hologram at home with a few basic materials? You won't believe your eyes when researcher Katrina McLaughlin shows you how! Come along and set up your own mini hologram, and work as a group to design a giant version.

Sessions available:
4:30 – 5:30 - SOLD OUT!
5:30 – 6:30 - SOLD OUT!
7:00 – 8:00

Billy the Burglar!
Age recommendation: 7-10 years
Come along and join criminologist Dr Leanne Monchuk and West Yorkshire Police's Force Crime Prevention Officer Chris Joyce try and stop Billy the Burglar! We'll be looking at a house with lots of insecurities and trying to make it more secure. How many insecurities can you spot? How would you make the house more secure?
Sessions available:
7:30 – 8:30

Mythical Story Art
Age recommendation: 5+*
This workshop takes inspiration from ancient myths to tell stories that connect the past with our lives today. Use a combination new and old drawing techniques to see what you can learn.
Sessions available:
5:30 – 6:00 *(5-10 years) - SOLD OUT!
7:30 – 8:00 *(11+ years) - SOLD OUT!
Community spirit
Age recommendation: All
Do you want to take part in an economic experiment where you will be asked to fundraise for a good public cause, such as a road, a hospital or a park? Help Dr Maria Kozlovskaya investigate how different types of public projects affect the amount of voluntary contributions. They need your help to find out more about issues such as inequality and intelligence and people's behaviour.
Sessions available:
5:00 – 5:30 - SOLD OUT!
6:00 – 6:30 - SOLD OUT!

Wildlife crimes on trial
Age recommendation: All
What do you think about the illegal trade in endangered species? We want you to judge wildlife crimes and vote on what you think is the right sentence to fit the crime. Melanie Flynn will share her research with the WWF – World Wildlife Fund – which explores the illegal trade of animals such as rhinos, tigers and pangolins.
Sessions available:
5:00 – 5:45 - SOLD OUT!