European Strategic Approach on Additive Manufacturing

Wednesday, 15 November 2017 from 09:00 to 16:00 (WET)
Event Details
AM-Motion: A strategic approach to increasing Europe's value proposition for Additive Manufacturing


Objectives of the workshop

The objective of this workshop is to bring together stakeholders involved in key EU projects in Additive Manufacturing to:

- Promote the benefits of European Strategic Actions for Additive Manufacturing;

- Stimulate synergies, maximize mutual benefits and map the collaboration path after the project ends

- Evaluate the impact of the exploitable results from these projects

- Explore possibilities offered under the new H2020 Working programme

- Develop future project ideas, partnerships and strategies.
Event Agenda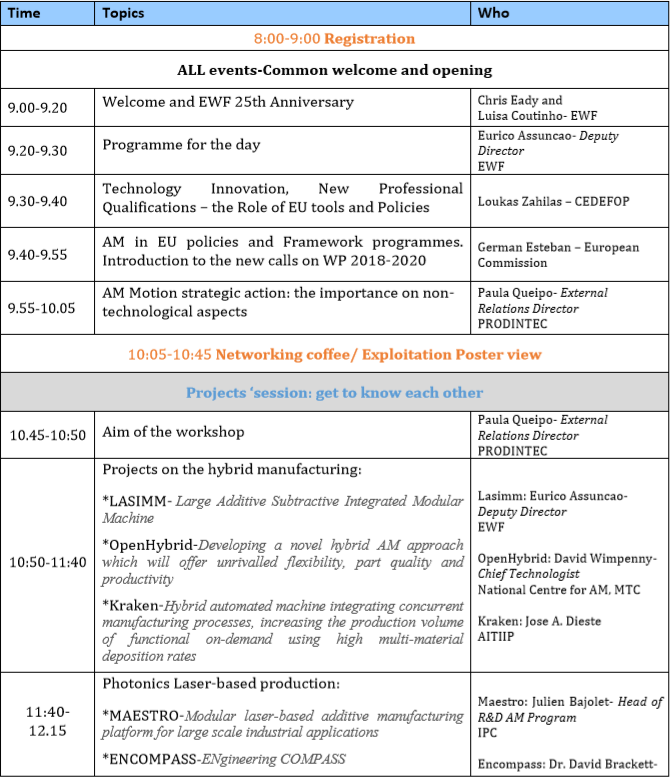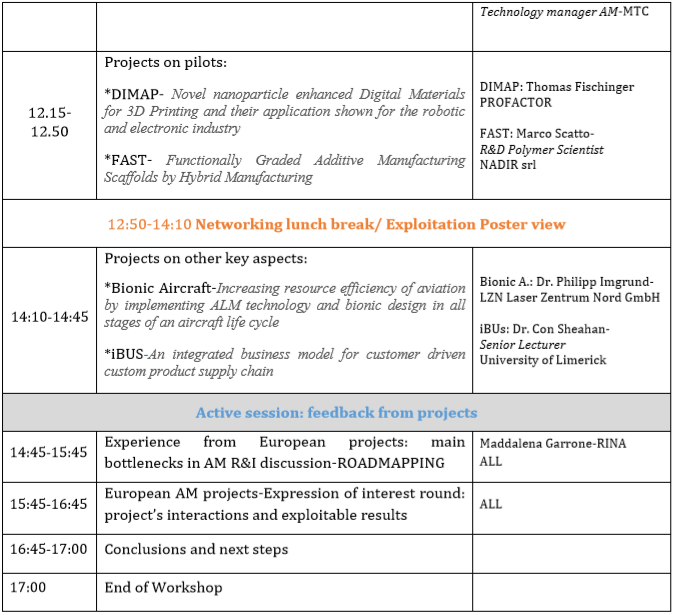 Experience from European projects: main bottlenecks in AM R&I discussion
This part of the workshop would be used to identify the main bottlenecks in AM R&I (based on the project representative's inputs), in order to explore possible paths/actions to minimise them.
MAIN STEPS TO FOLLOW:
- Prior to the workshop, check the background document on provisional R&I barriers as identified by the FOFAM project.
- On the day of the workshops, a brainstorming game (1 h) will be performed aiming at refining and further developing the provisional R&I barriers thanks to experts' project experience.

European AM projects-Expression of interest round: project's interactions and exploitable results
The objective of this session in the AM-Motion Workshop is to evaluate the interest of the AM Community on on-going activities, explore possible synergies and complementaries among EU projects and evaluate the impact of the exploitable results coming from these Projects. For that purpose, attendees are expected to actively contribute expressing their interest and the reason of such.

MAIN STEPS TO FOLLOW:

- Prior to the workshop, check the document on project descriptions, main objectives and its exploitable results.
- On the day of the workshops, projects' aims and its exploitable results will be displayed on POSTERS on the walls of the "Exploitation Room".
- Each attendee is expected to express interest in up to five exploitable results of the projects. For that purpose, 5 stickers will be provided in order to paste them on the posters of interest.
- Fill in the stickers and stick them in the corresponding posters.
- Ranking of the expression of interest and a matrix of mutual interest will be made in order to identify the possible groups. Information to participants will be delivered by email after the workshop.
Current confirmed participating projects:

3DPRISM-3DPRinting Skills for Manufacturing

4D HYBRID-Novel ALL-IN-ONE machines, robots and systems for affordable, worldwide and lifetime Distributed 3D hybrid manufacturing and repair operations

knowledge Alliance for AdDitive Manufacturing between Industry and univeRsitiEs 

AM-motion-A strategic approach to increasing Europe's value proposition for Additive Manufacturing technologies and capabilities

BAMOS-Biomaterials and Additive Manufacturing: Osteochondral Scaffold innovation applied to osteoarthritis

BionicAircraft-Increasing resource efficiency through implementation of ALM technology and bionic design in all stages of an aircraft life cycle

BOREALIS-The 3A energy class Flexible Machine for the new Additive and Subtractive Manufacturing on next generation of complex 3D metal parts  

DIMAP-Novel nanoparticle enhanced Digital Materials for 3D Printing and their application shown for the robotic and electronic industry

DREAM-Driving up Reliability and Efficiency of Additive Manufacturing

ENCOMPASS- ENgineering COMPASS

FAST-Functionally Graded Additive Manufacturing Scaffolds by Hybrid Manufacturing

HYPROCELL-Development and validation of integrated multiprocess HYbrid PROduction CELLs for rapid individualized laser-based production

IBUS-An integrated business model for customer driven custom product supply chain

KRAKEN-Hybrid automated machine integrating concurrent manufacturing processes, increasing the production volume of functional on-demand using high multi-material deposition rates

LASIMM-Large Additive Subtractive Integrated Modular Machine

MAESTRO-Modular laser-based additive manufacturing platform for large scale industrial applications

METALS-MachinE Tool ALliance for Skills

OPENHYBRID-Developing a novel hybrid AM approach which will offer unrivalled flexibility, part quality and productivity

PARADDISE-A Productive, Affordable and Reliable solution for large scale manufacturing of metallic components by combining laser-based ADDItive and Subtractive processes with high Efficiency

SYMBIONICA-Reconfigurable Machine for the new Additive and Subtractive Manufacturing of next generation fully personalized bionics and smart prosthetics
When & Where

Taguspark
Centro Congressos
2740-122 Oeiras
Portugal


Wednesday, 15 November 2017 from 09:00 to 16:00 (WET)
Add to my calendar