Description

What's another year? Well for Eurovision fans it's a very long time!
If you can't wait a full year to get your next Eurovision fix then come to EuroStarz In Concert and watch live performances from some incredible past Eurovision Stars. The evening won't stop just there though, stay behind for some wild dances to the tune of our awesome Eurovision DJ playing all your favourites!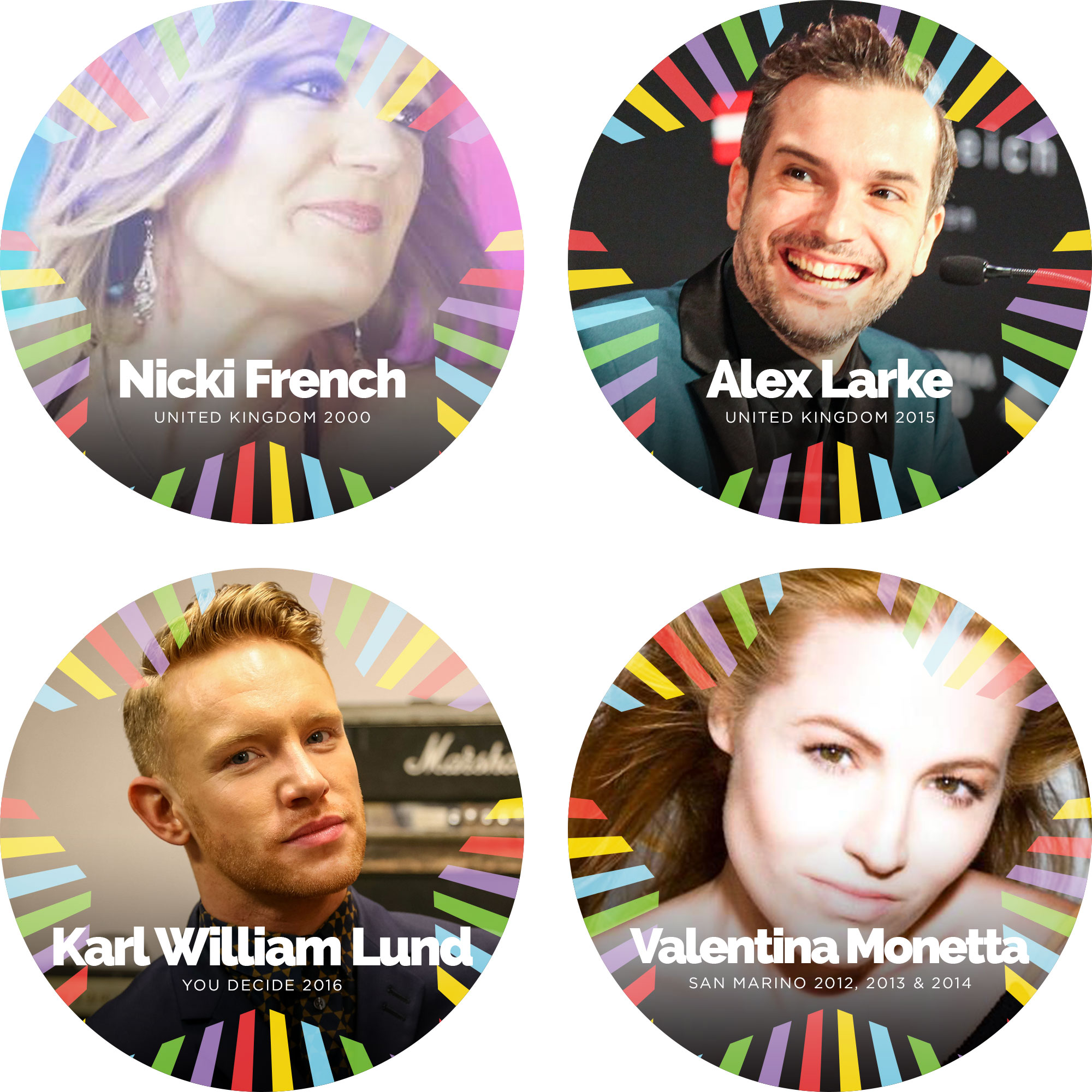 Nicki French, who represented the UK in 2000.

Alex Larke,of Electro Velvet, who represented the UK in 2015.

Valentina Monetta, who represented San Marino in 2012, 2013 and 2014.


Karl Lund, 2016 finalist of BBC Eurovision: You Decide

Martin Fitch, who represented Poland in 2010 will also make a guest appearance.
Nicki is also going to be the host for the evening, to introduce you to our EuroStarz!
The fun doesn't stop there, as we'll have a DJ playing all your favourite Eurovision hits from 10.30pm until midnight, so get your tickets now!
You can find out more about the event on our EuroStarz Website.




There are two types of tickets available for our event ; General Admission tickets as well as a very limited number of VIP tickets available.
Our VIP package is perfect for the ultimate EuroStarz fan as it includes an exclusive meet and greet with our EuroStarz before the show starts, as well as a professional photo of you with our EuroStarz for you to keep! If that wasnt enough, we are even including a copy of Karl William Lund's new album on CD and Alex Larke's new album on CD for you too so you can enjoy the music long after the event!

What are the differences in the ticket options?
We have two types of tickets available. There are Standard admission tickets for the event, but if you would like some special treatment, then opt for our VIP Package! The VIP package offers you some amazing exclusives:
A VIP meet and greet with all of our acts before the show starts
A professional photo taken of you with our EuroStarz! *
A CD of Oracle - Karl William Lund's new album to keep
A CD of Disposable Love - Alex Larke's new album to keep
* Please note, the photograph of you with our EuroStarz will be made available as a digital download. You will not receive a printed copy of this.
Do I have to bring my printed ticket to the event?
You must bring your printed ticket to the event. This will be exchanged for a wrist band on the night to allow you in and out of the event.
Where is the concert?
EuroStarz will take place at the Star of Kings, Kings Cross. The venue is just a short walk from Kings Cross station. You can find more information on the Star of Kings website.
What time is the concert and how long is it?
The doors open for EuroStarz at 7:30pm and the concert starts at 8pm. VIP ticket holders will need to be there earlier for their meet and greet session with the EuroStarz and we will provide you with more details of this individually. The concert will be about 2 and a half hours long and will finish around 10:30pm. There will also be a 15 minute interval in the middle of the concert. After it finishes we have a Eurovision DJ to play all of your favourites through until midnight.
What time should I arrive?
We recommend standard admission ticket holders arrive at 7:30pm as the concert will start at 8pm. This will give you time to get a drink and find a space before the show starts! VIP ticket holders will need to arrive earlier and we will provide you with more specific information when you purchase a VIP Ticket.
Is the concert seated or standing?
The venue has a mixture of seated and standing. If you would like to sit for the concert, we recommend that you get there early to avoid disappointment as there is limited seating available.
Are there ID requirements or an age limit to enter the event?
The event is for 16+ years only. If you are under 18 you must be accompanied by an adult - failure to come accompanied will mean that you will not be permitted entry to the venue. Please bring proof of age if you look under 21 as you may be asked to show this. The event organisers reserve the right to refuse entry if you are not able to provide valid ID.
How many tickets can I buy?
For general admission tickets, you can buy up to 10 tickets in one transaction. For VIP tickets you can only buy two per transaction. We have limited the number of VIP Tickets you can buy to give everyone a fair chance to buy one.
What are my transport/parking options getting to the event?
The venue is just a short walk from Kings Cross station. Kings cross has access to the Northern, Picadilly, Victoria, Circle and Hammersmith & City tube lines as well as mainline rail services. There is no car parking available at the venue.
Can I take photos?
You are welcome to take photos of the concert, but we have paid a professional to do that for you! There will be a dedicated photographer for the evening and the photos will be made available shortly after the concert. If you do take photos, excessive use of flash is not permitted as this is distracting for the artists.
Can I bring a banner/flag?
Due to the size of the venue, you are not able to bring flags or banners to the event, but you are welcome to dress up in the colours of the country you want to support, so feel free to get creative with your outfits!
Are there cloakrooms or lockers for bags or other personal belongings?
Unfortunately we cannot provide you with a cloakroom or locker, your belongings will be your own responsibility on the night.
Can I bring food and drink into the venue?
You are not permitted to bring in any items of food or drink into the venue.
Will I be able to buy food/drink during the concert?
From when you arrive, the bar will be open right the way through to the end of the evening and you can buy drinks throughout the night. The main bar also has a restaurant area upstairs with a great food menu, so if you want to get something to eat before the concert then feel free to check it out! Food is not permitted in the concert space.
Where can I contact the organiser with any questions?
If you have any more questions about the event, just email us! contact@eurostarz.co.uk or message us on our Facebook page.