EVA25 is 25 conversations of 25 minutes featuring the amazing people Steve Wake knows and a Conversation Club Networking Dinner on Nov 2.
About this event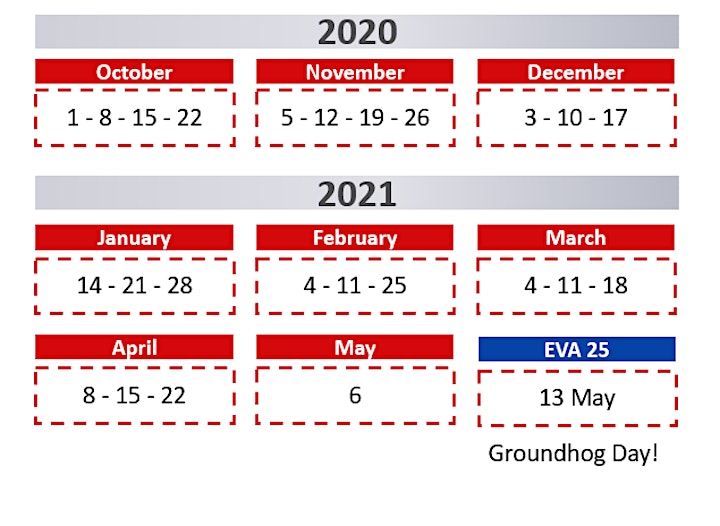 The Prologue.
EVA25 should have taken place in May 2020. Then COVID arrived.
Plan B. Shift it to July. Plan C. Shift it to September. It will be fine.
But we didn't say which year!
August 12 was "make your mind up" time. And the start of Grouse shooting.
All attempts at virtually replicating conferences, particularly a Reception the night before plus 2 days and dinner, suck!!!!!!!!
So bearing in mind the significant number 25,
EVA25 is 25 conversations of 25 minutes broadcast live featuring the amazing people Steve Wake has in his address book offered as a subscription series to collect and keep. ALSO a sponsored Conversation Club networking dinner as ever at the Armourers Hall on Monday 15 March 2021. Julius Caesar fans please note. How much? £250 including and a free dinner if you want to and can be there. We will meet to celebrate EVA, 25 years, ourselves and with some entertainment. We will follow-up individually to confirm you can really make it. Currently it can be offered to the first 70 subscribers.
EV-TV will be on air Thursdays at 1600 London time
EV-TV programmes will be hosted by a varied bunch.
Kicking off with
Stephen Carver talking about and to the Thames Tideway Safety Training Course in
Stephen Carver talks S**t.
Each programme will be 25 minutes of
conversation discussion debate and challenge
about Issues Ideas and Practical Next Steps.
It will stay open for an additional 20 minutes for discussion and messages or requests subscribers may want to share.
It will be possible for a programme to be sponsored.
It will be possible to insert short video advertisements.
After broadcast the programmes will be available in a Subscriber Archive
Each programme will have a Summary Document prepared and circulated covering major point picture useful diagrams and links for follow-up.
The Dinner
A safe networking drinks and dinner is being organised at the Armourers Hall for subscribers who can get there.
Opening at 1600. Dining at 1830. Closing at 2100.
There will be an opportunities for short spoken presentations.
And of course much table discussion.
We have full access and exclusive use so can control getting in and out and walk ways with a staff team who have known us for years and a catering brigade cooking in the large kitchen.
Tables are likely to be distributed around the rooms of the building for distance and for "hearability".
The inherent risk is the hall is closed in which case a new date will be set in line with the circumstances of the time.
Remember the dinner is the star on the top of the Advent Calendar so it is included in the subscription. Current thinking is 100 people including subscribers max.
The Way Ahead
The 25 conversations will lead to EVA25 Groundhog day May 13 2021. Currently planned as a full f2f gathering. The intention is to carry on with the broadcast conversations permanently supported by subscription with quarterly physical events. Each physical event will be a Conversation Club. The Spring /Summer event will be a symposium. In this way more shape and form will be given to the Conversation Club whilst EVA may fade into a fond memory.
Organiser of EVA25 REMADE REMODELLED.THE CONVERSATION CONTINUES
Steve Wake has worked in the print, automotive, aerospace, defence, insurance and I.T., industries as a project manager and consultant. He is an internationally acknowledged expert on Earned Value Project Management and has written and presented many times. He is now a member of the Guild of Educators and focusing on introducing Project Management lifeskills to schoolkids as well as gearing up to work on new standards for Project Controls, Benefits and EVM implementation.
He was a long standing member of the Association for Project Management, pursuing a campaign of Listening Learning and Leading. and believes that Project Management is a life skill for all He is an accomplished event organiser and Chair.
His own EVA conference is in its 26th year and he continues to have close involvement in other high profile events and activities.
His productions have a reputation for the unusual and innovative. He has life-long passion for music, followed closely by silence.