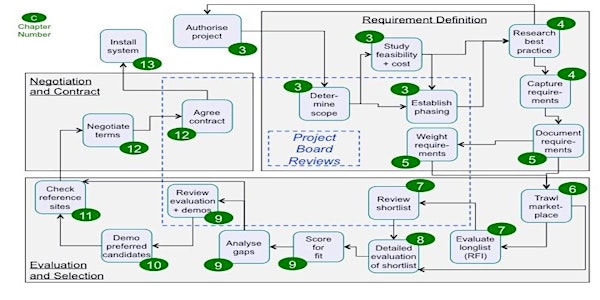 Evaluating, Selecting and Procuring Off-the-Shelf IT Solutions: in-house wo...
Location
In-house by arrangement
Dates here are placeholders & we'll set a date that suits
Refund policy
Refunds up to 7 days before event
Sales Have Ended
Ticket sales have ended
Ticket sales have ended. Please contact us for future dates or to discuss an in-house presentation.
Evaluating, Selecting and Procuring Off-the-Shelf IT Solutions: in-house workshop based on our BCS book
About this event
Why should your organisation buy off-the-shelf?
For most business and public sector organisations, there are areas where developing 'bespoke' or specially-written software is out of the question. The only realistic way to access enhanced software capabilities is to buy an off-the-shelf solution, comprising services and packaged software that is implemented on-premise, hosted or cloud-based. Off-the-shelf selection projects are therefore common, but complex and high risk, and damaging if they don't deliver.
Why should you use a selection method?
The risky nature of selection projects means you don't want the project process to be a voyage of discovery by trial-and-improvement. Most of the pitfalls are predictable, and you can avoid them with our systematic approach that recognises the specific opportunities and dangers of this type of project. Our method contains effective techniques that reinforce each other within a framework that is proven and robust. It delivers a rational and defensible decision within a defined timescale. It reflects the following imperatives.
Collaboration Selection projects involve more than internal teamwork: they need collaboration across multiple organisations. Large projects often cut across supply chain boundaries, maybe affecting your customers, suppliers or regulator. Selection projects always involve engaging the product expertise of multiple candidate suppliers. Therefore, your normal approaches to project sponsorship, procurement, project management, decision-making, technology management, due diligence and change management all need to be enhanced with specific, relevant techniques and philosophies.
Effectiveness You need a systematic approach specifically targeted to reduce complexity and manage risk, given the selection project's peculiar combination of technical, commercial, legal and human issues. Your process needs to visibly protect non-technical decision-makers from business or technical complexity. There should be a rational, transparent, auditable process with clear line of sight from requirements through longlisting, detailed evaluations and demonstrations, to reference sites and the negotiations. Decisions need to be in stages, so both your investigation effort and the supplier cost of sale are proportionate, and you gather just enough information to progress to the next stage.
Fairness Internal stakeholders and external suppliers must be confident the process is fair and not biased towards one department, stakeholder or solution. Verbal performance assertions by suppliers must have contractual significance. At every stage, solutions must be compared to the same yardstick, reflecting business requirements.
Why should you attend the workshop?
Better Projects You will better understand the collaborative approach, so you can attract more committed stakeholders, sponsors, team members and candidate suppliers. Then your project will manage time, risk and complexity better, to select an off-the-shelf solution that fits better.
Clarity You will be clearer on the approach and how to apply it to your projects. You can discuss the issues relevant to you with both our experienced presenter and the other delegates.
Confidence You will be sure of the benefits of using a systematic approach. You will be clear about the risks when using your organisation's usual decision-making and procurement approaches. So when somebody suggests that you 'cut corners' or stick to 'procurement as usual' you will be better placed to persuade them that your due diligence will more than pay for itself.
CPD The workshop counts towards Continual Professional Development for CMI, BCS, IET, IIBA, IEEE, APM, PMI, ICAEW, RIBA and other professional bodies. Certificated hours for CPD available on request.
Who is it for?
You'll benefit from learning our proven method if you are:
- a senior manager, sponsoring the selection project
- a programme manager or business analyst who leads it
- a staff member who contributes to the selection
- an evaluation team member, representing either the IT function or a business area affected by the eventual implementation.
- an IT supplier whose software product sells via customer evaluation projects, so you want process information to benefit your responses.
What topics are covered in the workshop?
We cover all stages of the method, by a mixture of presentation, discussion and exercises, using case studies to provide examples from real projects.
- Workshop introduction
- Method overview
- The collaborative approach
- Requirements analysis and documentation
- Weighting
- Trawling the marketplace
- Assessing longlist candidates using the RFI
- Detailed evaluation
- Scoring fit
- Demonstrations
- Reference sites
- Negotiation and contracts
- Workshop review
Who presents the workshop?
The workshop presenter is Martin Tate – consultant, trainer, author and 'poacher turned gamekeeper'. He formerly worked for an IT provider and was trained to sell software.
He has been an independent consultant for over 20 years, specialising in evaluating, selecting and procuring off-the-shelf solutions.
He's used the method he teaches to run or rescue 58 selection projects and has personally appraised over 1,150 candidate solutions.
An IT selection has never gone through his method and procured software that proved unfit for purpose.
BCS awarded him Chartered Fellow status in 2007 for eminence in the field of IT selections and in 2015 published his book Off-The-Shelf IT Solutions: A practitioner's guide to selection and procurement.
More recently, the International Requirements Engineering Board (IREB) published his article IT Requirements when Buying, not Making in their RE Magazine.
What's included in the cost?
- All session materials, plus extra resources tackling your questions.
- A free, author-signed copy of Martin's book - or a substitute book if you prefer.
- Practical exercises and case studies to consolidate learning.
- Motivation, method and technical support while you work.
- Questions answered by a presenter with huge real-world experience.
- A chance to compare project notes with other delegates.
Note that with an in-house workshop, coffee, tea and lunch follow your normal arrangements.
Feedback and reviews from previous delegates
Delegates scored the events of  2015 and 2016 as 10.0 for Intention to Recommend.
"One of the most valuable one-day courses I've ever attended."
"Good presentation style relaxed and open to questions."
"Presenter knowledge very strong, subject matter very useful/applicable."
"I liked the method being generic, and applicable to SaaS, PaaS and IaaS."
"It reinforced the learning I had achieved from the book with real-world examples."
"I've received £50,000 worth of training in the last 10 years, but nothing to touch this."
"Sequence was logical; well presented. Confidence of repeated successful application came across well."
"Great presentation, very useful technique, and good links onto other resources."
What guarantees do you give?
This session uses a powerful approach that is already proven. If the session proves not to be excellent value for you, please let us know before the first lunchtime. If you leave then, we will return your session fee the next working day, without quibble. Give us your views on how we can improve.
What should I do next?
Contact us if you have questions about the workshop. Ring Martin on 07885 491197, or use the 'Contact the Organiser' link. Or book a place and we will send the pre-workshop papers, so you can tell us what you are looking to get out of the workshop. See you there.
FAQs
Is my registration transferrable? Can I switch delegates? Can I update my registration information? Does it matter if the attendee doesn't match the name on the registration?
Yes, we want your organisation to have somebody there, so you can switch the delegate or change your details, any time up to the day before the workshop. Please use the 'Contact the Organizer' button to send us changes to the name, job title or organisation as soon as possible.
Can I switch my registration to a different event?
If you cannot attend and your organisation cannot put forward another delegate, contact us. We can transfer your registration to a later presentation of the workshop, if one is scheduled, or hold the registration until one is.
Do I have to bring my ticket to the event?
It speeds things up if we can scan your ticket (on paper or your phone screen), but if you are expected on the delegate list we will welcome you. It's a small, friendly event.
Are there ID requirements or an age limit to enter the event?
Delegates must be over 16. You don't need to bring ID, but please make sure we have your name, job title and organisation for the delegate list.
How do I get there?
We will send directions in the pre-workshop material. Or use your favourite travel app (ours is at citymapper.com) to get there.

What can and can't I bring to the event?
No cameras, videos or recording equipment, please.
Is this workshop delivered by the BCS?
No. BCS published the book, sometimes provide the venue and are happy to publicise the workshop. We have sometimes delivered this workshop via an approved BCS training provider, but this workshop does not award a BCS Certificate.
The workshop is delivered by Martin Tate of Decision Evaluation. He is responsible for the underlying selection method, the book, the workshop materials and any contact before or after the session.
Does the workshop include a copy of the book?
Yes, normally sent to you ahead of the workshop. However, because some people discover the workshop after buying the book, we give you choices. You can elect to receive a different book relevant to business analysis and IT project management. Or we give a workshop discount if removing the book. Also note that workshop delegates can buy a maximum of two additonal copies at 20% discount, signed by Martin Tate.
Do you also run this workshop in-house?
Yes. This may suit you if you have several attendees, such as your newly-formed evaluation team. Or if your project is sensitive and you cannot freely discuss it on a public workshop. In-house places are normally discounted, if you provide the venue.
Can I get a refund if I'm not happy with the workshop?
Yes, provided you leave at or before the first lunchtime, return the workshop materials, and follow up to tell us how we can improve the workshop or ourselves.
Is follow-up support available?
Yes. Before or after the course, you are welcome to use our Burst of Expertise service.
    ×           ×