The Evangelism Training Day: An intensive one day course equipping believers in soul winning with Evangelist Daniel Chand + guest speakers
About this event
We are happy to announce a unique opportunity for you to be part of an intensive equipping day and receive hands-on evangelism training. Many people have contacted us who are hungry and eager for evangelism, street outreach and practical advice to share the Gospel effectively. Even during lockdown in 2020, we believe that there truly is a need for believers to be equipped in this area.
In the midst of the pandemic, we saw a multitude of salvations during our evangelism tours in June 2020 and November 2020 in cities such as London, Birmingham, Southampton and Cardiff. The harvest is ripe in the UK; we have seen altar calls on the streets and we know that God is not finished yet, this is only the beginning.
This opportunity is not only for evangelists but for everyone who has a passion for reaching souls and walking in power. Evangelism isn't just for evangelists - All are called to evangelise.
Location is in Milton Keynes, Buckinghamshire. The venue is Chrysalis Theatre and also has free car parking for all attendees.
________________________________________
This training will include:
• Over 8 hours of in-depth training with impartation.
• In-depth sessions on soul winning, public proclamation, one-on-one evangelism and teaching on power evangelism (evangelism that relies on God's supernatural power and the gifts of the spirit to reach the lost).
• Q & A Panel (With Daniel + guests).
• Impartation - Daniel Chand and team personally laying hands, praying and commissioning attendees
• Apologetics - We will have a workshop on 'defending christianity' and on 'answering difficult questions'. Many christians have had very little training in this area, and we believe it is imperative to have a level on understanding when it comes to defending your faith.
• Activation - There will also be an outreach tour happening days later, giving you the opportunity to have hands-on training and the confidence to evangelise with believers on fire for God. Upon completion of this course you be welcomed to join us.
• A certificate of completion will be awarded to those in attendance.
• Upon completion of the course, you will have the opportunity to intern for WLJ (Dependant upon skillset/vacancy).
*The Evangelism Training Day is specifically designed for those who wish to be trained in soul winning and power evangelism. This will be an intimate setting, so we encourage you to book soon, as spaces are very limited.
________________________________________
Speakers include:
Daniel Chand is a leading evangelist in the United Kingdom. Known for his street outreaches, media ministry and tent revivals. He is the founder of Walking Like Jesus Ministries, and he is the Apostolic leader of Pragma .
John Edwards is a an evangelist from Ireland and he carries a remarkable story of redemption. He has witnessed multitudes get set free from addictions and drugs. He is a creative evangelist and uses many different methods to reach the lost. He is the founder of Walking Free Ministries.
Rueben James Morley has been involved in Christian ministry for well over a decade. He is an evangelist from Liverpool with a burning desire to see believers walk in all that God has for them. He works for the Billy Graham Evangelistic Association and is a graduate of the Reinhard Bonnke school of evangelism.
Bob the builder has been defending christianity on a weekly basis at Speakers Corner (Hyde park). He preaches the Gospel in the most hostile of environments and carries a burning desire to defend christianity, and he does so confidently and publicly.
What is involved in the ticket:
If you have attended any Walking Like Jesus hosted event you will know that we do not charge for any event. The Training Day does have a cost involved and we have kept costs to a minimum. This is to help with the costs of running the course. We have put a suggested donation amount for the ticket price, however those that may have any financial difficulty, we do not want that to be a hindrance to you coming. So, please get in touch with us by phone or email if needed.
On the day, you will be provided with a handbook guide and pen. Upon completion, you will receive a certificate to confirm you have completed the full course. Lunch will not be provided, but there will be many local food places open during the lunch break.
________________________________________
Walking Like Jesus is the Evangelistic ministry of Daniel and Tanya Chand.
Daniel Chand is the founder of Walking Like Jesus and is married to his wife Tanya. Together they travel the nations preaching the Gospel and equipping believers in the area of evangelism. 2021 will be our 8th year in the ministry, and the team has travelled to over 13 countries and seen over 10,000 decisions for Jesus Christ.
As a ministry, Walking Like Jesus (WLJ) has witnessed God moving across many nations; not just in the church, but outside the four walls of the building. WLJ has been marked by the power of the Holy Spirit from the very beginning. Walking Like Jesus is not only the name of the ministry, but it's an ethos that burns in our heart; to see exactly that, believers empowered to truly Walk like Jesus.
TRAVEL INFORMATION:
Nearest Stations:
- By Train: Milton Keynes Central (7 min drive to the venue)
- By Coach: Milton Keynes Coachway (5 min drive to the venue)
Nearest Hotels:
- Premier Inn Milton Keynes East (Willen Lake) hotel (3 min drive to the venue)
- Premier Inn Milton Keynes Central (Theatre District) hotel (6 min drive to the venue)
- Holiday Inn Milton Keynes East M1, JCT.14, an IHG Hotel (6 min drive to the venue)
Nearest Airports:
- London Luton Airport (29 min drive to the venue)
- Heathrow Airport (55 min drive to the venue)
- London Stansted Airport (1hr 20 min drive to the venue)
Taxis:
- AM Taxis Milton Keynes (01908 226666)
- Milton Keynes Taxis (01908 220022)
- Hub Taxi Milton Keynes (01908 477121)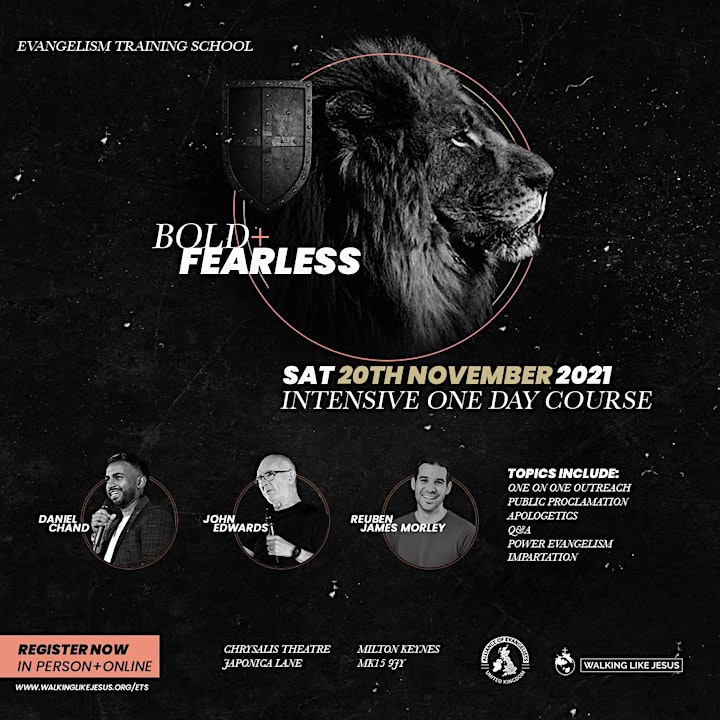 Organiser of Evangelism Training School // Intensive One Day Course // Ev Daniel Chand
Daniel and Tanya have been called to preach the Gospel with the power of the Holy Spirit.
Walking Like Jesus is an evangelistic ministry with a prime focus of preaching the Gospel and equipping the saints for the work of the ministry. This ministry has been marked with both the power of God and the manifest presence of God from the very beginning.
Find out more at: www.walkinglikejesus.org