For our very first Event Cinema evening we are bringing you the tap-dancing musical extravaganza 42nd Street The Musical.
About this Event
EVENT CINEMA: 42nd Street the Musical (2019) (PG) (144mins)
Telling the story of Peggy Sawyer, a talented young performer with stars in her eyes who gets her big break on Broadway, this is the largest ever staging of the Tony Award-winning musical and it was filmed live at the magnificent Theatre Royal, Drury Lane, in the heart of London's West End.
Our Event Cinema offering gives you unique access to the highest quality performances from theatres, concert halls, opera houses etc from around the world that you could only otherwise see live at the venues themselves. These events are not available via your usual tv and internet streaming channels!
You are welcome to bring your own soft drinks and popcorn.
Doors open 7pm
****PLEASE NOTE***** Due to social distancing measures we have limited capacity so seating is arranged in 2m spaced "pods", with up to 6 seats in each pod. These pods mean people from the same household/family can sit together and 2m away from other households. The price for each pod is £30 whether you are alone of with 5 others from your household. See below for details of our COVID precautions and photo of the seating arrangements.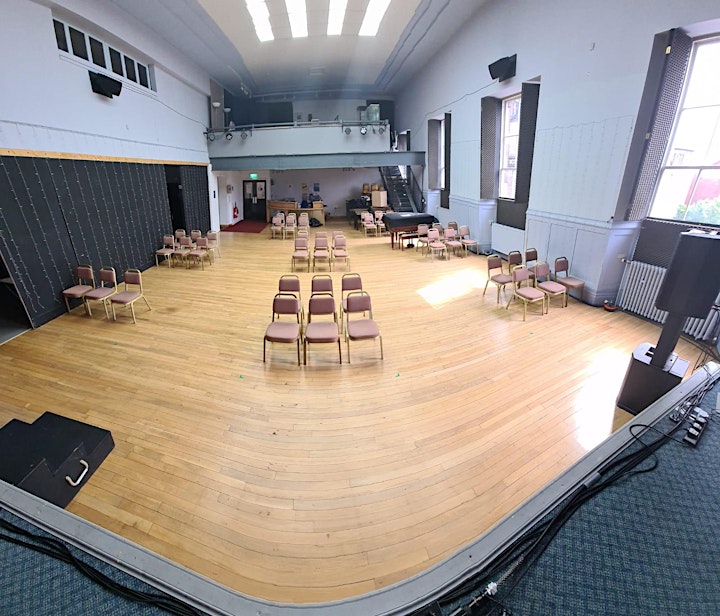 We are delighted to be able to finally welcome audiences back to Strathearn Arts after lockdown. Audience safety is of course our top priority. As part of our COVID 19 precautions, and in order to maintain social distancing, a new seating layout has been devised aimed at maximising the number of tickets available for each event. As a result, individual tickets will not be available for sale. Instead, you will be able to buy a seating "Pod" . Each pod can seat up to a maximum of 6 people. We are sorry that we need to put these restrictions in place but hope you understand and can support us as we try to bring events back to Strathearn - and maybe you will be able to encourage family or other members of close household "bubbles" to join you for the film.
Following a comprehensive COVD 19 Risk Assessment, we have taken the following measures:
Daily professional cleaning including all door handles, tables, toilets, sinks and hard surfaces
New signage throughout to aid social distancing
Marked one-way system for moving around the auditorium
Mandatory face-covering for staff, volunteers and audiences in line with government's guidance for cinemas
Hand sanitiser available at entrances/exits
Test and protect contact tracing info required
New socially-distanced seating layout and ticketing to ensure households are seated at least 2m apart
The new measures severely reduces our capacity and will make it nearly impossible for us to cover the costs of events without significant increases to ticket prices. We would therefore ask you, when buying your tickets, to also consider making a donation to help us through these difficult times. Thank You!