Description
The Event of Champions® is back in the UK from the 19th - 21st of October with World Class Speakers and Content Rich, Life Changing Information. Enjoy an unforgettable night with a private dinner at The Ritz on Friday 19th October, full day seminar on Saturday 20th October, plus a Mastermind with the speakers on Sunday 21st October. People are booking in from around the world and it's an event that promises to be unforgettable. WWW.EVENTOFCHAMPIONS.COM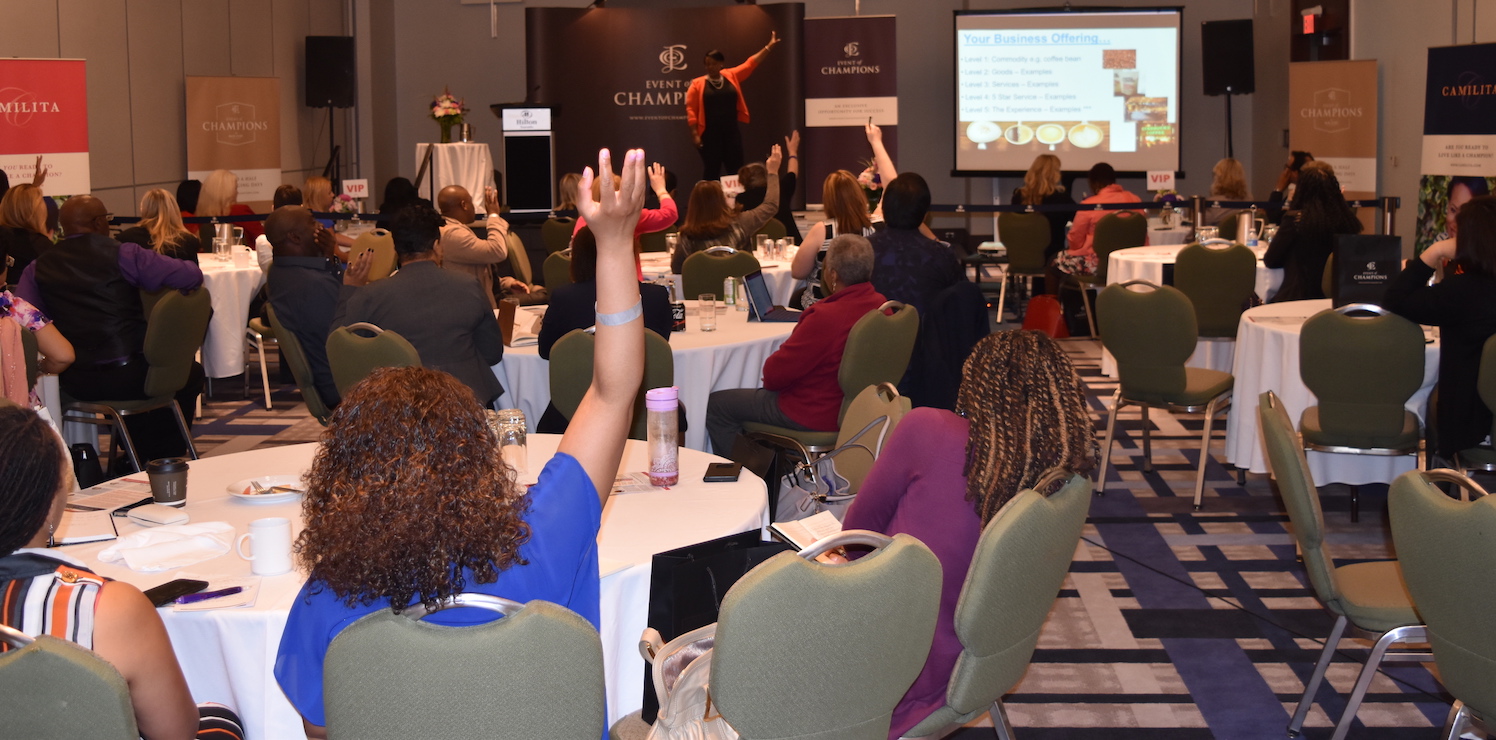 The Event of Champions® offers high-energy, mega-impact, real-world knowledge that is empowering, Inspiring and Immersive. It's Thrilling to be among the chosen with over 6 World Class Speakers and Trainers from Canada, the USA & the UK for 3 days from Friday 19th – Sunday 21st October.
This event is intimate and throughout, the Event of Champions is up close and personal, where every attendee from SME's to Fortune 500 Companies has the opportunity to speak one-on-one and learn from those who have accomplished their dreams, form possible collaborations, joint ventures and leave with knowledge that can be immediately implemented for success.
The Event of Champions® brings together the BEST & BIGGEST names in Personal Development, Financial Education, Law, Marketing, Networking, Entrepreneurship and Sales to teach other entrepreneurs how to start, build, run and grow successful businesses or brands both locally and internationally.

Our audience consists of people just starting up, multimillion dollar business owners who want to expand or people just wanting to collaborate or form Joint Ventures.

We host an Exclusive Private Dinner with our speakers and invited guests, a 1 day seminar then a networking event where business owners have the time to network and possibly form Joint ventures, Partnerships and Collaborations. Businesses also have the chance to showcase their business as a sponsor of the event, network, get possible franchisees and learn from the well experienced speakers.
---

Friday 19th October
Private Dinner at The Ritz
6pm-7pm: Canapés, drinks & photo opportunity with the speakers.
7pm-10pm: Dinner and private one to one time with the speakers, gleaning and learning their success principles.

Saturday 20th October
The Main Event - Event of Champions UK
8am-9am: Registration
9am-6pm: Day seminar with world class speakers and content rich, life changing information.
6:30pm – 7:30pm: Photos with Guest Speakers, Drinks Reception & Networking (VIP Ticket Holders Only)
Sunday 21st October
Mastermind Session with Event of Champions Speakers
10am-2pm: Mastermind session with Camilita Nuttall and other World Class Speakers.

---
The Event of Champions® is the Number One Event for your Financial, Personal, Legal, Emotional, Strategy, Online Marketing, Fitness, Leadership, Publishing, Sales and Branding development around the world!
At the Event of Champions

®

our speakers will be teaching…..
The SINGLE most important tip for massive business growth and success that would save you time and money.

Learn how to create a winning Sales Formula that can quadruple your business in 2017 - 7 Steps to 7 Figure Sales®.

How to protect what you have, create true residual income from your talent, get others to buy into your dream and trade your competitive advantage while creating alternative streams of income.

Real life examples from all the speakers on what they have done to build multi-million dollar businesses

Discover the New Way of doing business that gives you maximum profit regardless of what industry you are in, what your products or services are or the economic times with the use of increased technology.

Discover the difference between having a clear Customer Plan v Business Plan and how that translates into profit.

Tips on how to build a global brand with the exit strategy in place as you create multiple streams of income.
---


OUR WORLD CLASS SPEAKERS

Camilita Nuttall – Known as the World's # 1 'Rock Star' International Speaker, Camilita Nuttall is the founder of Event of Champions®, a 7 Times Award Winning Corporate Sales Expert, Executive Business Mentor, Entrepreneur, Author & Property Investor. Mentioned in FORBES and Quoted in Think & Grow Rich for Women, Camilita works with multiple 6 & 7 figure business owners, Publicly Traded Companies, SME's and Individuals to create Bigger Sales and Increase their PR and Business Turnover through Online Training, 1-2-1 Mentorship, In-House Group Training, One Day Workshops and Bespoke Systems Analysis to create lasting solutions. Camilita has spoken to thousands around the world including at South by South West, featured in Celebrate Magazine, appeared on SKY TV and BBC Business News. Dr. J B Hill, Napoleon Hill's grandson quoted Camilita in front of 20,000 people as saying 'There is no better time than the present to take action to Succeed'.
MORE EXPERT SPEAKERS TO BE ANNOUNCED SHORTLY
---
5 Reasons You Should Attend The Event of Champions® UK:
1. Sharpen the Saw - The idea is that sometimes you have to take a break from the "work" of your work to sharpen your skills. A dull axe won't cut a tree nearly as effectively as a sharp one.
2. Possible Business to Business Collaboration - For companies or corporations this will be a great opportunity to network and build new relationships with a range of businesses from SME's to Fortune 500 Companies in the audience.
3. Global connections with a Global Audience - Because the Event of Champions focus is on building a global brand you can learn from Expert Speakers and international connections on expanding globally.
4. Meet Experts & Influencers Face to Face - While not all conferences offer you the opportunity to meet your business idols, your chances are greatly improved when you're sharing the same space.
5. Networking Opportunities and High Level Connections - Good conferences have opportunities for attendees to mix and mingle, form new relationships, and strengthen existing ones. Over coffee, lunch, or cocktails, you may make a connection with the perfect provider or prospect. At a breakout session you may find yourself sitting next to your next customer or mentor.
---
Event of Champions is also an Incredible Opportunity to Promote Your Business!
We have a few exciting opportunities for you to get involved and promote your business throughout the weekend...
Promotional Stands
Increase awareness of your brand with a promotional stand at the Event of Champions. This gives you the exclusive opportunity to promote your business to 150 - 200 high level potential clients, personally invited guests and speakers. This is an investment you don't want to miss!

Sponsorship Opportunities
Sponsoring the Event of Champions provides you the unique opportunity to connect with our speakers, invited guests and successful entrepreneurs to build, showcase and increase awareness of your brand, show your company's support of emerging entrepreneurs and current business owners and gain exposure via all forms of media to over 1,000,000 people in Canada, USA, UK, Europe and all corners of the world.

For more information on our promotional stands and sponsorship opportunities, email info@eventofchampions.com
---
Here Are Your Event Packages:
Friday 19th April: Private Dinner at The Ritz - Network and dine with an exclusive group of entrepreneurs, SME's, Company Directors and our Event of Champions Speakers.
Saturday 20th April: Event of Champions Main Event - Full day seminar with our World Class Speakers. This gives you the perfect opportunity opportunity to learn from those who have accomplished their dreams, form possible collaborations, joint ventures and leave with knowledge that can be immediately implemented for success.
Sunday 21st April: Private Mastermind Session with Camilita Nuttall - This is your chance to spend real time with our World Class Speakers, gleaning and learning their success principles and gaining priceless knowledge tailored for YOUR business success! ONLY 10 Spaces Available!
Ready to take your life and business to a global audience? Then it's time to invest in YOU at the Event of Champions UK, 19th – 21st October. BOOK NOW!
Call now to speak to one of our team +44 7903 65 22 80 or +447413 005 813 / email: info@eventofchampions.com

From the 'Rock Star' International Speaker
Camilita P Nuttall CEO & President
Motivational Speaker I Author I Business Mentor I Property Investor
Website: www.camilitanuttall.com / www.eventofchampions.com