Description
***EVENT POSTPONED - PLEASE NOTE THAT THIS EVENT HAS NOW BEEN POSTPONED AND WE WILL ANNOUNCE THE NEW DATE SHORTLY*** PLEASE REGISTER YOUR INTEREST ONLY.
Is it possible to live a life you love combining your passion with your career? As women, what are the changes we need to see wtihin workplace culture to enable us to progress? This event will focus on careers, passions and the journeys we take. Join us for a relaxed evening of shared storytelling and conversations with other women. Whether you're figuring out what your passion is, living it, ignoring it or looking to combine your passion into your work, this event will not only inspire you to take action but look at what workplace culture means to you and how we can be part of changing workplace culture to be more inclusive for women.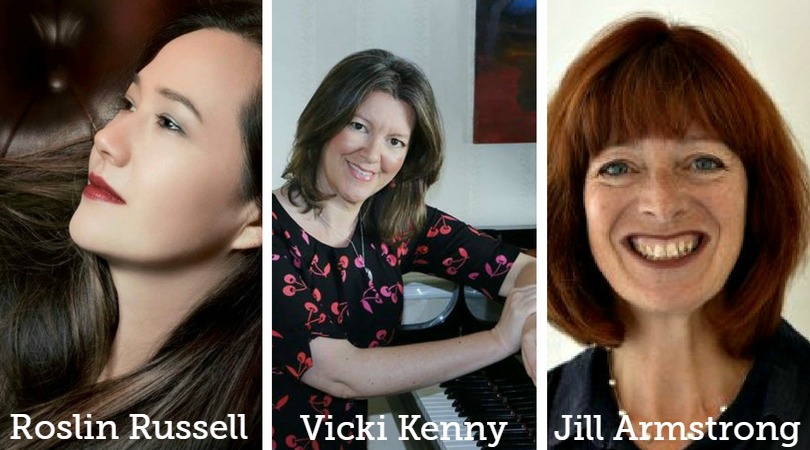 Dr Jill Armstrong, Research Associate of Murray Edwards College will kick off discussions around workplace culture and share findings on a research project; Collaborating with Men - changing workplace culture to be more inclusive for women.
Roslin and Vicki will share their story and what steps they took working in a 'Mans World' and how they overcame their challenges.
Roslin Russell, Scientist, Musician and Co-Founder of the Cambridge Jazz Festival will talk about the challenges she has faced over the years and how she overcame them while juggling between roles being a mum, a career woman working in Science, and living her passion for music as a musician and festival organiser.
Joined by Vicki Kenny, Music Therapist and Musician. Vicki will share her journey to becoming a music therapist, what led her to that point and working with children who have additional needs, particularly those on the autistic spectrum and how music therapy has helped.
In her late twenties, Vicki suffered a from a virus which affected her brain stem and nervous system which left her partially paralysed. She will share her journey back to health and the tools she acquired which helped her in her recovery. Despite the challenges over the years while still experiencing restricted movement in her fingers, Vicki lives and breathes her passion for Jazz, and she continues to play and perform as a Jazz pianist in Cambridge.
The event will start and finish with a live jazz session by Roslin and Vicki. Our events are a great way to meet with like-minded women in a sociable and informal setting, join us for a night of great conversation, music and good company!
Early bird tickets cost £15 and ends on 15th May. Tickets cost £20 thereafter.
Student rate: £10
GOLD MEMBERS can attend for FREE.
Parking: Limited parking is available in the car park, off Storey's Way. If you are using a sat-nav, please use the postcode CB3 0DR/number 61
About the Rising Network: A vibrant network empowering women to create meaningful change in life and in the world. We do this by promoting the advancement and achievements of women, health, well-being, positive psychology, personal development and sharing life experiences at face to face events and online. For more information: therisingnetwork.com
ut Jill Armstrong: Jill is a Bye-Fellow at Murray Edwards College, University of Cambridge. Her research specialism is gender equality at work. She is now leading the 'Collaborating with Men' research project that aims to change workplace culture to be more inclusive to women. Jill is currently supporting workplace trials of the ideas identified by the research and facilitating seminars designed to challenge the exclusive aspects of masculine dominated workplace cultures. Her book based on her doctoral research – Like Mother, Like Daughter?: How career women influence their daughters' ambition – will be published in October. She has spoken about this research on BBC Radio Four's Bringing Up Britain. Academic research is the latest act in Jill's career. Previously she led two successful commercial market research companies.
About Vicki Kenny: Vicki is a classically trained musician and began playing piano at the age of six. After completing her Master's degree in Music Therapy at ARU, Vicki then went on to establish music therapy within schools through the Cambridge Instrumental Music Agency, where she worked as a music therapist working with children with learning, emotional and behavioural difficulties. During her time working as a music therapist, Vicki studied jazz piano and developed a deep love for jazz piano and is passionate about jazz education. Working with a variety of students including those who are unable or who do not want to read from music often through impairments such as visual difficulties or dyslexia, Vicki's has also set up a seven piece jazz band called the Alleycats with other musicians in Cambridge performing Disney classics which was inspired by taking jazz to the children's hospice in Cambridge. Alleycats aim is to make it an interactive set so that all ages can experience the joy of jazz! For more information: www.vickikenny.co.uk
About Roslin Russell: Roslin is a scientist, musician and Co-Founder of the Cambridge Jazz Festival. With a degree in Biology and a masters in Medical Parasitology, Ros moved to Cambridge 21 years ago to start work as a medical parasitologist and then on to do another masters in Computer Science (ARU) and then a PhD in Molecular and Computational Biology at Christ's College. She has since worked at the Genome Campus, Department of Genetics, The Stem Cell Institute, Cancer Research UK and currently works in the biotechnology sector. She is also the Co-Founder and Director of the Cambridge Jazz Festival. Roslin will talk about the challenges she has faced over the years juggling between being a scientist, mum, festival organiser and musician. For more information: www.cambridgejazzfestival.info