Description
Whats the Challenge?
You will climb the equivalent height from Everest Base Camp to the Summit of Mt Everest in 1 day on the beautiful Welsh mountain of Pen Y Fan. What a challenge!!!
Everest Base Camp lies at 5364m and the Everest summit is 8848m. (Therefore 3484 verticle meters gain in height from Base Camp)
The climb from Pen Y Fan base camp near Storey Arms to the summit of Pen Y Fan is around 486m in verticle height gain. It therefore takes 7.12 times to complete the challenge - I know what you're thinking, lets round it up to 8 times right! Alright then!
How can i do this?
The hardcore individual can go for it themselves which would take around 12-14 hours but we encourage teams of up to 4 people. For example a team of 4 can climb Pen Y Fan twice and accomplish the challenge.
When is it? How much is it to register?
Date: Sunday 19 November 2017
Fundraising target: £100 each participant
Registration fee: £15 non refundable - Includes FREE challenge T shirt & bottled water on the day
Start/finish: Storey Arms Outdoor Education Centre, LD3 8NL
Route: Pen Y Fan via Corn Du trail
Height gain: approx. 3,484m/11,430ft
What are you raising money for?
Andy & Dave are working alongside an amazing team in Nepal to support a re-building project of Kalika Primary school in the Gorkha region which was destroyed in the 2015 earthquake. This is co-led by Altruistic Hands who are established Not for Profit Company based in Nepal.

Our vision is to buy an earth brick machine for building the school, sponsor employment and training of local workers and use local materials while building the school for 150 children. 150 lives. 150 futures that can thrive with a real classroom to learn and have fun in.
Hike Details
The walk will be led by our project leaders Andy Moore & Dave Carpenter, Co-Founders of Bucket List Adventure Travel and will be a great day out and a perfect opportunity to raise money for this community in Nepal that was severely affected by the 2015 earthquake which claimed 9,000 lives.
Why not challenge yourselves and share the highest peak of South Wales with your family and friends?
We will climb the mountain from the STOREY ARMS OUTDOOR CENTRE. This challenge will certainly be a test for any individual. If you do this in a team as long as the teams collective ascents are 8 you achieve this amazing feat of climbing the height of Mt Everest. We head up the trail and over the peak of Corn Du (873m/2864ft). Take in the amazing views of the surrounding valleys and mountains around you. We then descend and traverse the so called windy ridge (Yes its always windy) and then ascend to (886m/2906m). This is a classic mountain day and truly fantastic way to visit highest mountain in South Wales.
Teams will then descend back to base camp near STOREY ARMS OUTDOOR CENTRE refuel and go again.
For less confident walkers if you want to include a team of 8 people you can hike the trail once which does accomplish the challenge. The walk mountain leaders will assess your condition, timings and the weather conditions – the route choice will be at their full discretion on the day. Please note that in the event of extreme weather and our mountain leaders reserve the right to cancel or change the event on the day if necessary for safety reasons.
Nearby accommodation:
Nant Du Lodge: (http://www.nant-ddu-lodge.co.uk/)
YHA Brecon Beacons : (http://www.yha.org.uk/hostel/brecon-beacons)
Local Campsite: (http://www.walescaravanandcamping.com/)
Car parking: Car park at BASE CAMP next to Storey Arms Outdoor Centre ( FREE), with more car parking available about 0.25 miles down the road and more further again. Bus links are available from Cardiff via Merthyr Tydfil but Sunday service is not very frequent. Please consider car-sharing where possible.
Approximate schedule:
6:45am – Registration opens for everyone
7:30am – Briefing by Mountain Leaders.
8:15am – Walk begins! We will head up the valley towards Pen Y Fan..
12:00/20:00 – Walk finishes. Dependent on size of team and pace but nobody will be left behind!
15:00/20:30 – Celebration event at our venue and the perfect chance for a well-earned pint from the hotel bar!
How fit do I need to be?
Pen Y Fan is a serious objective and whilst achievable for most people in good health and average fitness, should not be under-estimated. To ensure your safety, we will have first aid and mountain leaders available who will be on the mountain all day! The event is not a race – we want everyone to go at their own pace and enjoy the experience.
Normally you can reach the summit of Pen Y Fan from the car park in around 1 hour 15 mins with a couple of stops and another 30 to descend. The terrain is on easy trails but near the summit of Corn Du & Pen Y Fan it is on rough terrain, so prior walking experience is highly advised. If you're not already regularly active, then walking (on hills where possible) is the best preparation. Try and include some walks of at least 2 -4 hours duration. Cardio exercise such as running or cycling is also very useful.

Generally, the fitter you are, the more you will enjoy the challenge!
Route Map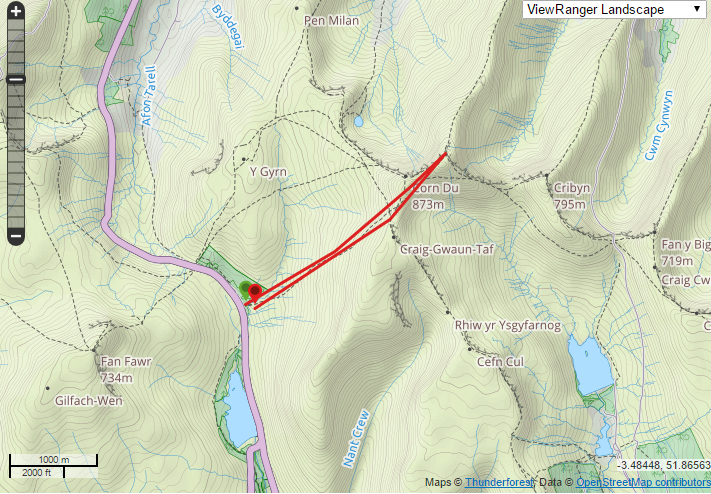 Or the ViewRanger map route

SAFETY
Although the route has no technical ground and little objective danger, please be aware that slips and accidents still happen and in some locations can have serious consequences. We'll hope for Himalayan sun and blue skies, but even in August, the weather can change rapidly in the mountains- be prepared and take note of any instructions from the walk leaders.
On the morning of the event one of the mountain leaders will give a full safety briefing to all walkers.

There will be varying levels of ability and fitness, so there will be qualified ML (mountain leaders) on the mountain and at base camp.

You will be given copies of emergency phone numbers and procedures in the small chance of separation, but please remember that mobile phone signal is often very poor. Please follow any instructions and keep your leader within sight.
Got a question?
For more information please email Andy Moore andy@bucketlistadventuretravel.co.uk or Dave Carpenter dave@bucketlistadventuretravel.co.uk
You can also call Andy on 07784 158963 & Dave on 07891011688
You can also download the Terms and Conditions of the event HERE