Description
Les Binns, blinded in one eye from an IED in Afghanistan and suffering from PTSD, will give a gripping and at times emotional talk about how he suddenly found himself 500 metres from the summit of Everest, in the middle of the night and in a snow storm, having to save the life of a seriously ill climber all on his own.
A percentage of the ticket price will be donated to the ABF - The Soldiers Charity - www.soldierscharity.org
Never did he think he would have to take the lead, without the aid of any Sherpas and help a very ill climber off one of the most dangerous mountains in the world, which has in the past cost the lives of over 250 people.
British war veteran, Les Binns, who was blinded in one eye in an explosion in Afghanistan and with limited climbing experience, was nearing the summit of Everest when he heard the screams of Sunita and saw her sliding down the mountain towards him.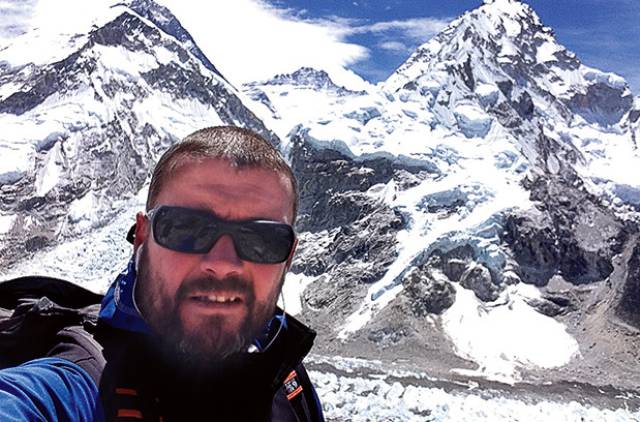 He decided to abandon his bid to scale Mount Everest in May 2016, just 500m from the top to help her down the mountain on his own. However, that was not going to be his only drama that night on the mountain, as a snow storm blew in and he came across another very ill climber.
Les joined the Army in 1997 and served on many different operational tours, from Bosnia to Iraq and Afghanistan. It was during a patrol in Afghanistan in 2009 that he was blown up for the fourth time and suffered the loss of an eye. He was later awarded a Queen's Commendation for Bravery for his role looking after casualties and then becoming one during the operation.
It is an amazing story.
Doors Open: 6.45pm - There will be refreshments on sale at the bar both before and after the event
Talk Starts: 7.30pm followed by a Q&A session
Finish: 9.00pm
Seats are not reserved and are offered on a first-come, first-served basis

Attendees are requested to take their seats in the Ondaatje Theatre by 7.20pm
What's the refund policy?
There is no refund available on tickets after they have been purchased. Tickets are transferrable.