Description
This workshop is designed to equip purposeful organisations with ideas for how you can involve your 'crowd' (whether staff or customers) in working with you to deliver your purpose - equipping you with the tools to go back into your organisation and work together to come up with more. Our Seven Modes of Everyday Participation break down the different ways people can participate, using simple, easy-to-apply prompts intended to get the ideas flowing: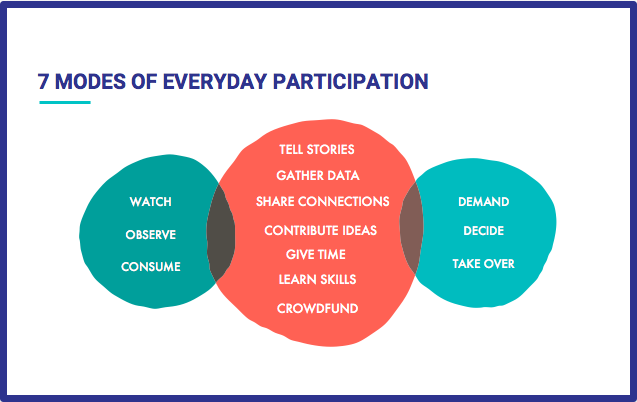 At the New Citizenship Project, we believe that given the right conditions, people can and want to shape the world they live in for the better, not just act as consumers choosing the best option from a selection someone else has created.
This creates a huge opportunity for organisations of all shapes and sizes, and from across sectors: people are willing and able to buy into what you're trying to do in the world, and help you achieve it, not just buy stuff from you.
Over the last four years, we've been working with a wide variety of organisations to help them become participatory organisations through introducing our three core principles:
1) Purpose - what your organisation is trying to do in the world
2) Platform - how you can structure systems and processes by which people can participate and contribute to your purpose
3) Prototype - creating a culture of experimentation in order to make the transition
This full-day training bootcamp is focused on the second of these, and will equip you to use the Seven Modes of Everyday Participation in different scenarios and exercises. We will introduce a variety of case studies, inspirations and practical tools and tips that will help you build a participatory culture and build loyalty and engagement with customers.
We do advise that your organisation will get more out of this if you already have a clear definition of your purpose - otherwise you might find our Participatory Organisation bootcamp a better place to start - https://www.eventbrite.co.uk/e/becoming-a-participatory-organisation-tickets-48416320518
Previous participants have said:
'The Everyday Participation toolkit is really interesting but the real value became clear after being trained in using the Seven Modes of Everyday Participation with the New Citizenship Project.'
- Midcounties Co-operative
'It was really good to be able to refer to theory/seven modes to articulate what we do - I feel empowered to share with colleagues both in and outside of my workplace'
- Bexley Borough Council
'Along with rolling out our new purpose and approach, we are really starting to consider 'everyday participation' as a means to delivering 'bringing together ideas, energy and resources to make life better in our communities.' Lincolnshire Co-op
For more information about where Everyday Participation sits within our wider work, check out our website at: https://www.newcitizenship.org.uk
Team NCP
Date and time
Location
Refund policy