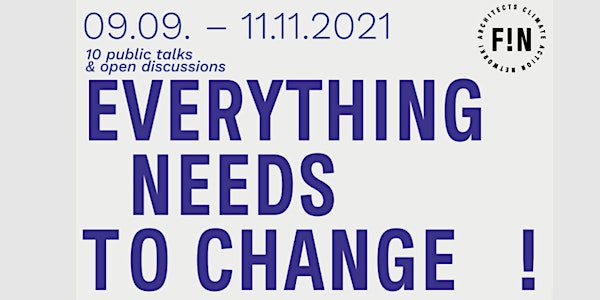 EVERYTHING NEEDS TO CHANGE! - Why must everything change?
Architects Climate Action Nework Finland (ACAN FI) open up a discussion about the needed urgent societal transformation across all sectors.
About this event
The IPCC (Intergovermental Panel for Climate Change) released their 6th report this summer and issued a 'Code Red' because human-induced climate change is widespread across the earth, rapid, and intensifying, and some trends are now irreversible for several milennia, such as ice melt and rising sea levels. But the message was also clear that there is still time to limit further climate change. That time is now. With no further delay, a significant transformation of our current way of doing things is called for.
The urgency and scale of the transformative challenge that is needed in society is unprecedented. But failure is not an option: with every degree of rising global temperatures, we risk unhinging ecosystems further, leading to more extreme events, jeopardising the natural and built environment as we know it and that we rely on for our own well-being.
Undeniably, every single architecture and development project contributes to this. We are part of the problem, and therefore we must be part of the solution. Clearly as architects and urbanists we have a local and global responsibility that we can no longer deny or ignore.
It is time for EVERYTHING TO CHANGE.
And in this spirit, the Architects Climate Action Nework Finland (ACAN FI), supported and sponsored by the Tampere School of Architecture and Tampere University (see below) are opening up a discussion about this urgent societal transformation that is needed across all sectors of society including the built environment. The EVERYTHING NEEDS TO CHANGE public lecture series builds on the recently published book of the same name (ebook in the library) and it has been carefully developed to provide thought-provoking discussions for and with architects, and urbanists, all built environment professionals and researchers as well as students. The lecture series supports and is aligned with the Urban Planning Design IV course (chaired by Professor Panu Lehtovuori) and the Societally Responsive Housing Design course (chaired by Associate Professor Sofie Pelsmakers).
The talks also take place in the run up to COP26, which is the 26th United Nations Climate Change Conference, held in Glasgow in November. After this, an internal discussion with teachers, researchers and students and ACAN is proposed (date to be confirmed), to create a plan for positive action. The lecture series will focus on turning climate anxiety into climate action. Join us for the first talk 'Why must everything change?'!