Multiple Dates
Evoke and Transform - The Leadership Retreat for Women
Description
Evoke and Transform - the ultimate Leadership Retreat for busy women who want to stop being passangers in their lives, and lead it.
You are:
A woman with lots of responsibilities, who is time-poor and experiencing overwhelm, who recognises that things cannot stay the way they are any longer.

Looking for an opportunity to work on BOTH your personal and professional development. You want more and you're not afraid to say so!

A business-owner or considering starting one, and you want help navigating your next steps.

An executive (or aspiring to a senior leadership position) in an organisation, and you want help planning the next steps in advancing your career.

An organisation that values its people and is looking for a structured programme that will impact their leadership and management skills, while feeling like a proper reward rather than more work dressed-up as a perk!
With our help, you will experience less overwhelm and burnout; increased energy and resilience; become more assertive and confident; better manage your states and therefore your relationships; and make better decisions and choices in your work and life. And let's not forget FUN. You'll have LOADS OF FUN!
With a central focus each month on helping you get closer to achieving more of what you want to enjoy in your life, and work, we infuse fun and variety by having different themes.
January - "Tapping into your Feminine Power"
February - "Dress for Success"
March - "Managing High Pressure Situations"
In a nutshell, you become the leader of your life.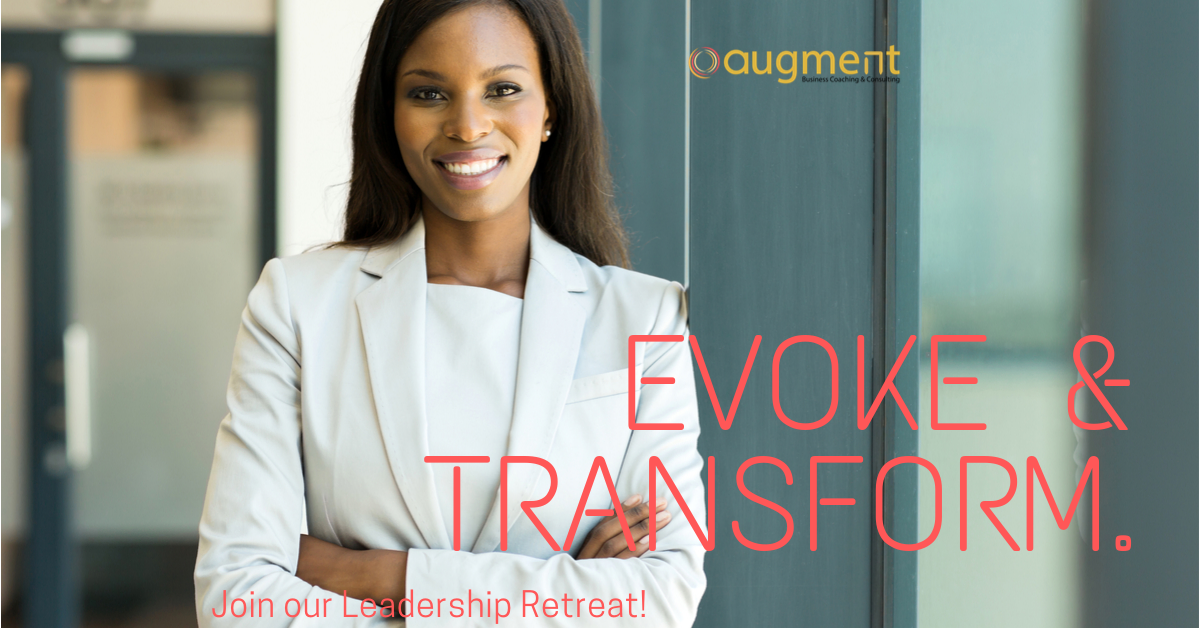 Our methods work!
At Augment Results, we specialise in helping two groups primarily;
Individuals who want to change their behaviours/habits and enhance their skills to achieve more career/business success; and

Organisations that want to enhance their employee engagement/empowerment, as well as leadership and management skills, and therefore the company's overall performance.
The Evoke and Transform retreat is one of the ways we do this.
Whether you're an individual who wants help getting better at prioritisation, planning and goal setting, assertiveness and confidence, or just learning how to lead more effectively;
OR
You're an organisation that considers skill development an essential part of your strategy and also feels it's important to recognise good work and potential but face the reality of being time-poor; this programme is for you!
---
About the Evoke and Transform Retreat
We are focused on female leadership and offer a dynamic environment where the challenges faced by women in work/business are addressed and tackled, with opportunities to create lasting connections with other vibrant, inspiring women.
Created to provide a quarterly planning session that focuses you on prioritising ninety days ahead, ensuring that long-term objectives are kept in mind, while the immediate short-term actions are thoughtfully considered and prioritised, Evoke and Transform meets multiple needs.
Why Evoke and Transform?
This programme is different from other vanilla planning sessions because it delivers an aspect that is usually overlooked but which makes all the difference in professions where people are the key resource (i.e. every organisation!).
At Evoke and Transform, we spend half of the day on the personal development of the delegates.
Why does this matter?
For several reasons:
Happiness in work has become an increasingly important metric for staff, reduces turnover and increases loyalty.

It sharpens personal vision and provides accountability, which directly feeds into better decision-making in work and life.

It builds self-awareness, resilience, confidence and empowerment - which lead to improved effectiveness in work/business and life overall.
The average person spends 90,000 hours at work in a lifetime!
So, you can say hello to having more time, as you develop better planning, time-management and prioritisation skills.

Say goodbye to assertiveness issues that hold you back from saying 'No' more or from going after previously daunting opportunities.
Develop your self-awareness and resilience within a strong and vibrant network of like-minded, senior women in business.
No longer feel uncertainty about your team leadership and management skills, as you develop these through formal training sessions and coaching exercises in a dynamic, empowering environment.
Work on swapping those habits that have kept you stuck for so long for new, positive habits that make you happier and healthier, fuel your drive and keep you moving forward and improving.
Every session is delivered by certified experts in Leadership, Management, and Behavioural skill development.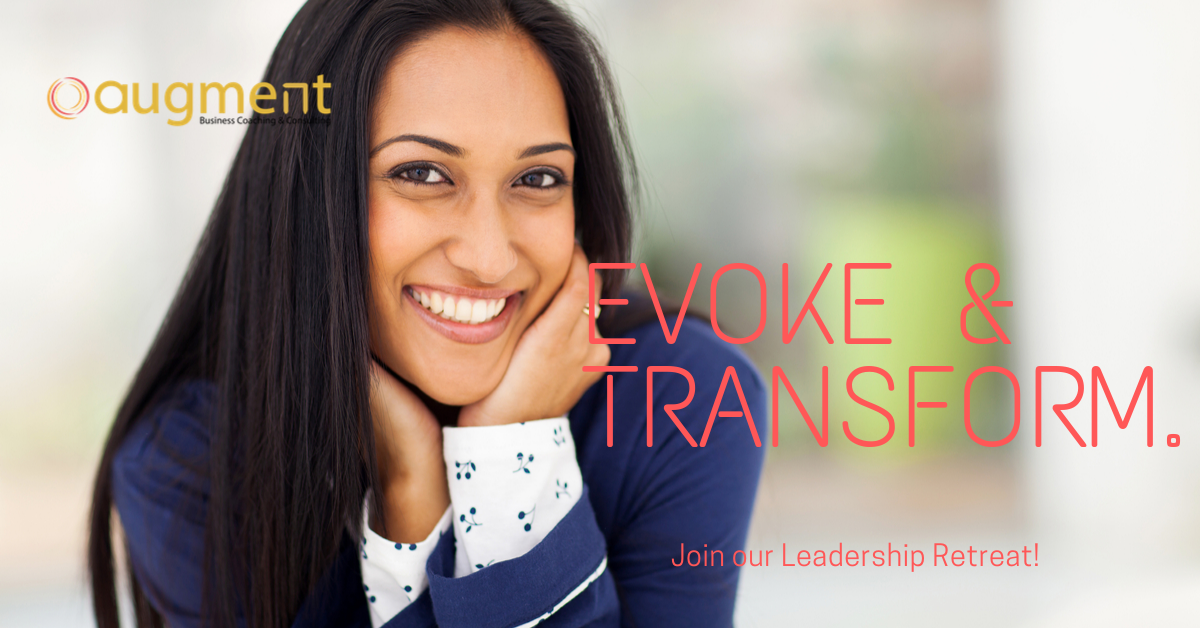 So, let's lay out the day for you.
THE DAY
Registration 9.00am registration with breakfast nibbles provided and an opportunity to meet your peers and enjoy some chit-chat.
First Half of the Day 9.30am Prompt Start
EVOKE
Setting the Intention - In session one, we work towards deepening self-awareness and getting clear on the changes that you need to make in the quarter to allow you to enjoy more of what you want in your work, relationships, and life.
Break – A catered break before our next session, for you to enjoy a healthy snack with freshly squeezed juices, yoghurts, (and some cheeky pastries for a sugar boost – they're fine, I promise!) and to reflect on what you learned in session one.
Guest Facilitator – Each month, we invite a different guest facilitator that delivers training and learning in a personal development area that benefits the busy professional woman such as dressing for success; tap into your feminine power; tackling high pressure situations, etc.
BREAK FOR LUNCH – A one hour, sit-down three-course meal overlooking the Thames, to relax and network.
Second Half of the Day 1pm
TRANSFORM
Planning - In session three, we work on the quarter ahead, understanding what you must achieve, and planning out exactly how you will do that.
This session will combine learning, training, and coaching.
Break – You'll enjoy another catered break in this half of the day, to break up the intensity. Journal in your notebook, reflect on what you've learned, check in with your loved ones, or just munch away on a Danish.
Prioritisation – In session four, we continue with our planning, rigorously prioritising the tasks to complete, and fool-proofing your action list. Again, this session combines learning, training, and coaching and will leave you with a comprehensive three-month plan to follow, till we meet again in the next quarter.
Final Reflection – We wrap up our day, reflecting on the day and acknowledging your journey to who you want to be at the end of it.
NOTE: You're welcome to dip in and out of any of our monthly sessions.
But the best value is delivered when you commit to the annual plan (that is 4 x retreats) and attend one meeting each quarter, allowing you to follow a focused and detailed personal and professional development plan, that you won't get anywhere else for a commitment and investment of just ONE DAY every three months.
Additionally, when you book the annual plan, you have the option of joining a monthly group coaching call for the Evoke and Transform community to answer questions that crop up within the quarter, as well as booking additional 1-2-1 coaching sessions for a small, additional fee.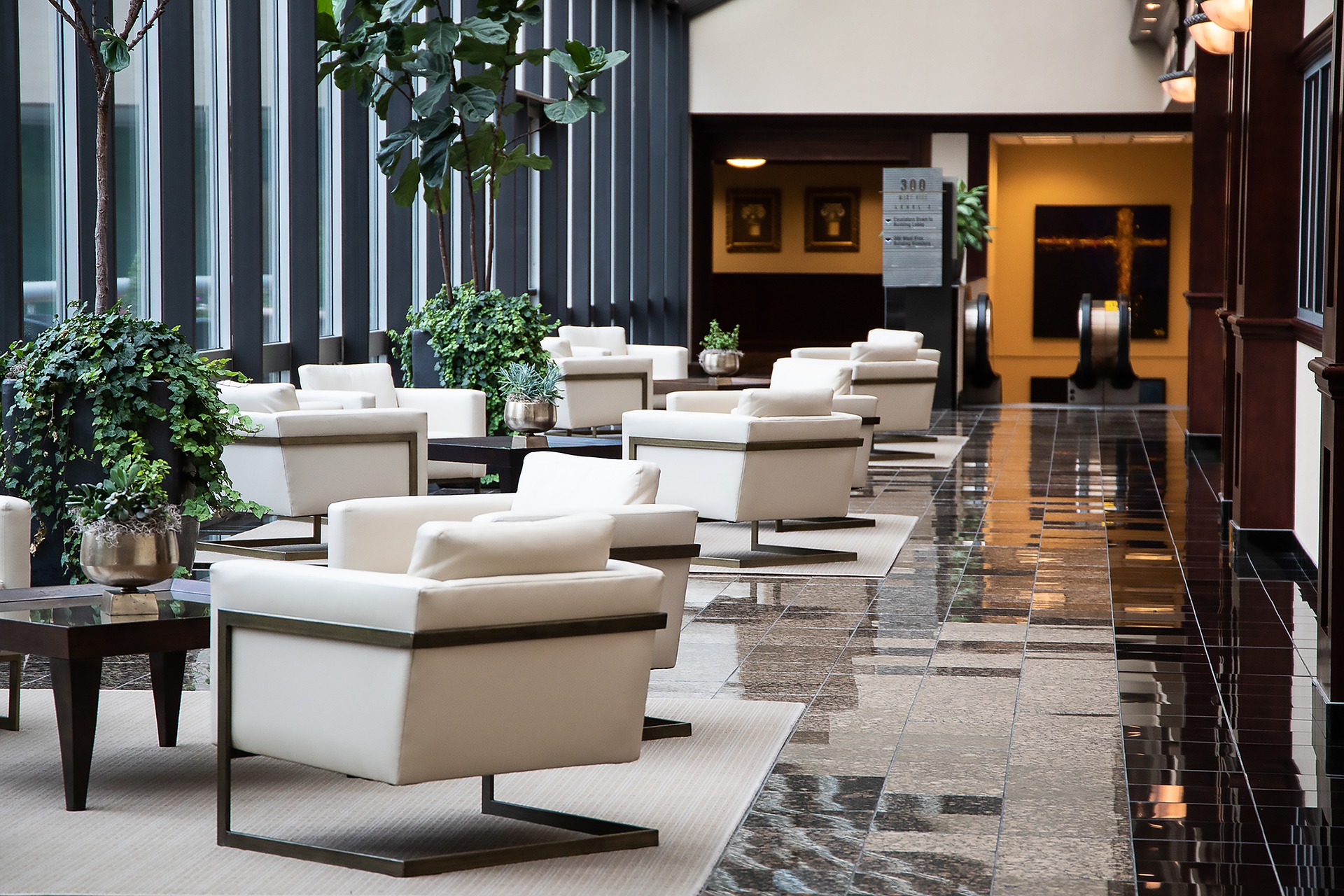 Do you still need convincing?
Here are some of the things our clients have said about our retreats.
What People Say:
"Thank you for a brilliant, thought-provoking session that has impacted my life in a positive way."
"Uzo has an incredible ability to push you to be honest with yourself and take the practical steps to make changes. Her wealth of experience and knowledge allow her to relate to numerous situations, and her wicked sense of humour allows you to relax and feel at ease with her."
"Uzo is so personable, fun and I love the extensive examples and the chance to talk about our business and get some real value straight away. Thanks so much! Oh, and I would 100% recommend to anyone I know that would benefit."
"If you are feeling a bit stuck, you need to speak to this lady – she will sort you out and you will be transformed!"
"I highly recommend Uzo. She is the coach to work with when you feel lost. When you want to put a map in place that will take you on a journey, and that has core milestones that keep you on track. She ignites hope, and the ability to believe, but at the same time she kicks your butt!"
"I learned a lot about myself and the kind of person I am, learning not to say yes to every opportunity that comes my way therefore not wasting valuable time and keeping my focus on my goals. Thank you for a brilliant, thought-provoking session that has impacted my life in a positive way."
"I have come away feeling more emotionally empowered, clear-sighted about the next steps for my business and confident that I can and will succeed. Uzo has been a very positive cheerleader in this leg of my life. I can confidentially say that she will make a lasting and positive difference in the life of any individual and business that she is invited to work alongside."
What do you need to bring with you on the day?
Absolutely nothing but yourself and a good attitude! At Augment Results, one of our pillar values is respect for one another, so if everyone is mindful of this, we'll all have a wonderful time.
How to book onto the day?
Simply follow the link and make payment to secure your space.
We only have 20 spaces at each retreat. We aim to keep our numbers low to allow the time to deep dive into everyone's situation and find the right solutions for you!
In terms of ticket types, there are several options available to you; individual tickets, which you can buy here. Group tickets for great discounts (contact us to arrange these), and Corporate bookings (contact us to learn more about how we will work with you to deliver towards a corporate objective).
Book all your sessions for the year and receive a discount, as well as receive priority on session dates.
Missed Event: If for any reason you are not able to attend a session you've booked and paid for on the day; you will be given priority for the next available date that suits you.
Refund Policy: Receive a full refund when returns are made up to 4 weeks before the session. You will receive a 50% refund when you cancel less than 4 weeks to your session date.
Transfers: You are welcome to transfer your booking to someone else if you are unable to make it. Just inform us of the transfer, and we will ensure your alternate's name is on our guest list.
---
What you will get.
Visualize yourself learning tools and strategies that help you more confidently make choices in your life.
Imagine how your life and work will feel when you are no longer demotivated and experiencing burn out once you feel more in control, centred, empowered, and ultimately trustworthy?
How will your life or workplace be different when you transition from feeling dissatisfied to feeling energised, excited and fulfilled by the possibilities of your desired future?
If you want to position 2020 as your most rewarding, satisfying and fulfilling year yet, book your place on the Evoke & Transform Leadership Retreat.
---
About Your Facilitator and Host
Uzo Ijewere is a Leadership and Management Consultant, Coach, Facilitator, and Speaker.
She is the founder of Augment Results, where she helps organisations and individuals power performance by augmenting their skills and behaviours to build engaged, empowered individuals and teams.
Uzo brings a wealth of experience gained through eleven years in the financial services, oil and gas, and energy industries, and eight years training and coaching in both FTSE 100 companies and SME's. She will help you achieve more success in your personal and professional lives using tried and tested leadership development and behavioural change techniques.
---
About the Guest Facilitators
IN JANUARY:
Eugina Oleinikova
Eugina Oleinikova runs Eugina .O. Liberty and is an Intimacy Coach, specialising in helping her clients improve the relationships in their lives, alleviate loneliness, and increase confidence. Confidence and self-love are at the core of everything she does. When you start to truly love yourself and put yourself first, your world will start to change.
Take this opportunity to work with Eugina who will be taking you through exercises and techniques that help you (re)discover the power of your feminine energy.
WE INVITE A DIFFERENT FACILITATOR TO EACH SESSION TO ASSIST DELEGATES IN LEARNING A VARIETY OF SKILLS IN A FUN AND SAFE SETTING.
Don't wait a minute longer - grab your tickets today.
Connect with Uzo Ijewere/ Augment Results on LinkedIn, Instagram and Facebook.