A series of virtual events featuring leading experts in research on adaption to climate change
About this event
Upcoming:
12 May 2021, 16:30-18:00 CEST: "Ocean species and their capacity to adapt to climate change - stories from corals and caves", Stephen Palumbi, Hopkins Marine Station, Stanford University
The series will be an opportunity to hear the latest from relevant scientists in the field, exchange ideas and discuss potential collaborations and projects.
The seats in the live sessions are limited to 150. All those registered participants who will not make it to the virtual room because of the limited places are invited to follow the seminar on the EVOLTREE YouTube channel. All seminars will be also available on this channel afterwards, together with the recorded discussions.
Past events (recordings available from EVOLTREE Youtube channel)
14 April 2021: "Building genetic resilience in a rapidly changing world" Ary Hoffmann, Melbourne University, Australia
21 April 2021, 16:30-18:00 CEST: "Integrating niche evolution with life history theory can help us better understand the consequences of climate change" Ophélie Ronce, University of Montpellier, France
5 May 2021, 16:30-18:00 CEST: "Locally-adaptive mutations and their relevance for climate change ecology" Moisés Expósito-Alonso, Carnegie Institute for Science & Stanford University, California
Please register for each webinar separately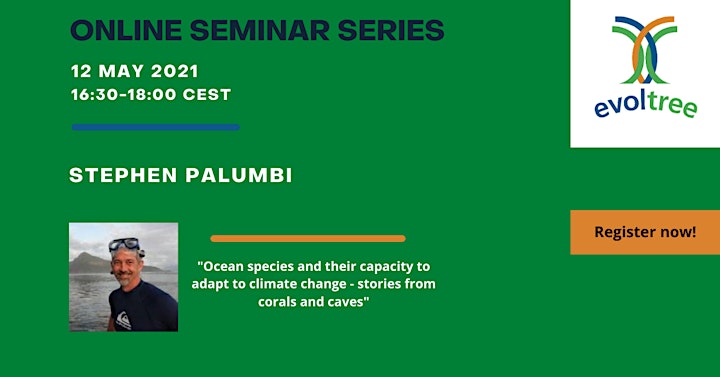 Organiser of EVOLTREE Online Seminar Series on "Adapting to climate change"