Description
Because of the numbers, the event has been relocated to a larger venue at a prestigious private members club, The Institute of Directors at 116, Pall Mall. Nearest tube Charing Cross.
Please book now for an exciting and inspirational evening!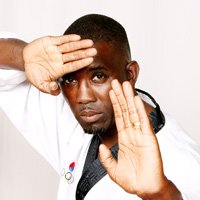 Ewan is a TKD master, a successful businessman, a skilful mentor and a respected community leader. To get to where he is today, along with the challenges and responsibilities of founding, growing and running a successful business, he's faced personal challenges and also confronted racism and prejudice.
Ewan now puts what he's learned into action in his work with clients of all ages, from young people looking for their path in life, businessmen and women who want to achieve in the workplace and many who are looking for the sense of personal direction and purpose which the martial arts can bring.
This book tells the story of his personal journey as a fighter, teacher and leader - then Ewan offers an exciting path into your future.
Nine times British Taekwondo champion, member of the 1987 European Championship winning taekwondo team, three times winner of the Combat Martial Arts Hall of Fame Award, trainer of TV gladiators Cobra and Panther and founder of the Panther Taekwondo Academy…. there's no doubt Ewan Briscoe's a fighter.
He's learned some hard lessons - and applied those lessons to life outside martial arts.
He's taken the focus and discipline of a fighter into the fields of business and education, as a trainer and mentor of young people and a motivational speaker.
He has also dedicated a lot of his time to the advancement of young children in his community, for which he has been awarded the Metropolitan Police Commendation Award.
His services have also been sought after for self-defence courses, security personnel training, and by sports and TV celebrities for personal tuition. Indeed, the Metropolitan Police is looking into using his expertise to redirect young offenders toward a positive lifestyle teaching them to be masters of themselves - not victims of circumstances.
Ewan's purpose is to use the power of Panther TKD to help people of all ages to develop the inner and outer strengths and skills they will need to face the challenges of the modern world and make a success of their lives.