Description
Exa Education presents:

exabytes - teaching and learning with technology conference

A conference to inspire, support and promote the effective use of technology in education.
Taking place at the magnificent Midland Hotel in Bradford on Thursday 23rd June (same date as the EU Referendum) 'exabytes' conference will inspire, support and promote the effective use of technology in education through sharing experiences and successful approaches to teaching and learning with technology. Although some of the conference will focus on the Computing curriculum (5-18) there will also be emphasis on the more general use of technology in education.

Expect to:
Meet inspirational teachers and educators successfully using technology in education
Observe teaching strategies modelled in a variety of interactive workshops

Discover fresh approaches to technologies that support learning from those using them
Gain a range of practical and engaging ideas for use in your classroom

The conference programme includes 2 keynote presentations, 26 hands-on interactive Teaching & Learning workshops, 6 panel discussions as well as a large 'hallway track' to facilitate impromptu meetings, networking and introductions. Exabytes will be much less talky than a conventional conference and more meaty than a TeachMeet - with lots of hands-on, interactive workshops and plentiful opportunities to meet other teachers & educators.

Draft programme: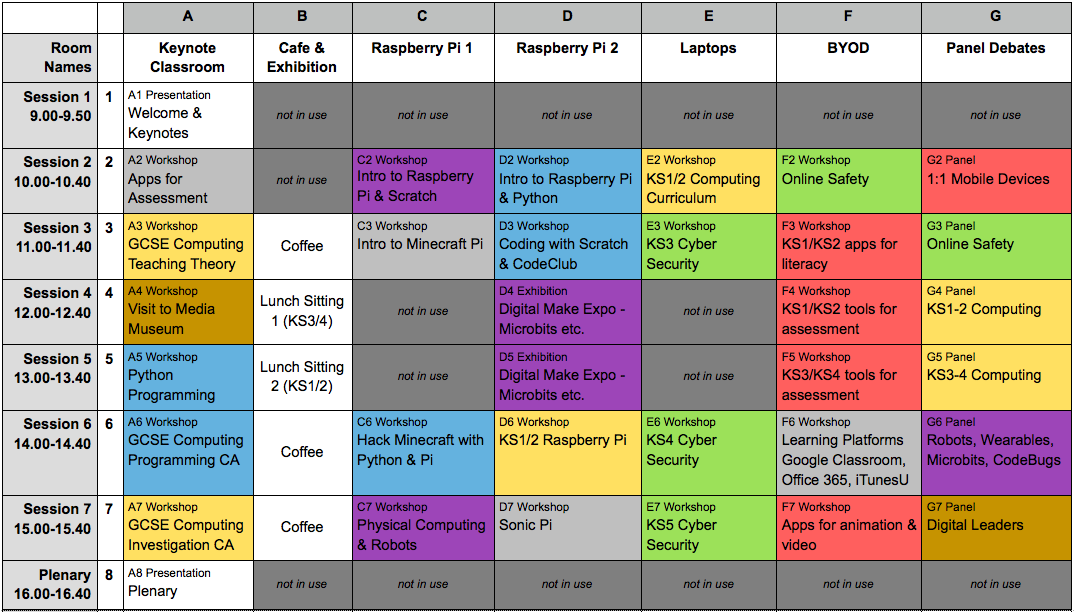 The intended audience is teachers, leaders and educators from around the country. Although many exabytes delegates and presenters will be specialists in teaching and learning with technology or computing teachers, the conference will be equally relevant to non-specialists and those with leadership responsibilities in education.

Keynotes:
David Thomas a Guinness Record Breaker, will share techniques that learners and teachers can use to aid memory recall for those times when Google is not available.

Tim Burnett will explore the challenges of embracing technology in formal examinations and provide a glimpse into the future of Technology Enhanced Assessment.

Workshops will focus on modelling pedagogies, sharing resources and exploring technologies that support teaching and learning, with most of them being hands-on practical activities. Rather than rush from one workshop to another, our programme has time built in to allow delegates to talk to each other between sessions and share what they've seen and heard.

#31WaysInMay: Rarely Cover policy and diminishing staff development budgets can make it difficult for teachers to meet their professional development needs within directed time. #31WaysInMay (click to view) provides you with 31 reasons you can use to justify attending #exabytes16.

Presenters: (pictured left to right)

Christine Harvey, Alan O'Donohoe, Jason Stanton, Les Pounder, Dave Ames, Katherine Childs



Sway Grantham, Dave Gibbs, Matt Moore, Chris Chaffey, Jamie Chadwick, Lorraine Underwood,


Dan Aldred, Caron Downes, Paul Scott, Tim Blezeard, Steve Dale, Philip Nottingham
and Jamie Edmondson, Andrew Wilkinson and Theo Keuchel

TeachMeet Bradford Wednesday 22nd June: We are combining the conference with a free Teach Meet Bradford event [details here] taking place on the evening of #exabytes16. If you're going to be in Bradford the evening before the exabytes conference, why not register for some pedagogical pampering?

FAQs
What does the fee include? By asking delegates to pay a small registration fee, it enables Exa Education to cover a portion of the costs of hosting the conference. Registration fees include access to all presentations and workshops, refreshments throughout the day and a buffet lunch.

Is this a sales event? No, this is a teaching & learning event. There will be a handful of exhibitors in the exhibition area if you wish to speak to them, but there will not be any commercial presentations or sales pitches as this is a teaching and learning conference. Some of the workshop leaders may use commercial products, but they will not be sales demonstrations or presentations.

What are my transport/parking options getting to the event? The hotel has a tiny car park, which is free for residents and delegates. The Broadway car park opposite the hotel (Sat Nav code BD1 1JR) costs just £3 all day. Bradford has two railway stations, Forster Square (direct rail services from Ilkley, Skipton & Leeds) is next door to the hotel, while Bradford Interchange (direct services from Leeds, London, York, Blackpool, Huddersfield, Selby, Rochdale) is just 8 minutes walk away (map). Trains from Leeds to Bradford take just 20 minutes.

What should I bring to the event? There will be many hands-on practical workshops at the event with some equipment provided. Delegates are encouraged to bring a fully charged laptop and/or tablet device to enable them to participate more fully.

What accommodation options are there? The Midland Hotel offers 4* B&B accommodation at a discounted conference rate of £55 single/£65 double which includes gym access. Bradford Travelodge has rooms from £34 (at time of writing).


Organiser of exabytes - teaching & learning with technology conference
Since 2015, exa.foundation has been leading a non-profit programme of activities across the UK that inspires & engages digital makers, supports the teaching of Computing in schools and promotes safe, secure and appropriate use of technology. Exa.foundation is part of Exa Networks, Bradford, UK.