Event Information
Location
Midland Hotel
Forster Square
Bradford
BD1 4HU
United Kingdom
Description
Exa Education presents:

#exabytes17
The conference that inspires, supports and promotes best use of technology in education.
Exabytes is a CPD event designed for teachers by teachers. It's not about products or sales, it's about sharing effective pedagogies, experiencing high-quality, hands-on workshops and connecting with teachers from across the UK (while being pampered in a luxurious venue).

We're committed to delivering real value for your money and time, with ticket prices significantly lower than those for other CPD events and a fantastic programme of keynotes, workshops and panels covering every side of technology in the classroom.
The intended audience is all teachers and leaders. We will inspire you with practical ideas, show-case how technology can be used effectively to reduce teacher workload, impact positively on pupil outcomes and engage all learners. Although the programme is broadly designed for teachers that use technology, the conference will be equally relevant to non-specialists, school leaders and Computing co-ordinators.
We invite you to join us for #exabytes17 conference at the magnificent Midland Hotel, Bradford on Friday 7th July, to be inspired and supported in your use of technology in education. You will discover low-cost, practical strategies to teach and learn successfully using technology. All our conference sessions will be led by passionate, experienced teachers, sharing how they have successfully used technology to enhance learning in their schools and absolutely no sales presentations or sponsored sessions. Our programme features some sessions to support the development of Computing with an inspiring keynote presentation from Phil Bagge, Inspector/Advisor working for Hampshire Inspection & Advisory Service and CAS DfE appointed Computing Master Teacher. Phil has developed a highly successful range of curriculum materials, ideas and strategies at Code-It.co.uk to support the teaching of Computing in school, including the very popular Jam Sandwich Algorithm.

By attending #exabytes17, you will:
Meet inspirational teachers and educators successfully using technology in the classroom;

Observe teaching strategies modelled through a variety of interactive, hands-on workshops;

Discover fresh approaches to existing technologies that support learning from teachers already using them;
Acquire a range of practical and engaging ideas for use in your classroom.

Our #exabytes17 programme offers you up to 36 sessions to choose from throughout the day, so you can create a timetable tailored to your interests and professional development needs - this includes a range of hands-on interactive workshops, panel discussions and BYOD sessions, as well as a huge cafe-meeting space (hallway track) to facilitate impromptu meetings, networking and introductions. Click here to view our draft programme.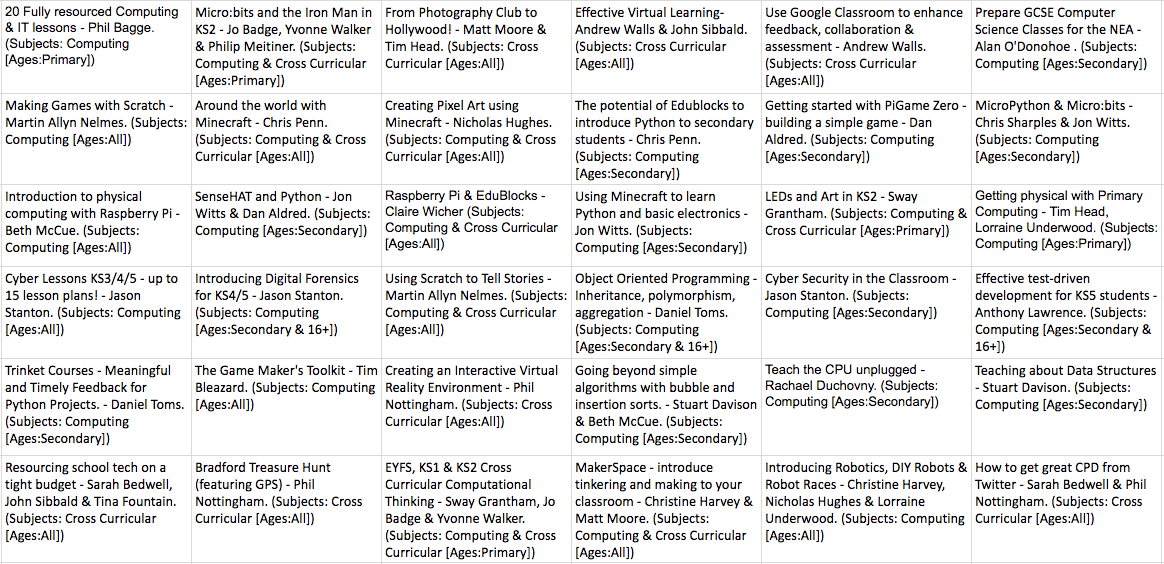 Delegates at #exabytes16 said:
"There were plentiful opportunities to network with other delegates, helping to establish links between schools. The conversations were excellent"
"The programme offered me a great variety of workshop topics, suitable for use across key stages. Workshops were high-quality, not just talking, and were led by well-informed enthusiastic, passionate presenters"
"The tickets represented great value for money. I came away with lots of practical ideas for implementing in the classroom"

"The conference was very friendly and informal, I made lots of new teaching friends. The enthusiasm and passion of all presenters added to the enjoyment"
You can view photos from #exabytes16 last year.
Workshop sessions will focus on modelling pedagogies, sharing resources and exploring technologies that support teaching and learning, with many of them being hands-on practical activities. Rather than rush from one workshop to another, our programme has time built in to allow delegates to talk to each other between sessions and share what they've seen and heard.
If you're planning to be in Bradford the evening before #exabytes17, you can register to attend our free TeachMeet Bradford event taking place on Thursday 6th July 6-8.30pm [details here]

FAQs
What does the fee include? Although #exabytes17 is a non-proft event, by asking delegates to pay a registration fee, it enables Exa Education to recover a portion of the costs associated with hosting the event. Registration fees include access to all presentations and workshops, refreshments throughout the day and a high quality buffet lunch.

Is this a sales event? Absolutely not, there will be a handful of exhibitors in the exhibition area if you wish to speak to them, but there will not be any commercial presentations or sales pitches as this is a teaching and learning conference. Some of the workshop sessions may use commercial products, but there will be no sales demonstrations or presentations from representatives of these products and there are no sponsored sessions.

What are my transport/parking options getting to the event? The hotel has a tiny car park, which is free for residents and delegates. The Broadway car park opposite the hotel (Sat Nav code BD1 1JR) costs just £3 all day. Bradford has two railway stations, Forster Square (direct rail services from Ilkley, Skipton & Leeds) is next door to the hotel, while Bradford Interchange (direct services from Leeds, London, York, Blackpool, Huddersfield, Selby, Rochdale) is just 8 minutes walk away (map). Trains from Leeds to Bradford take just 20 minutes.

What should I bring to the event? There will be many hands-on practical workshops at the event with some equipment provided. Delegates are encouraged to bring a fully charged laptop and/or tablet device to enable them to participate more fully in the BYOD sessions.

What accommodation options are there? The Midland Hotel offers fabulous 4* B&B accommodation at a discounted conference rate of £57 single/£67 double. Bradford Travelodge, 2 mins away has rooms from £32 (at time of writing).


Date and time
Location
Midland Hotel
Forster Square
Bradford
BD1 4HU
United Kingdom