Event Information
Location
Midland Hotel
Forster Square
Bradford
BD1 4HU
United Kingdom
Refund policy
Refunds up to 1 day before event
Description
Don't miss out on #exabytes18 - a fantastic, expert-led event that's all about delivering genuinely effective advice and support for teachers!
On June 29th, we're running #exabytes18, our third annual conference for teachers! Designed as a way for teachers to discover effective new classroom approaches, explore interesting hands-on workshops and develop their confidence in Computing while meeting peers from around the country (in a luxurious, highly accessible venue), #exabytes18 is set to be a genuinely useful and engaging day out for teachers at any level.
Below, you can take a look at the fantastic sessions we've got organised for #exabytes18 this year - with events covering everything from Raspberry Pi and micro:bit to online safety and useful free/ low-cost apps for teachers, there's really something for everyone at the show.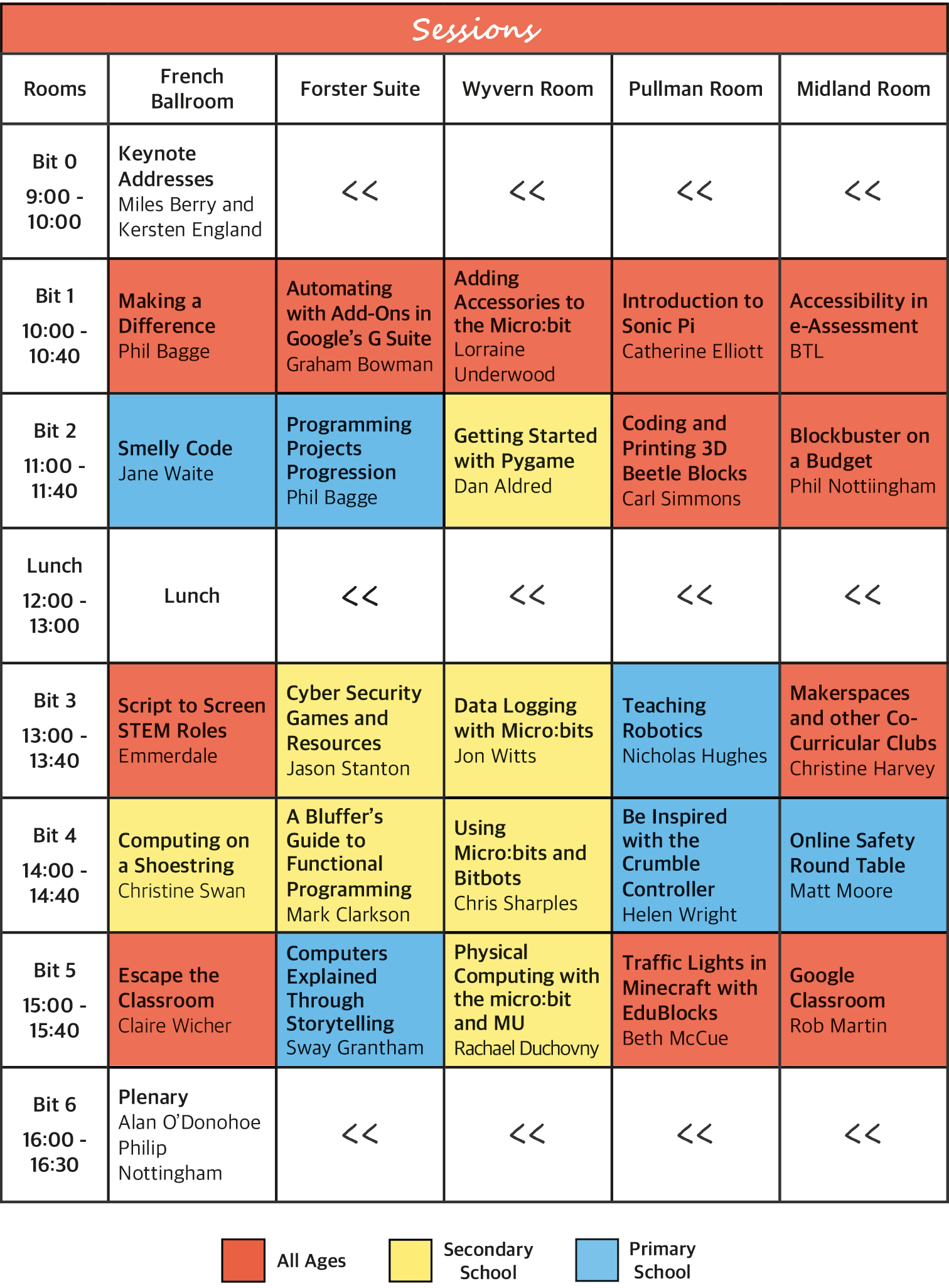 For a more in-depth look at what our fantastic presenters will be exploring, head over to our interactive #exabytes18 schedule - or check out our full programme to find out more about #exabytes!
There's a few key things that make #exabytes18 stand out from other conferences for teachers. Along with a fantastic programme led by experts (with practically all our presenters having long-term classroom experience), there's absolutely no sales pitches at #exabytes18 - every session is all about introducing you to new possibilities, approaches and projects.
We're also committed to delivering unmatched value for money at #exabytes18. With tickets just costing just £49 + VAT (and even less if you're an Exa Customer), the conference is ideal for those working on a budget, while, as a non-profit event, every penny from #exabytes18 goes back into subsidising the show itself.
Just before #exabytes18 (on the 28th of June), we're also hosting a completely free Bradford TeachMeet, including a free bar, pizza oven and some great networking opportunities.
#exabytes18 takes place in Bradford's fantastic Midland Hotel, right next to Bradford Forster Square train station, and just a couple of minutes from low-cost (£3 for the whole day) parking at the Broadway Car Park, while accommodation is available for guests at the Midland Hotel, or just a couple of minutes down the road at Travelodge Bradford.
If you'd like to find out more about #exabytes18, don't hesitate to get in touch! You can reach our team at 0345 145 1234, via email at info@exa.foundation, or through Twitter @exafoundation.
Take a look back at the last couple of #exabytes conferences with our photo albums - #exabytes17 and our first show, #exabytes16!

Date and time
Location
Midland Hotel
Forster Square
Bradford
BD1 4HU
United Kingdom
Refund policy
Refunds up to 1 day before event