Our goal is to teach you what it takes to WIN in business & develop the mindset for success to live out your God-Given Talents & Abilities.
About this event
Camilita here, founder of Exalted London Christian Business Conference. I am delighted to announce this year's virtual conference to support you and your business journey. Our goal is to teach you what it takes to WIN in business and develop the mindset for success in order to live out your God-Given Talents and Abilities.
In this season of great change, this Conference will give you the tools and strategies it takes, through the Word of God, to win in business. Experience praise and worship, online masterclasses, plus Q & A from our speakers and successful business owners. We will discuss relevant and timely topics on how to Overcome Adversities and Have the Mindset for Success as you Stand on The Word of God! Subscribe to our YouTube Channel for weekly support!
"AS A MAN THINKETH IN HIS HEART, SO IS HE"!
Wherever in the world you are joining us from, we want to show you that as Christian Business Owners, you too can be HUGELY successful and live out your God-Given Talents and Abilities as a successful business owner. On this Business Conference, we will be teaching you about……..
1. OVERCOMING ADVERSITIES
Adversities are a part of life and God has shown us in his word how to deal with adversities when they come. As a Christian you are not exempt from hardships or trials, but as Paul said, he learnt how to be contented in whatever state he found himself.
2. MIND & MONEY TRANSFORMATION
Your bank balance is a direct result of your mindset, whether you want to believe it or not! Renewing your mind with what GOD says about you regarding money is crucial to your overall success. We will teach you how to believe BIGGER and FASTER!
3. BELIEVING AGAINST THE ODDS
Belief is action and we can choose positive action that can bring us into financial freedom. As Elijah believed for rain, we have to have that same expectation for EVERYTHING in our lives, including money, health, peace of mind and prosperity.
4. STANDING ON THE PROMISES OF GOD
Abraham believed God! Joseph knew he would be a great leader. David stood his ground but they ALL did not just stand on God's promises, they did what was necessary to get it. The promises of God are yes and amen but we have to go get it!
GO AHEAD AND REGISTER NOW! >>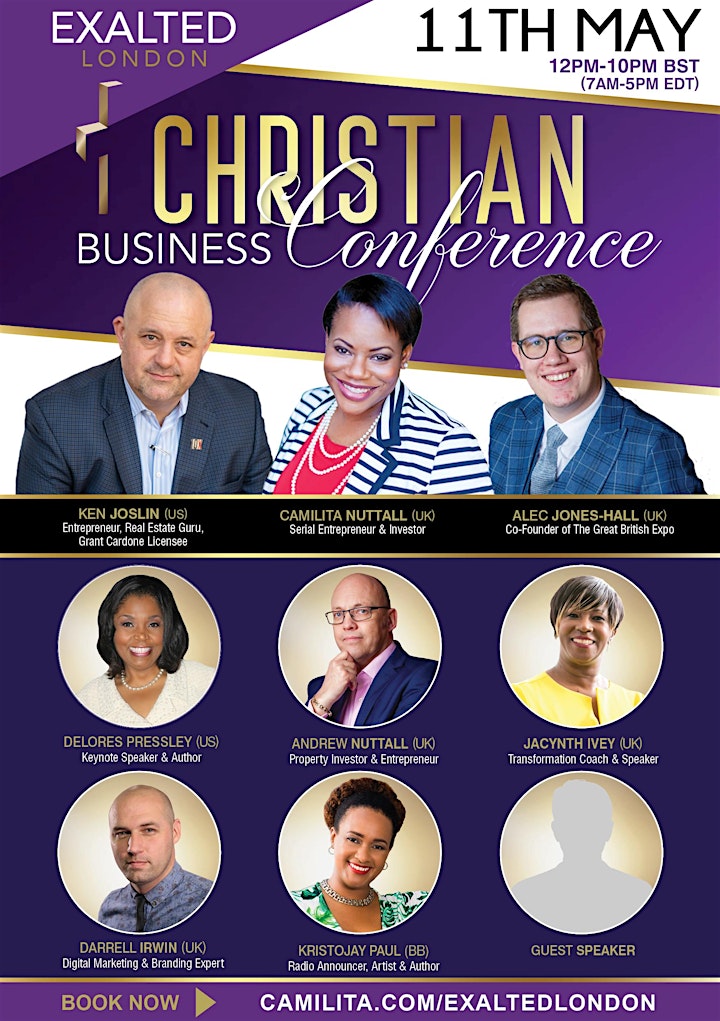 WHAT YOU CAN EXPECT FROM OUR SPEAKERS...
CAMILITA NUTTALL (UK)
'Rock Star' International Speaker, Wealth & Business Coach, Founder of Event of Champions®, Property Investor, Author & Podcast Host
TOPIC: MIND & MONEY TRANSFORMATION
Your bank balance is in direct proportion to your mindset! Money simply magnifies who you are and how you feel about yourself. If you believe you deserve to be financially free, then it's time to conquer the limiting thoughts that are currently holding you back. It's time for you to truly Live Like a Champion!
KEN JOSLIN (US)
Entrepreneur, Real Estate Guru, Grant Cardone Licensee
TOPIC: FINANCING THE KINGDOM
As a former pastor and church planter one of the biggest challenges Ken's team faced was raising funds and funding the vision of their church. In this session, Ken is going to share about the need to develop the gift and heart of giving in order to fund the Kingdom effectively.
ALEC JONES-HALL (UK)
Director & Co-Founder of The Great British Expo & Entrepreneur, Philanthropist
TOPIC: GRAPES & GIANTS
When God sent the Children of Israel out to the land of their promise, they had a choice! They would either see Grapes or Giants. Ten saw Giants and only two saw the Grapes! Yet the two who saw the Grapes entered into God's richest promise, destiny and fullness! As Christian Entrepreneurs God has given you talents, opportunities, open doors, visions and promises! Will you be a person of Vision? Will you ignore the giants and enjoy the grapes? God's best is waiting for you… it's time to embrace and enter into HIS Promise!
DELORES PRESSLEY (UK)
Inspirational Speaker, Life Coach & Author. Appeared on Oprah!
TOPIC: DESIGNED TO SUCCEED
No matter what you believe, you are designed to succeed! It's time to put a stop to the negative and limiting beliefs that are holding you back. Learn how to overcome your weaknesses and step into your true power. It's time for you to take control of your life, your abilities, your talents and your SUCCESS!
PLUS! Our other Speaker topics include....
His Intensity Creates Your Identity
Trusting God For Everything
Daughters Arise!
AND SO MUCH MORE TO COME!


CONFERENCE FAQ'S
What's included? 1 day of LIVE Online Teaching with Q & A.
Who is the event for? This event is open to anyone wanting to live out their God-Given talent and ability. If you are at the point in your life where you are concerned or worried about your future, then this is for you!
What happens after I register? After you register you will get a special link to join.
Can I share the link with anyone? No, as this link is just for one person.
Will I be able to talk with Camilita directly about my business and get recommendations? You can book to speak with Camilita after by contacting Andrew directly on +44 7393 55 34 60 for additional costs, or emailing info@camilita.com.
Can I tell others about this conference? Yes, we do encourage you to share the details with your colleagues.
Will this online training be recorded? We are not sure yet as we want to get feedback and answer your questions LIVE.

"AS A MAN THINKETH IN HIS HEART, SO IS HE"
Are you ready to live your God-Given Purpose?
Register now!
Organiser of EXALTED LONDON Christian Business Conference
The World's #1 'Rock Star' International Speaker, Camilita Nuttall is the Founder & President of Event of Championsâ, she is a 7-Time Award Winning Corporate Sales & Business Growth Expert, Executive Business Coach, Entrepreneur, Author, Property Investor and Radio Show Host at The Camilita® Podcast. She helps businesses of all sizes increase their sales, launch new businesses, products and services and be the expert in their field. 
Mentioned in FORBES and Quoted in Think & Grow Rich for Women, Camilita has appeared on SKY TV, Celebrate Business Magazine, BBC Business News, Canada's B2B News Network, Pursuit Men's Magazine and many others. Dr. J. B. Hill, Napoleon Hill's grandson quoted Camilita in front of 20,000 people as saying, 'There is no better time than the present to take action to Succeed'.
Camilita is the author of two EBooks – How to Fast Track Your Success & Camilita's Quotes, Inspirational Messages and Success Secrets to Live Like a Champion.
As Radio Show Host of The Camilita® Podcast – Live Like a Champion, Camilita interviews experts who inspires her audience to stay on target as they navigate through life's ever-changing landscape, whether they listen, sponsor, get featured or co-host The Camilita® Podcast. 
Camilita is Wealth and Business Coach to 6 & 7 figure business owners. She partners with clients in a thought-provoking and creative process that inspires them to maximise their personal and professional potential, set BIG goals with a clear plan to achieving them, realise WHO they are, earn more money and work less by automating their businesses processes.
As a Sales Trainer and Strategic Business Growth Expert, Camilita works with business owners to increase their PR & profit, launch globally and create workable systems through strategic planning, determining targets and developing innovative strategies related to the end goal.
She was a top sales expert for not only 1, but 7 consecutive years in Europe where she engineered a major sales force of thousands in 30+ countries, amassing an excess of $20 Million in sales. Camilita has lived in Spain, Germany, Trinidad, Netherlands and the UK and has travelled to over 50 countries.
At Event of Championsâ, Camilita also brings together the best in the industry to deliver valuable and quality content that promotes success, so those who attend leave armed with the tools to immediately increase their wealth, gain prestigious recognition and grow their newfound network of the best entrepreneurial minds in the world in the UK, Europe, Canada, Trinidad, USA and Australasia.
As a dynamic Keynote Speaker, Camilita's speaking topics include: The 7 Qualities of Master Achievers, How to Fast Track Your Success, If It's Not Making Money It's Not Making Sense, How Create Multiple Streams of Residual Income, Customer Plan v Business Plan, 7 Steps to 7 Figure Sales®, How to Outperform Your Competition in Sales and Getting to Level 5!
In the face of extreme adversity Camilita rose against all odds to become a dynamic powerhouse of success and inspiration. Her story alone is motivating, but it is her straight-forward advice and ability to repeatedly gather the top minds in the industry to impart real-world knowledge that is uplifting. Along with her husband Andrew, Camilita through Nuttall Foundation gives back to some of the world's underprivileged children by partnering with like-minded individuals.
Camilita is relatable. Her larger-than-life personality is genuine, as is her desire to help others reach their full potential. By giving everything to fulfilling the dreams of others, Camilita is a brand, entrepreneurs across the globe trust to take their business to the next level.
To book Camilita as your Keynote Speaker, Sales or Business Growth Trainer, hire Camilita as your Wealth and Business Coach or attend one of Camilita's upcoming events, go to www.camilita.com or phone: +44 7393 553 460. Get her FREE Ebook here: https://bit.ly/2HCh3DU