Exceed your potential - peak performance ½ day workshop
Description
Exceed Your Potential - Peak Performance ½ day workshop
Imagine how great it feels to be in the zone, absolutely focused and engrossed, your productivity soaring…Want to learn how to consistently be at your best? Or happy as you are?
It's great when you are in the zone, but sadly too seldom. When you reflect on it, can you be sure what contributed to that moment?
From years of personal experience, reading, learning and finding out what the most effective leaders of our time do I have created the "How to" guide to being in the zone.
If you want to get in the zone quickly and stay there, then learn the techniques, join my half day workshop where you will:-
Learn the techniques to get in the zone and stay in the zone

Discover how to keep focused and not get distracted

Learn fast to implement habits to make being in the zone automatic

Find out how to be the best version of yourself, sharp and capable

Practice the techniques in a learning environment

Find out about more resources to being even more effective

Have a chance to learn from your fellow students

Leave with a workbook, all your learning in one place
There are 3 parts to the process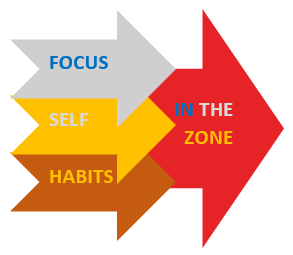 1. Focus - learn what to focus on and how to focus and not get distracted.
2. Self - discover techniques to operate at your best, whenever you choose.
3. Habits - ensure success is inevitable, being in the zone is automatic, second nature
If you are looking for a course that is purely about time management techniques this is NOT the course for you, this is about far more than that. This training is about what it says being In the Zone at Peak Performance.
Who should attend?
Anyone who wants to be more effective, motivated and able to achieve quicker results in exceeding your potential. If you are tired of plodding along and not making enough progress, join this training session. Typical attendees.
In business and feeling overwhelmed with work and not making much progress

A manager or director not able to make traction and progress at work

A small business owner, consumed with work and not feeling fulfilled or able to make progress

Managing the household but wanting to make your side dream come true and requiring support to make it happen

A student struggling to get motivated and organised and concerned they will fall behind and not get their grades