Description

---
A highly rated

Excel workshop

from
Les Gutteridge @ 101 SystemWorks Ltd
Increase your confidence

Develop your skills beyond the basics

Will make a huge impact on you and your business.
Course Highlights
Using formulas with confidence in spreadsheets

Managing your data lists:
Sorting, Filtering, Subtotals, Conditional formatting

What are the benefits of using Tables & Pivot Tables in Excel?
Bring your laptop along, but it's fine without one!
---
"Les is really good, professional & focused – the man to contact for MS Office training."
Robin Bennett, Start Software, Bridgnorth
"You should definitely work with 101. I am sure you will not regret the decision."
Peter Band, West Bromwich Albion Football Club
"Les's course was the best I have ever attended. We all benefitted whatever our skill level."
Maggie Willetts, Bloomer Heaven, Birmingham
---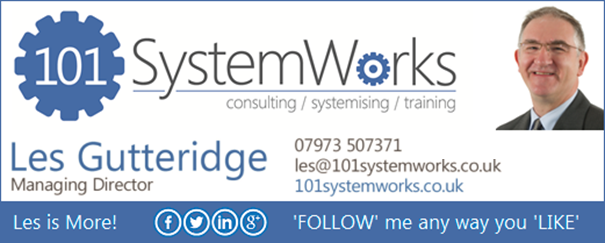 Organiser of Excel for Business