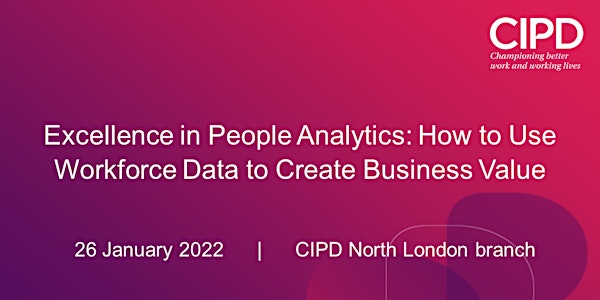 Excellence in People Analytics:How to Use Workforce Data to Create Business
Join CIPD North London branch for out upcoming session and learn how to use workforce data to create business value with Jonathan Ferrar
About this event
Effectively and ethically leveraging people data to deliver real business value is what sets the best HR leaders and teams apart. During this session, Jonathan will outline how to create sustainable business value with people analytics and develop a data-driven culture in HR, whilst navigating the rapidly evolving world of work.
The presentation will featuring case studies from leading companies including Merck, Uber and Nestle, to inspire HR professionals needing to unlock the potential in their people data and gain competitive advantage. Jonathan Ferrar will be sharing his journey and inspiration behind the book, published in July 2021.

Speaker:
Jonathan Ferrar, Chief Executive Officer at Insight222
Jonathan Ferrar, Chief Executive Officer at Insight222, and author of Excellence in People Analytics: How to Use Workforce Data to Create Business Value.
Jonathan is a globally recognised speaker, author and business adviser in HR strategy and people analytics. Jonathan has worked in corporate business for over 25 years for companies like Andersen Consulting (now Accenture) and IBM.
He has extensive executive leadership and board advisory experience for almost 15 years. He is co-author of Excellence in People Analytics (Kogan Page, July 2021) and The Power of People (Pearson, May 2017). He is a Board Member of the CIPD and TrustSphere.
Timings:
18:00 - Start of the session
19:30 - Closing
Please note:
Webinar joining instructions will be sent to you 2 days before the event (with further reminders 2 hours prior to the session and 20mins prior to the session).
The webinar will start at 18:00 and run for about 90 minutes.
We will record the webinar and will share will people afterwards. We will be using the recording to upload it to CIPD channels.
The chat function will be used for participants to engage with the webinar, rather than audio and video, so just be mindful of the login name you use and ensure you are happy for other people to see this.
Professional photography and video production may be taking place at the event, and these images and videos may be used on future promotional materials for CIPD.
By attending the event, you are giving your consent for your image to be used on any CIPD promotional materials.
For security reasons, it is requested that participants join the live session 10 minutes prior to the scheduled start time and with the same name as registered on Eventbrite as not doing so may cause a delay or non-admittance to the event.