Excellent Leadership - The Key To Success

Thursday, June 14, 2012 from 8:30 AM to 1:00 PM (BST)
Event Details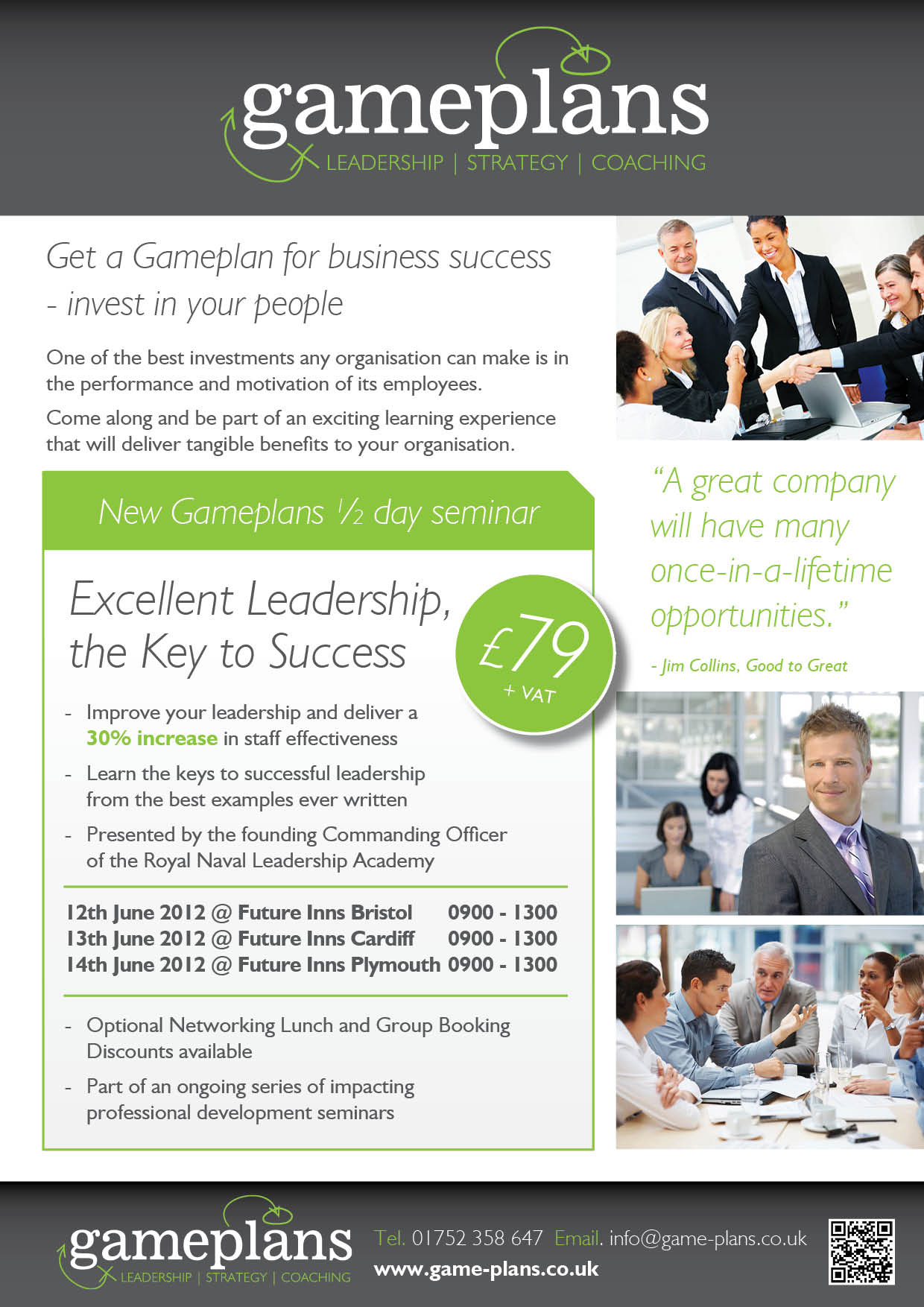 You and your people are invited to participate in a valuable learning experience to develop exceptional Leadership, Strategy and Coaching.
Why invest in your people?
One of the best investments any organisation can make is in the performance and motivation of its employees. Come along and be part of an exciting learning experience that will deliver tangible benefits to your organisation!
Why Gameplans?
Our training days draw on experience gained from the best aspects of the Royal Navy's Leadership, Management and Coaching Programmes
Gameplans' visionary leader was the founding Commanding Officer of the Royal Navy Leadership Academy so has unrivalled experience and expertise that he wants to share with you and your people
Courses are all linked to development in the pursuit of excellence.
All facilitators are experienced trainers, educators and coaches with the skills to ensure successful outcomes
We demonstrate that excellent leadership, an intelligent strategy, and staff development through coaching at all levels will strengthen any organisation
It will ensure that your organisation is better placed to tackle the challenges that lie ahead
Excellent Leadership - The Key To Success
This half day leadership workshop examines the three key attributes for successful leadership; Self Awareness, Professional Competence and Personnel Development by studying the text of one of the most significant works on leadership (and a US Congressional Document), the transcript of a graduation day speech for US Infantry Officers delivered in 1917. Although almost 100 years old, this work is still widely regarded for its concise analysis of the skills and traits required to be an excellent leader and its frank advice for those in leadership positions. This Gameplans workshop uses guided syndicate discussion to highlight the relevance of these lessons for all walks of life and in the modern era.
Likely outcomes for you and your people (or why attend?):
An understanding of how self-awareness, professional competence and personal development contribute to successful leadership
An appreciation of great historical leadership lessons and their relevance to the modern world
Reflection on these key lessons and how to apply them to future growth
Likely outcomes for your organisation (or why send someone?):
More effective leaders within their teams
Leaders with the ability to support others in the organisation to inspire and motivate their own people
Improved staff morale and effectiveness through a visible professional development programme
How the session breaks down;
Introductions and individual needs analysis
"Know Yourself, Know Your Business, Know Your Men" – the power of speech
Syndicate Session: "Know Yourself"
Syndicate Session: "Know your Business"
Refreshment Break
Reflection on morning session
Syndicate Session: "Know your Men"
Syndicate Session: "What Else?"
Integration of learning
When & Where

Future Inn
Plymouth International Business Park
1 William Prance Road
PL6 5US Plymouth
United Kingdom


Thursday, June 14, 2012 from 8:30 AM to 1:00 PM (BST)
Add to my calendar
Organizer
Gameplans was founded in 2011 to support organisations across the public, private and charity sectors to achieve their potential, based on the unswerving belief that great leadership is the solution for all business or organisational issues.
We combine decades of experience of leading teams around the world with world class qualifications and a foundation of timeless leadership principles to produce tailored development solutions that allow our clients to grow, as individuals, teams and as an organisation. Our improvement solutions are built around every organisations most valuable asset: its people. Our team of consultants work with clients to identify the most effective way of supporting development within the organisation and offer a range of services; from expert assessments of leadership and management processes, through one-to-one coaching and mentoring, individual and team development, facilitated workshops, to motivational seminars and team building events. We offer development packages to suit all budgets and all levels from aspiring team leaders to CEO's in our the pursuit of excellence™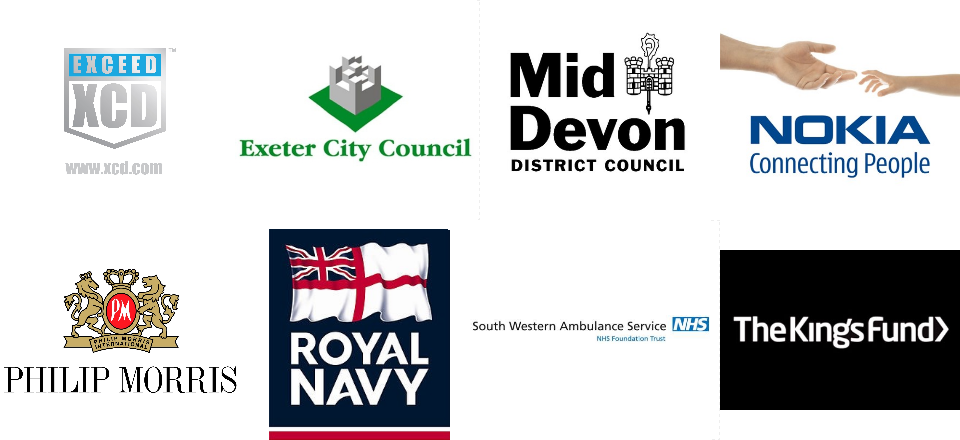 A client base as varied as local government, emergency and medical services, education and the energy sector have all benefitted from:
Leadership and management development programmes that create more effective managers, high performing teams and widespread organisational excellence.

The ability to look ahead and develop strategies for dealing with foreseeable issues.

Coaching and mentoring support to individuals and teams to enhance effectiveness, productivity and morale.

An internal coaching structure and accredited coaching development programme.

Improved staff interaction that help improve retention and reduced absenteeism, delivering lower HR costs and measurable improvements in internal relations.
Selected Gameplans programmes offer full accreditation and certified profiling tools.

We offer development packages to suit all budgets and all levels from aspiring team leaders to CEO's in our support of the pursuit of excellence™ We can also create a fully bespoke package that exactly meets your needs right now.
Visit www.game-plans.co.uk or call us on 0800 633 5575