Join Excellerate Black Futures for an inspirational conversation with Shundrawn Thomas, President of Northern Trust Asset Management
About this event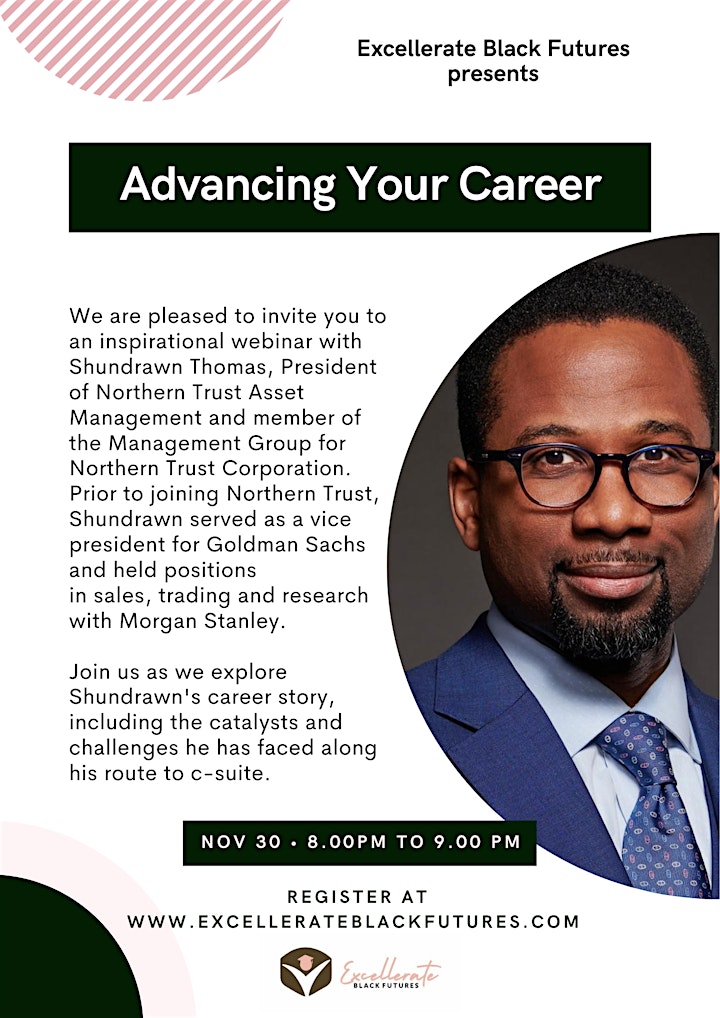 Excellerate Black Futures is pleased to invite you to our Career Spotlight session Shundrawn Thomas, President of Northern Trust Asset Management.
In this session, Shundrawn will share highlights of his career journey into becoming the executive-level President of of Northern Trust Asset Management, as well as lessons he learnt along his journey to c-suite.
This inspirational session is designed to be informative, leaving you feeling inspired to take bold steps in your aspirations. There will be opportunities for Q&A, and joining details will be emailed upon registration.
About Shundrawn Thomas
Shundrawn A. Thomas serves as President of Northern Trust Asset Management where his responsibilities include developing long-term strategy, executing operating plans, cultivating client relationships, managing vendor relationships and developing talented professionals. He also serves as a member of the Management Group for Northern Trust Corporation.
Previously, Shundrawn served as Executive Vice President, Head of Funds and Managed Accounts. In this capacity he oversaw the development, management and distribution of Northern Funds, Northern Institutional Funds, FlexShares Exchange Traded Funds as well as the Managed Accounts practice which provides investment advisory solutions to clients.
Shundrawn also served as President and Chief Executive of Northern Trust Securities, Inc., a wholly owned subsidiary of Northern Trust Corporation. Prior to joining the asset management executive team, Shundrawn served as Head of Corporate Strategy for Northern Trust Corporation. As a direct report to the Chief Executive Officer, he supported executive management with key strategic planning initiatives. Prior to joining Northern Trust, Shundrawn served as a vice president for Goldman Sachs and held positions in sales, trading and research with Morgan Stanley.
Shundrawn received a B.S. degree in accounting from Florida A&M University and an MBA degree from the University of Chicago Booth School of Business. He has also completed executive education programs in corporate strategy at Chicago Booth School of Business and corporate governance at University of Notre Dame Mendoza School of Business.
Shundrawn currently serves as a board director for Reinsurance Group America (RGA). Shundrawn also serves as a trustee for the Financial Accounting Foundation, Rush University Medical Center and the Museum of Science & Industry, Chicago. Shundrawn is a member of the Economic Club of Chicago. His civic involvement has afforded him the opportunity to present and lecture nationally on topics including leadership, strategy, investment management and professional development.
About Excellerate Black Futures
At Excellerate Black Futures, we are passionate about helping black talent to succeed. With several years of joint experience in HR and professional backgrounds including Talent Acquisition, Learning, Leadership and Talent, we educate young professionals, entrepreneurs, students and graduates, helping them to excel and accelerate their careers through our six week talent programme and our monthly events. Click here for more information and to join our online family where you'll be the first to hear about upcoming events and opportunities.