Join Excellerate Black Futures for an inspirational conversation with Hannah Awonuga, Founder of Rarity London and Financial Services VP
About this event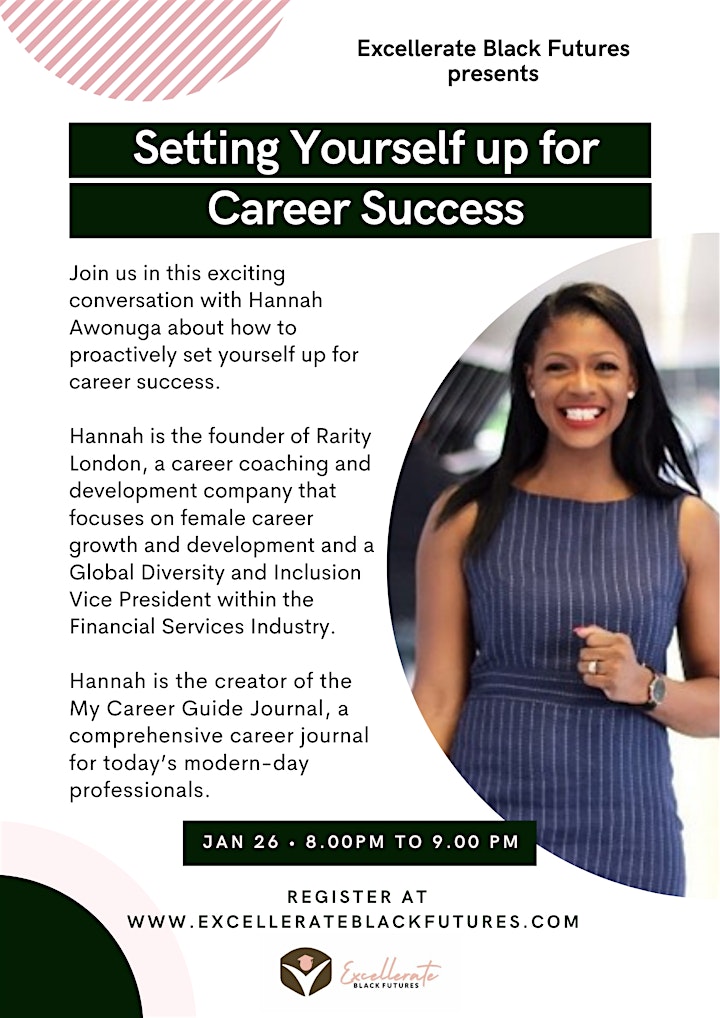 Excellerate Black Futures is pleased to invite you to our inspirational session with Hannah Awonuga, Founder of Rarity London and Global Diversity and Inclusion Vice President within the Financial Services industry. Hannah is also the creator of the My Career Guide Journal.
In this session, Hannah will share her personal experience and tried and tested career strategies to help you excel in your career and evaluate your skills and abilities. She will share practical hints and advice on how to have proactive career and performance conversations, enabling you to meet your career goals.
This inspirational session is designed to be informative, leaving you feeling inspired to take bold steps in your aspirations. There will be opportunities for Q&A, and joining details will be emailed upon registration.
About Hannah Awonuga
Hannah Awonuga is the Founder of Rarity London career development services, a career coaching and development company that focuses on female career growth and development. Hannah is a certified corporate coach that dedicates her time to supporting and developing female professionals to excel in their careers. Over the past three years, she has delivered empowerment workshops, keynote addresses and joined many panel discussions with industry leaders.
Hannah is a Global Diversity and Inclusion Vice President within the Financial Services industry and over the past two years, has supported a number of organisations with engaging and impactful Diversity and Inclusion workshops centred around intersectionality, how to talk about race and understanding Diversity Olympics. Hannah confidently talks on topics including Diversity and Inclusion, Social Mobility, Race and Ethnicity and Gender Equality.
Hannah has been working in Banking since she was 17yrs old and for the past 14yrs has spent time in the Retail bank, Business and Corporate bank before transitioning into HR in 2019. Hannah has recently been appointed as a foundation school governor for a catholic college and has recently joined the National Black Governor's Network board as a trustee.
About Excellerate Black Futures
At Excellerate Black Futures, we are passionate about helping black talent to succeed. With several years of joint experience in HR and professional backgrounds including Talent Acquisition, Learning, Leadership and Talent, we educate young professionals, entrepreneurs, students and graduates, helping them to excel and accelerate their careers through our six week talent programme and our monthly events. Click here for more information and to join our online family where you'll be the first to hear about upcoming events and opportunities.