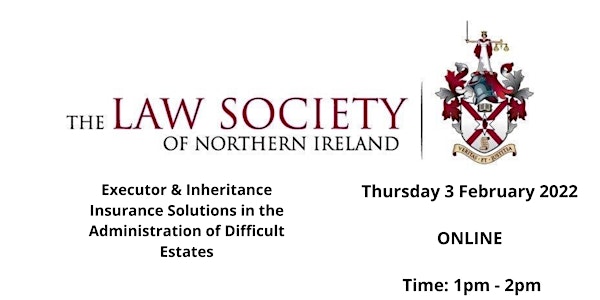 Executor & Inheritance Insurance Solutions in Admin of Difficult Estates
Executor & Inheritance Insurance Solutions in the Administration of Difficult Estates
About this event
Date: 3 February 2022
Time: 13.00 - 14.00
Cost: £35.00 + VAT per person
CPD Hours: 1 Group Study
This session will focus on how insurance can help in the administration of estates where, despite all reasonable efforts, distribution cannot proceed.
Policies protect executors, administrators, beneficiaries and, importantly, their legal advisors and potentially help avoid PI claims. They can be used to avoid the necessity of going to court or to support an application to the court. Covers can be offered for specific issues such as missing beneficiaries, missing wills, and claims from creditors. Along with a wide range of contentious issues such as challenges to a will, charities exerting a claim and misallocation of shares in a will.
The presentation will include several case studies and examples of claims.
Speakers:
The session will be delivered by Mike Wright, Consultant DUAL Asset. Kate Thorp, Manager - Executor and Inheritance Protection will provide technical support.
Mike has spent 34 years in Building Societies and Banking, where he held senior regional and head office roles, followed by 15 years in Legal Indemnities.
Kate is a Senior Underwriter and is recognised in the market as one of the most experienced Underwriters in this field with over 20 years' experience. She heads up the Executor and Inheritance team for DUAL Asset.
All Tickets are non-refundable & non-transferable.
Please note that all events are recorded and may be made available post event.