Event Information
Location
Sandy Park Way
Exeter
EX2 7NN
United Kingdom
Description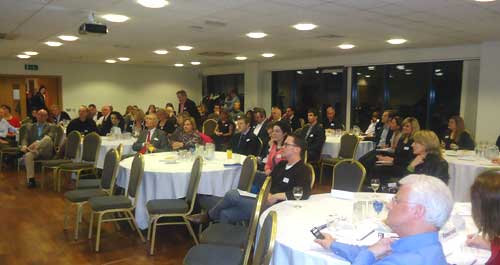 Following on from the hugely successful launch of the Exeter Business Development Academy in February, where 70 businesses attended, we are pleased to announce the second EBDA event which is taking place at Sandy Park on Thursday, 26th April from 18.00 – 20.30.

Who should attend this event?

If you are the owner or in a management position in your company, and you want to learn more about how to run your business more strategically, this event is for you.
Your attendance will also enable you to book a free daytime 1:1 workshop on a variety of topics, for instance, business strategy, human resources, marketing strategy and more.

Exeter Business Development Academy has been established to help businesses work more strategically for effective and sustainable business development, sharing expertise and benefitting from peer to peer learning.

The Academy includes seminars and 1:1 workshops in areas including business strategy, social architecture & strategy, management strategy, HR, finance and more.
Speakers at event include:

Linda Bennett (host)
Des Smith (business strategy)
Trevor Vanstone (human resources)
Ann Holman (social architecture & strategy)

Reason for businesses to attend

Learn how more strategic planning can increase business and profitability which will help you achieve your goals and move your business forward. There will be valuable opportunities before and after the presentations to discuss business development and strategy issues with other high quality, dynamic businesses from Exeter and area.
For more information, phone 01392 248 263.

BOOK TODAY
Places for this Exeter Business Development Academy event are strictly limited to 80 - on a first come first served basis and one person per business.
Bookings for this event must be made online via this system.

Price: £FOC
Event format

18:00 Arrive at Sandy Park
18:00 Soft drink & the opportunity to discuss business strategy & development upon arrival
18:40 Welcome to the EBDA by Linda Bennett
18:45 1st Speaker
19:15 2nd Speaker
19:45 3rd Speaker
20:15 Chance to speak with the speakers and to sign up for FREE workshops
20:15 Open Networking
20:45 EBDA closes

Feedback from the launch event:

Great buzz in the room at the Exeter Business Development Academy at Sandy Park.
Buckerell Lodge
Really enjoyed meeting some great people at the launch last week and the whole table was impressed by the dynamic speakers and their practical advice.
Michelmores Solicitors
The seminar last week I thought was very inspiring! I really enjoyed all the speakers and found all the points they made useful and interesting. The business book library sounds like a great idea.
Exeter Golf and Country Club

N.B. Due to limited space, the EBDA organisers ask that only appropriate business people book for a place at this free event. Please understand that this is not a networking event.

Cancellation policy
*If you are unable to attend this event please do let us know, so we can release the ticket to someone else.
Date and Time
Location
Sandy Park Way
Exeter
EX2 7NN
United Kingdom