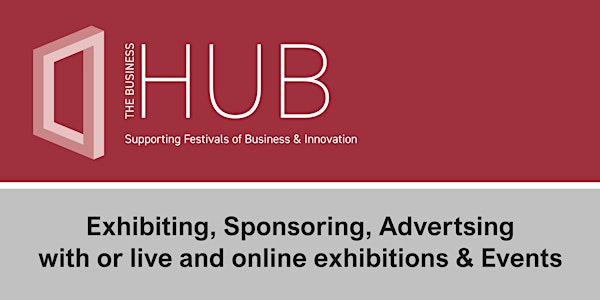 Exhibiting, Advertising Sponsorship at Festivals of Business & Innovation
We welcome enquiries from Businesses who would like to promote their brand an get their messages out with our festival & events
About this event
County Business Shows runs several fast moving and busy live location Festivals of Business & Innovation alongside a rolling online event programme in our digital, online venue housed in our online exhibition.
You can access the online exhibition via each of our festival websites, just visit:
https://www.business-shows.co.uk/business-insights/the-exhibition/
This registration is designed for any visitors, first time, or coming back for repeated interest to select the ticket you're interested in pursuing and letting us know that you'd like to find out more and potentially book. When we get your registration, we'll be back to you as quickly as we can to find out more about how you want to use the event that you've selected to promote your business, to allocate you space and then we can issue a formal quote for you to get involved.
Embedded in your order confirmation will be the link to our pricing and commercial information that will allow you to understand further what is involved.
We're a friendly bunch, we're not high pressure sales people, we want to know if you're interested as that is how we run our business as well. Everything we do from the festivals, through the online event and networking opportunities are about relational business development and doing great business by widening business contacts.
We're looking forward to hearing from you…