"Welcome to Babeworld" is a very pink, very garish exhibition which explores sex work, community building, and dystopian realities.
About this event
EMBASSY is thrilled to present a newly commissioned exhibition, 'Welcome to Babeworld', a collaborative project led by artist Ashleigh Williams. Babeworld3000's practice looks past elitist art jargon and dives head first into a celebration of accessible and representative aesthetics. They create space for the marginalised, reflecting off lived experience and an ethos of collaboration. Red bull, the pinkest pink, and a multitude of memes all cameo flashily in their iconic brand. When the angel chorus sings you know something amazing is about to happen because Babeworld3000 is about to enter the room…
Welcome to Babeworld" is a very pink, very garish installation- which explores the precarity of sex work, the importance of community building, and the dystopian realities that exist for some of us.
In a version of a dystopian future, not so far from our current reality, we visit Pandemonium. Hell on earth, where two sex workers take refuge in a dollhouse at the meeting points of fragmented realities. The dollhouse is a garish 'Babeworld pink', and a reddish glow spills out from the windows that look out onto scorched land and hellscapes. Signs of a past presence leaves half eaten crisps and drinks to stagnate in this apocalyptic place.
Sex workers are a large community yet work in isolated conditions due to criminalisation. Unable to work under the same roof without the threat of facing criminal charges, and existing on the outskirts of society is attempted social control- we create alternative spaces and refuge. The dollhouse seeks to explore the daily mundanities of the life of a sex worker whilst portraying the negative external forces that demonise us. Without sensationalising or glamourising sex work, we manipulate perception and make use of storytelling via science fiction and fantasy to discuss the complexities of the sex worker experience.
Splitting ourselves between realities and roles as we navigate the world as sex workers, means picking up and putting down alternating personas. So through this back and forth, our realities split and merge- creating a piece of our imagined and desired reality with the dollhouse. Babeworld colours, currency, and reflections of our real-life spaces are a reaction to our isolation and desperate need for a safer space.
Babeworld3000 crew:
Ashleigh Williams
Caitlin Whittle
Gabriella Davies
Ellie Harman Taylor
Accessibility: Please email info@embassygallery.org ahead of your visit if you have any questions or requests about accessibility measures. The space is not physically accessible as it has 12 stairs leading to the entrance. The gallery will be lit with red lighting and will have audio playing throughout the space.
Public safety: A notice to all attendees, please observe social distancing within the gallery during your visit and observe all COVID 19 health and safety directions signposted in the gallery. Face masks must be worn at all times unless exempt. There is hand sanitiser in the main entrance to the right and a limited number of spare masks will be available if needed. The space will be regularly cleaned during opening times.
EMBASSY is committed to meeting current Scottish Government health and safety standards throughout the exhibition. We encourage visitors to book a ticket for a given day via Eventbrite. A limited amount of visitors will be permitted in the gallery at a given time and if our capacity exceeds this visitors may be subject to a short wait.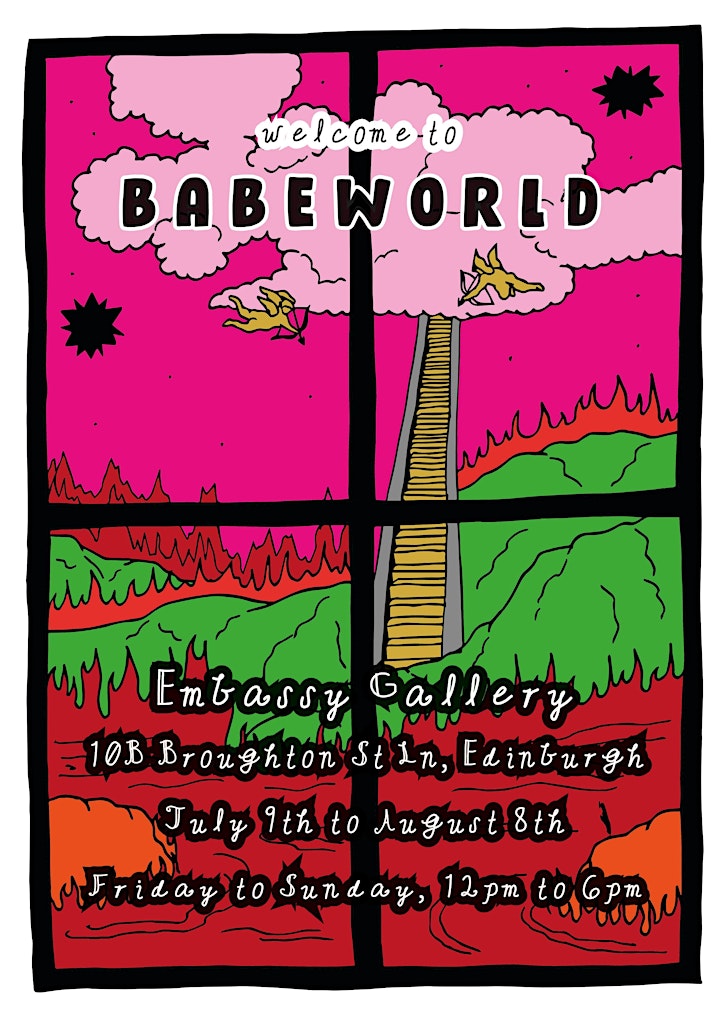 Organiser of Exhibition: Welcome to Babeworld.
EMBASSY is a non-profit artist-led gallery founded in 2004 that holds an annual programme of exhibitions and events.  The organisation is run by a rolling committee of 5 to 7 members who work on a voluntary basis.
The present committee is Rachael Simpson, Abigail Webster, Jen Martin, Polina Chizhova, Louisa Love and Amber Stevenson, with support from Joanna Hooper, on placement through Edinburgh College of Art.