Exhibitor Pass: Business Showcase South West, 5th Oct 2016
Description
This order form is for EXHIBITORS ONLY.

Welcome! The largest free B2B exhibition in the South West of England returns. Thank you for being a part of it.
This event is Sponsored by NatWest & Worldpay , Rybrook Specialist Cars and Soitron.


ALL team members involved in your exhibition stand, including its set up, will need to complete this form in order to access the event. The green button to begin your order is located TOP RIGHT but please be sure to read the information below beforehand.

Important Information
The only entrance is via the South Stand Concourse which is located at the Winterstoke Road side of the venue.
On arrival - set up day/event day or both - a red Exhibitor lanyard will be provided with a namebadge. The information provided here online will be replicated exactly on your name badge including capitlisation.

In addition to the Terms and Conditions in this order form, it is essential that all Exhibitors (and all their team) review the 'Exhibitor Welcome Pack' which is sent at the time of ordering the stand. This includes important 'must read' information: from risk assessments to insurance requirements.
Please Note:
we strongly encourage Exhibitors to set up their stand on the 4th Oct
all stands must be set-up by 9.30am on the 5th. Stands cannot be dismanlted until after 4.30pm
there is only ** ONE ** Exhibitor parking space at the Stadium per exhibitor. Please pre-plan your team travel
so we can update you, please provide your own work email address (and mobile number for a travel update)
Date: Wednesday 5th October 2016
Venue: Ashton Gate Stadium, Ashton Road, Bristol BS3 2EJ
Access Times: from 2.30pm-7.30pm on 4th October and 7.30am-7.30pm on 5th October
How to Get There: please see the 'How to Get There' document on our website here
Further Information:
Please contact the person from your company who booked your exhibition stand in the first instance. They will have the 'Exhibitor Welcome Pack' which contains key information. There may also have been an 'Exhibitor Update' email sent post-booking to the person who booked the stand - and this may contain important updates relevent to you so it's important you ask. Updates will also be on our website in the Exhibitor Area.

Please Plan Your Team Travel using our Guide Below - click on image:
Please contact the person from your company who booked your exhibition stand in the first instance. They will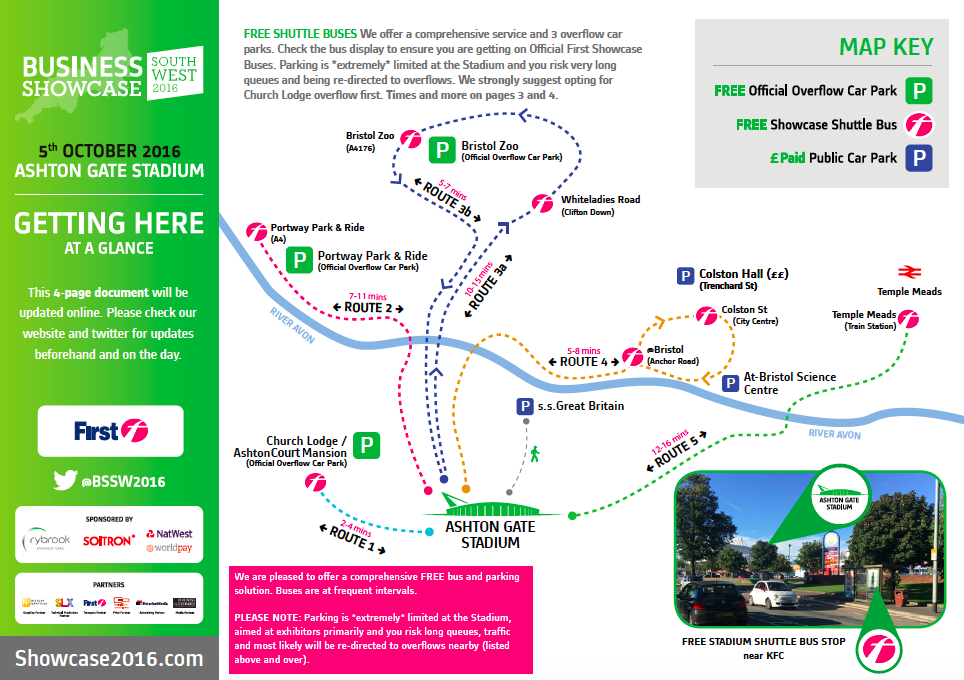 Main Sesssions/Speakers At A Glance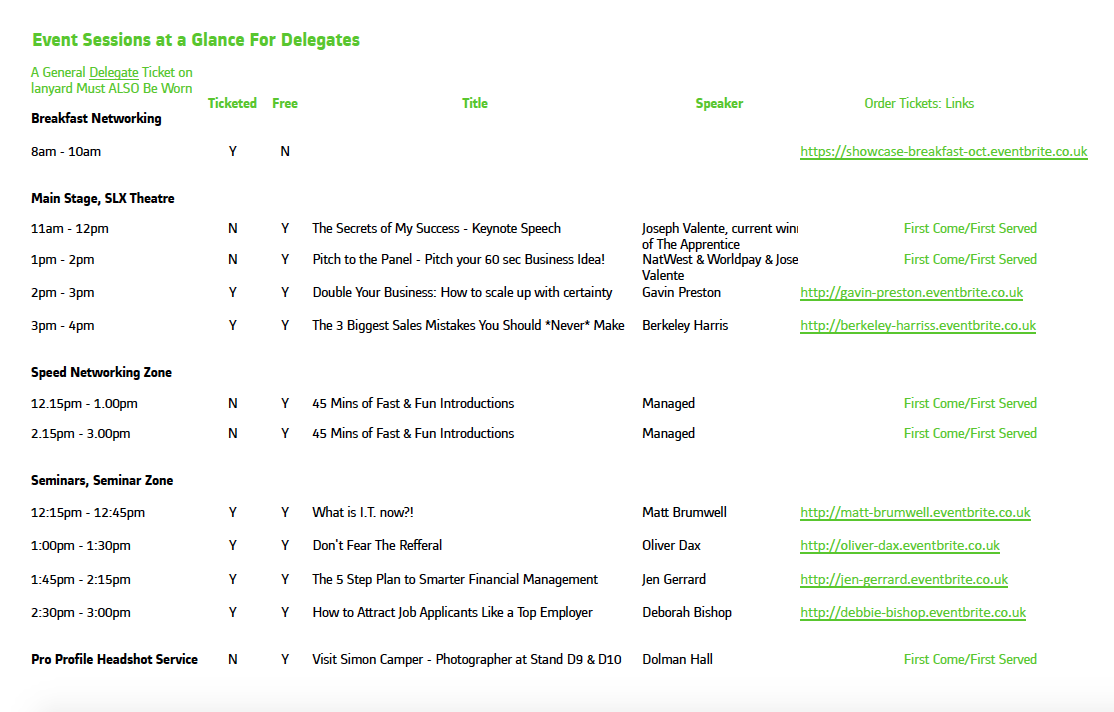 Main Stage Schedule - SLX Theatre, West Stand Concourse



11am - 12pm - Keynote Session From Current Apprentice Winner Joseph Valente

'The Secrets of My Succes'
The hottest and most in demand speaker in the UK is giving a Keynote.
Joseph Valente
-
current winner of The Apprentice
.
"I am delighted to be providing a special Keynote speech at the Business Showcase South West. It's been quite a ride this last year after winning the most recent Apprentice. I will be sharing the secrets of my success, my experiences on the series and doing a Q and A on the main stage in the SLX Theatre on the 5th October at new Ashton Gate Stadium".
1pm - 2pm - 'Pitch The Panel' powered by NatWest & Worldpay
Did you know that it can take only five seconds for someone to form a first impression?

Having a great attention grabbing pitch that gives the right first impression and wins customers is even more important when your business is in its early stages.

At least ten lucky entrepreneurs will have the opportunity to pitch a 60 second idea to the gathered audience and a specialist panel of business experts comprising members of NatWest's Business Banking and Entrepreneur Development teams, Worldpay, and the conference's keynote speaker and current 'The Apprentice' winner Joseph Valente.

All pitchers will receive feedback to help improve their 60 second pitch while the winner will receive an exhibition stand space at a 2017 Business Showcase event plus 5 tickets for Only Connect.


For the chance to deliver your pitch visit us at the main stage in the SLX Theatre, in the
West Stand Concourse from 1pm
.