Description
Welcome! The largest business event in the South West of England returns. Thank you for being a part of it.
This ticket order form is for EXHIBITORS ONLY
Sponsored By:


Important Information
The only entrance is via the Sports Bar (under the large outdoor screen) which is located at the Winterstoke Road side of the venue.
On arrival - a red Exhibitor lanyard will be provided with a namebadge. The information provided here online will be replicated EXACTLY on your name badge including capitalisation.

In addition to the Terms and Conditions in this order form, it is essential that all Exhibitors (and all their team) *review the 'Exhibitor Welcome Pack' which will be / has been sent to your company's primary contact. This includes important 'must read' information: from risk assessments to insurance requirements.
Please Note:
we strongly encourage Exhibitors to set up their stand on the afternoon of the 18th June from 2.15pm to 7pm
all stands must be set-up by 9.15am on the 19th June. Stands cannot be dismantled until after 4.00pm
there is only ** ONE ** Exhibitor parking space at the Stadium per 3m x2m stand size exhibitor if it's been ordered and paid for by event day. Please pre-plan your team travel. Mini Stand holders DO NOT have a parking bays at the stadium (unless we announce otherwise).
so we can update you, please provide your own work email address (and mobile number for a travel update etc.)
Event Date: Wednesday 19th June 2019
Venue: Ashton Gate Stadium, Ashton Road, Bristol BS3 2EJ
Access Times (please check beforehand): from 2.15pm-7.00pm on 18th June and 8.00am-7.00pm on 19th June.
** JUST ADDED - 2 x SYMPOSIUMS above the Sports Bar/Registration Zone
https://sjpa-symposium1.eventbrite.co.uk
and
https://sjpa-symposium2.eventbrite.co.uk


Event Brochure Now Live!
Click here to view all exhibitors, floorplans, info/booking links for sessions and much more.
How to Get There: Travel and Parking
REMEMBER - if you've not ** PRE-BOOKED/PAID ** for parking at the Stadium, you will need to use the Delegate Car Park and Shuttle. Please see the 'How to Get There' guide by clicking here.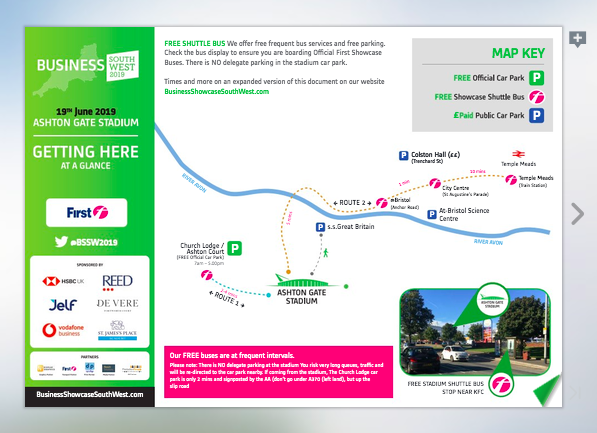 Further Information:
Please contact the person from your company who booked your exhibition stand in the first instance. They will have the 'Exhibitor Welcome Pack' which contains key information. There will also have been an 'Exhibitor Update' email/s sent post-booking to the person who booked the stand - and this will contain important updates relevant to you so it's important you ask.
Please Plan Your Team Travel using our 'How to Get There' Guide Above

There is only 1 parking space per exhibiting company for those with Sponsor/6m/3m x 2m stands only at The Stadium. PARKING BAYS MUST BE PAID FOR PRIOR TO THE EVENT DAY.

Pre-Book Seminar / Workshop Sessions

FREE Tickets for the Seminars and Workshops: visit the day's schedule page on our website.



Main Stage Schedule - Production People Theatre, West Stand Concourse

Please read full event schedule in our website's June Event page.