Description
This order form is for EXHIBITORS ONLY.

Welcome! The largest free B2B exhibition in the South West of England returns. Thank you for being a part of it.
Read the full Event Brochure Online for 17th May by clicking here.
Our Sponsors Are:

This event is Sponsored by Soitron., Blue Poppy Vehicle Leasing, Bristol Waste, West of England Growth Hub, Cabot Circus, and City of Bristol College.

Our Partners Are:

This event is Partnered With: N3 Display Graphics., First West of England, Gemini West, ExterionMedia, Trinity Mirror, and Production People.
ALL team members involved in your exhibition stand, including its set up, will need to complete this form in order to access the event. The green button to begin your order is located TOP RIGHT but please be sure to read the information below beforehand.

Important Information
The only entrance is via the Sports Bar (under the large outdoor screen) which is located at the Winterstoke Road side of the venue.
On arrival - set up day/event day or both - a red Exhibitor lanyard will be provided with a namebadge. The information provided here online will be replicated EXACTLY on your name badge including capitlisation.

In addition to the Terms and Conditions in this order form, it is essential that all Exhibitors (and all their team) *review the 'Exhibitor Welcome Pack' which is here and has been sent to your company's primary contact. This includes important 'must read' information: from risk assessments to insurance requirements.
Please Note:
we strongly encourage Exhibitors to set up their stand on the afternoon of the 16th May from 2.15pm

all stands must be set-up by 9.15am on the 17th May. Stands cannot be dismanlted until after 4.00pm
there is only ** ONE ** Exhibitor parking space at the Stadium per exhibitor. Please pre-plan your team travel
so we can update you, please provide your own work email address (and mobile number for a travel update etc.)
Event Date: Wednesday 17th May 2017
Venue: Ashton Gate Stadium, Ashton Road, Bristol BS3 2EJ
Access Times: from 2.15pm-7.00pm on 16th May and 7.30am-7.00pm on 17th May
How to Get There: please see the 'How to Get There' HERE

Further Information:
Please contact the person from your company who booked your exhibition stand in the first instance. They will have the 'Exhibitor Welcome Pack' which contains key information. There may also have been an 'Exhibitor Update' email sent post-booking to the person who booked the stand - and this may contain important updates relevent to you so it's important you ask. Updates will also be on our website in the Exhibitor Zone - the password for this is 'exhibitor'. Our website is https://www.businessshowcasesouthwest.com

.

Please Plan Your Team Travel using our 'How to Get There' Guide

There is only 1 parking space per exhibiting company at The Stadium. This is here and is also available on our website and sent to you by email and text also. Please travel together or plan alternative parking.

CLICK ON IMAGE BELOW TO SEE 4-PAGE GUIDE.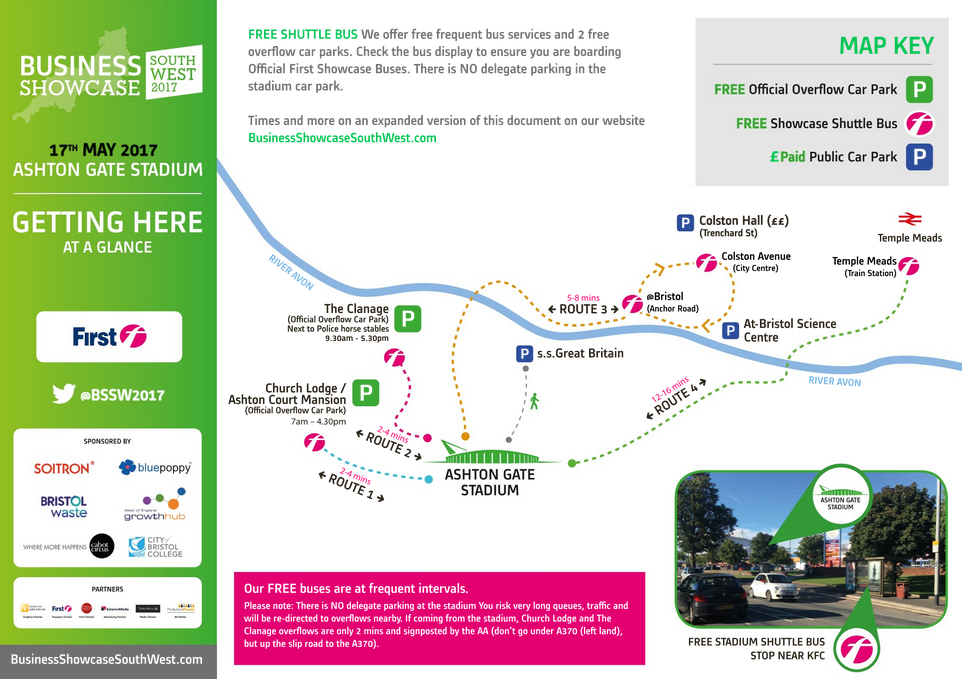 Pre-Book Seminar Sessions

FREE Tickets for the Seminars and Workshops are now live.

Seminar 1 – 10.30 https://berkeley-harris-seminar.eventbrite.co.uk

Seminar 2 - 11.15 https://bruce-bomphrey.eventbrite.co.uk
Seminar 3 – 12pm https://sarah-jane-freni.eventbrite.co.uk
Seminar 4 – 12.45pm https://joshua-fidler.eventbrite.co.uk
Seminar 5 – 1.30pm https://greg-cooper.eventbrite.co.uk
Seminar 6 – 2.15pm https://robert-barbus.eventbrite.co.uk/
Seminar 7 – 3pm https://sunjay-singh.eventbrite.co.uk



Main Stage Schedule - Production People Theatre, West Stand Concourse

Please read full event schedule here.