Exhibitors Invite - Scottish Manual Handling Forum - 2 Day Conference
Exhibitors Invite - 2 Day Scottish Manual Handling Conference
About this event
EXHIBITORS INVITE
The Scottish Manual Handling Conference 2021, will be held on 19th and 20th May 2021 and we are offering a warm invitation to your organisation to exhibit at our popular biennial conference. This event welcomes professionals working in the world of Manual Handling to come together for learning and networking. Physiotherapists, occupational therapists, nurses, back care advisers, health care support workers, further education lecturers and many more. These staff work in healthcare, social care, education and private sector from strategic leads to key workers. We are a small, friendly but growing organisation with each study day welcoming new delegates. We expect there will be around 120-150 delegates based on previous figures and they are always happy to offer feedback about the exhibitors. Below is a snapshot of the consistently positive comments we've received...
Good opportunities to observe & try equipment
Good networking opportunities & possibilities for equipment specific training CPD
Very helpful and approachable
Picked up good info ideas and tips
Made various contacts for future use
Very well presented
Appropriate to my work environment
Great to see some new pieces of equipment
Great to see what's on the market
Very informative and keen to demonstrate
It really is a "must not miss" event to showcase your products!
EXHIBITING SPACE
There is exhibiting space available to book for the 2 days which includes an informal drinks reception, dinner and dance on the Wednesday night. The space is approximately 2m x 3m (unless stated otherwise) and price includes the dinner & ceilidh, 2 exhibitors, refreshments and lunch both days of the conference. Additional exhibiting staff add on rate is £60 for the event.
Access from Tuesday 18th at 6pm to set up.
Hotel rooms are available to book at a reduced rate via the events team 0141 951 6006. This is a popular event so we recommend booking early to ensure you can stay onsite.
Please chose your space during checkout. The booking process automatically allocates a space for you however, you are able to visit the map and select a different space.
Spaces Available (1 being the optimal space)
1-22 are £865
23-30, 33-35 £670
31-32 £495 (small spaces)Spaces 31-32 will not be accessed by/fit a bed.
Should you wish a particular space, please click the 'Buy on Map' option to make your choice. EventBrite will select a space for you if you select 'ticket type'.
REGISTRATION
This registration form is to book your exhibition space only. Representative contact and company details are required at this time, however, we require ALL exhibiting staff to complete a registration form prior to the event. We will forward this form on to your registered email address nearer the time.
SPONSORSHIP
If you are interested in sponsorship opportunities with SMHF at this, and future events, please contact us on smhf2000@gmail.com
CONTACT
For any questions relating to exhibiting at the Scottish Manual Handling Forum 2 day Conference 2021, please contact:
Exhibitors Team on smhf2000@gmail.com
Address: Golden Jubilee Conference Hotel, Beardmore Street, Clydebank, Glasgow G81 4SA
Date: 19th and 20th May 2021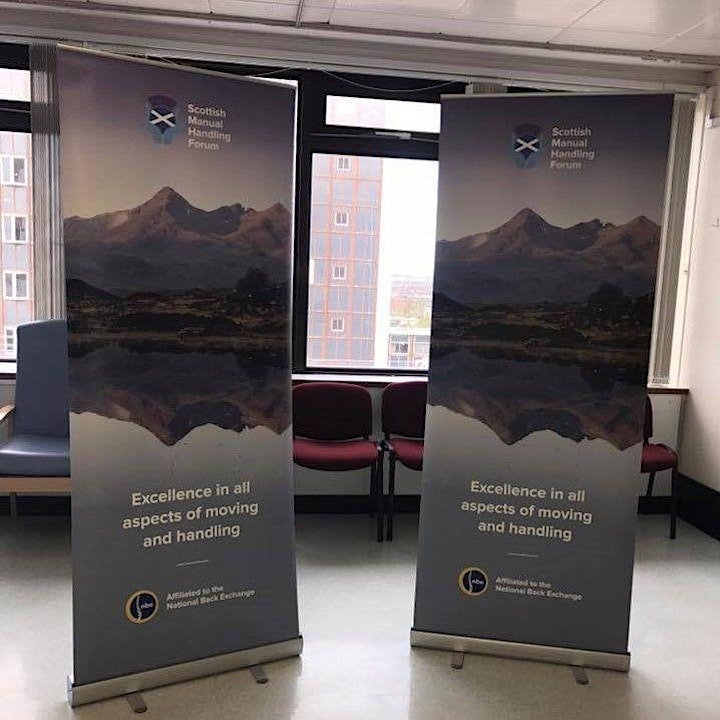 Organiser of Exhibitors Invite - Scottish Manual Handling Forum - 2 Day Conference
The Scottish Manual Handling Forum was formed in November 2000. It meets annually in venues around Scotland. It evolved from a gradual amalgamation of two previous groups; the central Scotland group of the National Back Exchange and the Lanarkshire Moving and Handling Advisor Network. It comprises moving and handling professionals from the NHS, local authorities, education sector and the private sector. In June 2006 the Forum voted unanimously to progress towards becoming an affiliated group of the National Back Exchange.