Refund policy
Contact the organiser to request a refund.
Eventbrite's fee is nonrefundable.
Series of discussions, dialogues and conversations between Prof Ernesto Spinelli and International existential therapists
About this event
"Welcome to this series of discussions, dialogues and conversations between various existential therapists and myself. Existential therapy is a wide ranging arena, with many perspectives and different views that also, fundamentally, share an attitude expressing a way of thinking and being with people. Representatives of the existential approach from different parts of the world have agreed to engage in an open-format discussion with me. Each of them will bring their own particular topic of interest as the focus for the discussion. From these, participants will hopefully see that existential therapy and existential thought in general cover a huge range of topics, view points and perspectives and explores these in a way that it is different, stimulating and enjoyable." Prof Ernesto Spinelli
PROGRAMME 2022
Ten Saturdays from 2pm to 3pm (UK time)
Existential Dialogues between Prof Ernesto Spinelli and the following guests:
Dr MANU BAZZANO "Therapy and the Daimonic" (22 January)
Dr KATERINA ZYMNIS "Diving into the Co-Created World of the Psychotherapeutic Encounter" (19 February)
Dr TODD DUBOSE "The Power of Phenomenological Openness" (19 March)
MICHAEL MONTGOMERY "Reconciling the Past" (23 April)
Dr YAQUI MARTINEZ "Challenges to Existential Therapeutic Practice" (21 May)
BÁRBARA GODOY "Brainstorming the Basis of an Existential Laboratory" (18 June)
Dr BETTY CANNON "In the Spirit of Play; Toward a Psychology of Freedom" (23 July)
Dr GREG MADISON "Is Existence the Same as Experience in Existential Therapy?" (15 October)
Dr XUEFU WANG "Zhimian: an Existential Approach as Viewed from Chinese Culture"
(19 November)
Dr KEN BRADFORD "Radical Authenticity" (17 December)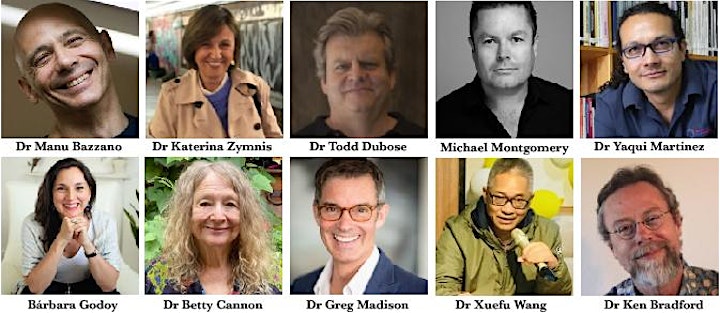 These ten dialogues are the theoretical section of one of the modules of the ICTEPP (INTERNATIONAL CERTIFIED TRAINING in EXISTENTIAL PRACTICE for PROFESSIONALS) FOUNDATION YEAR 2022 with Bárbara Godoy, Prof Ernesto Spinelli and International Guest Speakers
You have the option to do the dialogues independently or the full module: Existential Dialogues followed by Experiential Study Group (3pm to 5pm UK-time) Submit Admission form >
Prof Ernesto Spinelli
"An internationally-recognised leader in existential therapy and coaching psychology, Professor Ernesto Spinelli developed and taught the first psychology undergraduate and PhD programmes to focus on counselling and psychotherapy research. He has contributed to a growing interest in, and professional appreciation of, existential therapeutic techniques.
Professor Spinelli publications and textbooks are standard reading for many psychotherapies and coaching training programmes around the world. His book, Practising Existential Therapy: The Relational World, 2nd edition (2015), was identified as the most influential contemporary text on existential therapeutic practice." BPS
CPD by