Description
An introductory workshop for counsellors, psychotherapists and psychologists.
Existential therapy is a diverse, vibrant, and wonderfully rich tapestry of understandings and methods that has the potential to make a valuable contribution to the work of any counsellor, psychotherapist or psychologist. It is one of the oldest forms of therapy, yet still one of the most innovative and radical.
Existential therapy is orientated around the development of a deep relational bond with the client, which allows the client to explore the most fundamental aspects of their existence. This includes questions like: 'What is the meaning of my life?' 'What choices can I make?' and 'How do I face the limits of my circumstances?' This workshop introduces participants to the basic principles of existential philosophy and therapy, and looks at how practitioners of all orientations can integrate these ideas and practices into their own work.
Content
Existential Philosophy and Psychotherapy

; the key ideas, individuals and core principles that have shaped existential approaches to therapy

Working with freedom and choice; helping clients expand self-awareness, increase potential choices, accept responsibility, and experience authentic existence
Facing the limitations of existence; death, freedom, isolation and meaninglessness - how to work with the four ultimate challenges of human life
Helping clients find meaning and purpose in life; evidence-based approaches for helping clients increase their sense of meaning in life, work and relationships.
The course will combine presentations with practical exercises, and will contribute six hours of Continuing Professional Development.
To get reading recommendations and video content for the workshop emailed to your inbox, please click here.
---
Learning Outcomes
By the end of this workshop, participants will be able to:
Understand the core principles of existential philosophy
Understand the principal aims and forms of existential counselling and psychotherapy
Apply existential understandings of limitations, freedom and choice to their therapeutic practice
Apply existential practices to help clients find meaning and purpose in life
Course Leader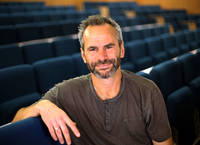 Professor Mick Cooper is an internationally recognised author, trainer, and consultant in the field of humanistic, existential, and pluralistic therapies. He is a Chartered Psychologist, and Professor of Counselling Psychology at the University of Roehampton. Mick has facilitated workshops and lectures around the world, including New Zealand, Lithuania, and Florida. Mick's books include Existential Therapies (Sage, 2017), Working at Relational Depth in Counselling and Psychotherapy (Sage, 2018), and The Handbook of Person-Centred Psychotherapy and Counselling (Palgrave, 2013). His latest work is Integrating Counselling and Psychotherapy: Directionality, Synergy, and Social Change (Sage, 2019). Mick's principal areas of research have been in shared decision-making/personalising therapy, and counselling for young people in schools. In 2014, Mick received the Carmi Harari Mid-Career Award from Division 32 of the American Psychological Association. He is a Fellow of the British Association for Counselling and Psychotherapy and the Academy of Social Sciences.
---
Reviews


Still not sure what to expect? Read more reviews from previous attendees here.
TWU Guarantee

The Weekend University seeks to guarantee an excellent learning experience.
If you are not fully satisfied with the day, you will receive 100% of your money back, and we will cover the cost of your travel to and from the venue.
Who is this for?
You might be:
A mental health practitioner; psychotherapist, counsellor or coach, attending for continuing professional development

A psychology student seeking to broaden your knowledge in different areas of the subject

A member of the general public seeking to expand your knowledge in psychology.
Timetable
09:30 - 10:00: Registration
10:00 - 12:00: Session 1: Introduction to existential philosophy and therapy
12:00 - 13:00: Lunch Break
13:00 - 15:00: Session 2: Working with freedom and choice
15:00 - 15:15: Afternoon Break
15:15 - 16:00: Session 3: Facing the limitations of existence
16:00 - 17:00: Session 4: Helping clients find meaning and purpose in life


What's included?
CPD Certificate (six hours of continuing professional development)
All course materials