Description
I2th annual booksale in aid of two local charities: Nottingham and Notts Refugee Forum Destitution Fund (helping to ameliorate destitution amongst asylum seekers with no recourse to public funds) & Hayward House (via Nottingham Hospitals Charity, helping people at end of life.)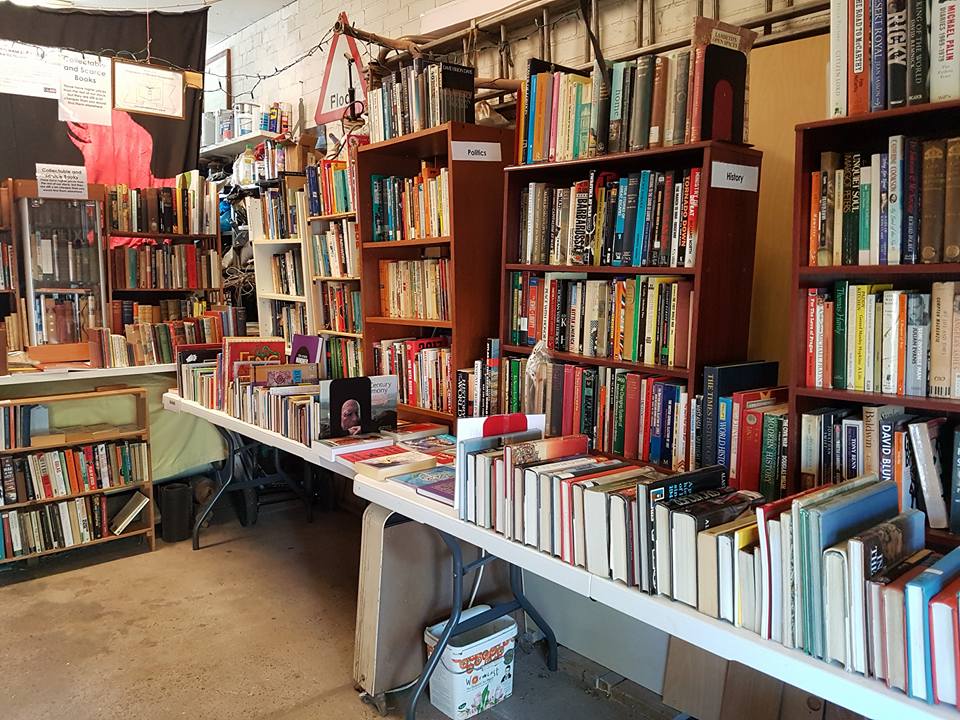 Our rescued books include: new, genre, unusual, modern and classic fiction; every non-fiction subject under the sun; books on leisure interests such as gardening, crafts, cake decoration & cookery; hardbacks and paperbacks; scarce/collectable books at lower prices than online; lots of children's books; and the odd really weird book that you wouldn't believe could, or maybe should, exist. There are also DVDs and handmade bags.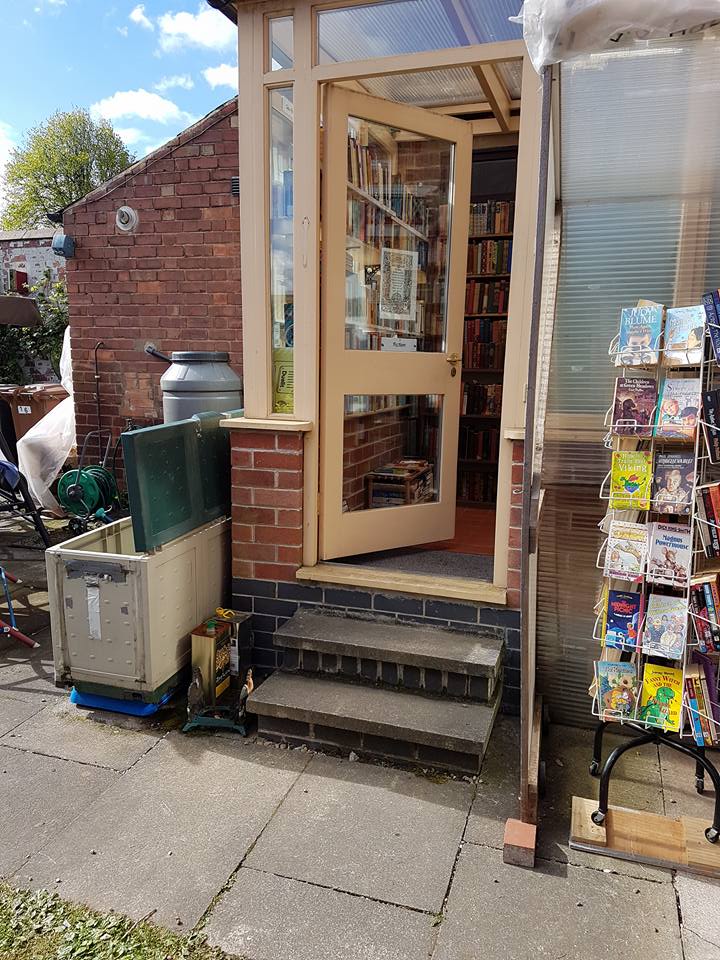 We always have low prices (starting at 10p), to make books accessible to everyone. Even our collectable or scarce books are priced more cheaply than online.
Refreshments, including home-made cakes, will be available in our café, Josiah's.
Children may ride the ExLibris Express (children's train in the back garden). The event is family-friendly.
People who arrive wearing a mask can claim a free raffle ticket.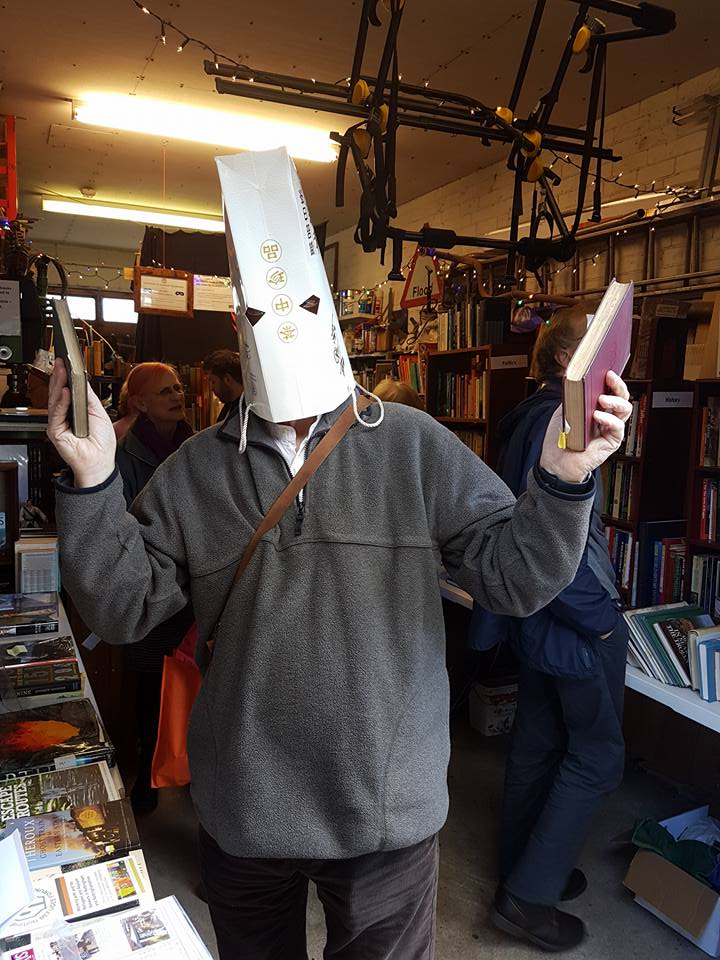 Visitors are invited to bring a tin of vegetarian food, to be donated to Netherfield food bank.
We hope to have a link up with Nottingham Poetry Festival one day, but nothing's confirmed there yet.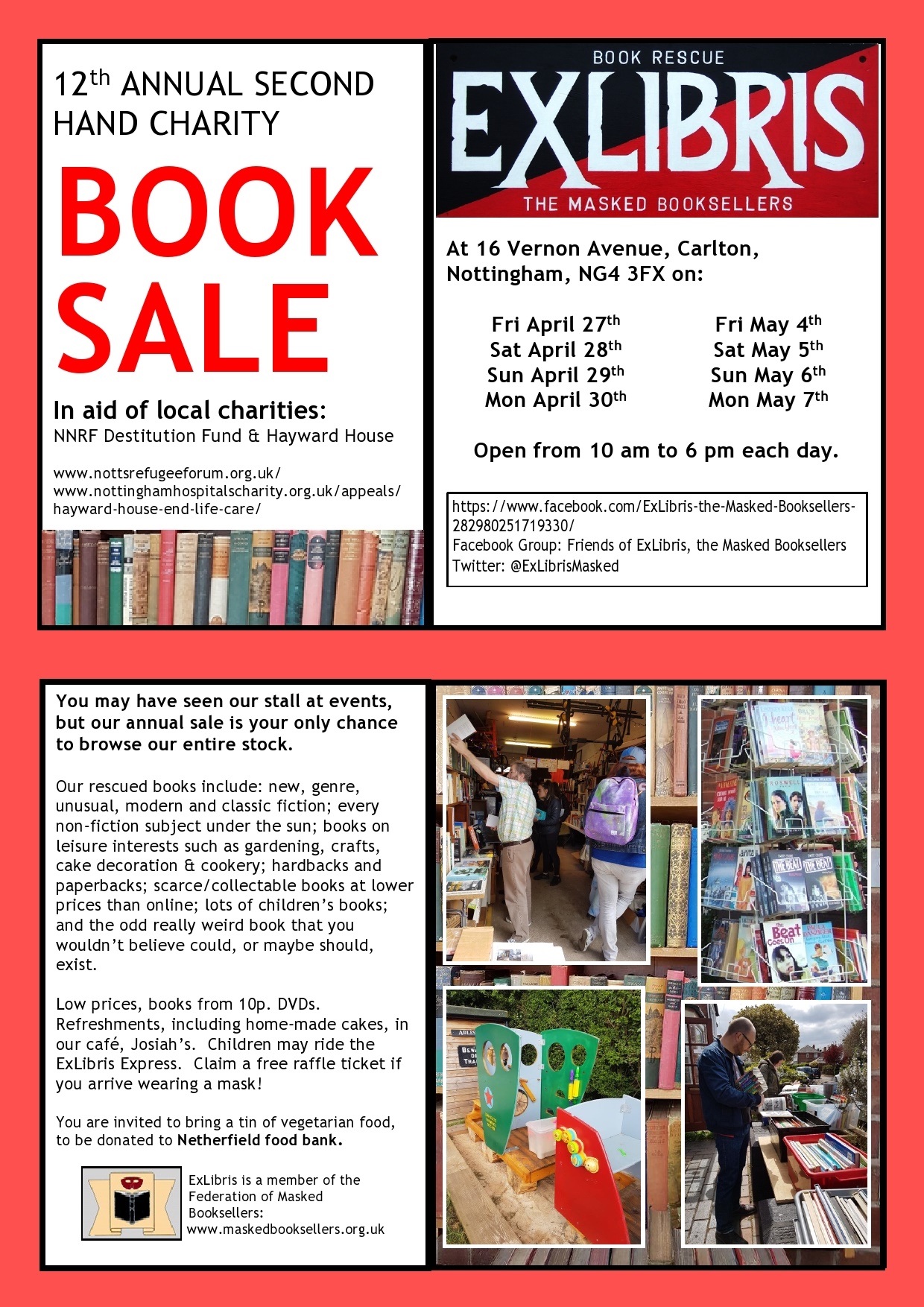 Buses 24, 25, 44 (get off at the Co-op) or 100 (get off Ousebridge Drive). Bicycles can be stored in our back garden. There is plenty of onstreet parking (we hope people will try not to park right outside our direct neighbours for long), or a car park at the top of Ranmoor Road. We take cash only; there is a cashpoint at the Co-op at the top of the road. Nearby we also have a Castle Rock pub (food served), a wool shop, an art/frame shop and several other useful local shops and takeaways. A visit to the ExLibris Booksale could also be happily combined with a stroll in Gedling Country Park.
ExLibris is a member of the Federation of Masked Booksellers: Discarded books rescued and sold for charity.
http://www.maskedbooksellers.org.uk/
Books saved from landfill.
Landfill saved from books.
Funds raised for good causes.
Low prices everyone can afford.
Masks worn.
Excellent recycling and fundraising and brain expanding!
Find us on Facebook:
www.facebook.com/ExLibris-the-Masked-Booksellers-282980251719330
Facebook event page:
https://www.facebook.com/events/552769441755181/
Follow us on Twitter: @ExLibrisMasked
Last year's booksale took £2299, which was given to Nottingham & Notts Refugee Forum Anti-destitution project and School For Parents in Sneinton. In 2017 in total we took £3020. And since we started doing this about 12 years ago, we've taken and given £16,295 to various charities and good causes, mostly local.