About this Event
Take part as an individual, group of friends, family, or corporate team. This fantastic community event will see you running, walking or dancing through our five colour bomb stations. A family-friendly event with a carnival atmosphere... sign up today to make sure you don't miss out.
Conquer the 4km (approx) route on the beach before enjoying the face painting, water 'stocks', live entertainment and yummy food back at Queens Drive Space.
Sign up before 12th April and get 25% early bird discount offer.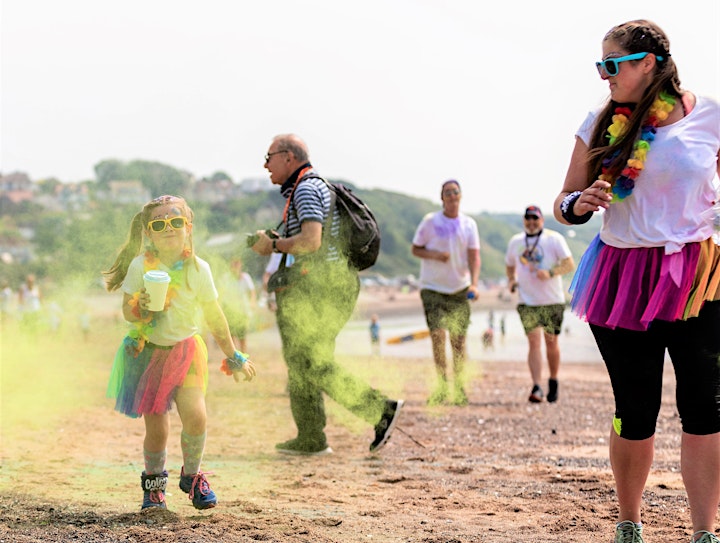 Held in aid of the Deaf Academy all money raised will go directly towards supporting young Deaf lives. Simply pay your registration fee to secure your place and raise whatever you are able.
All runners receive an event 'Buff' and a medal.
Individuals & Families*
Raise money for the Deaf Academy and receive event rewards including Queens Drive Space food outlet discounts, unique Colour Bomb water bottle, and LED gym, bowling and swim sessions - more details to follow.
Plus top fundraiser prizes - Crealy family ticket for most raised by a family ticket team** (Top individual fundraiser prize TBC)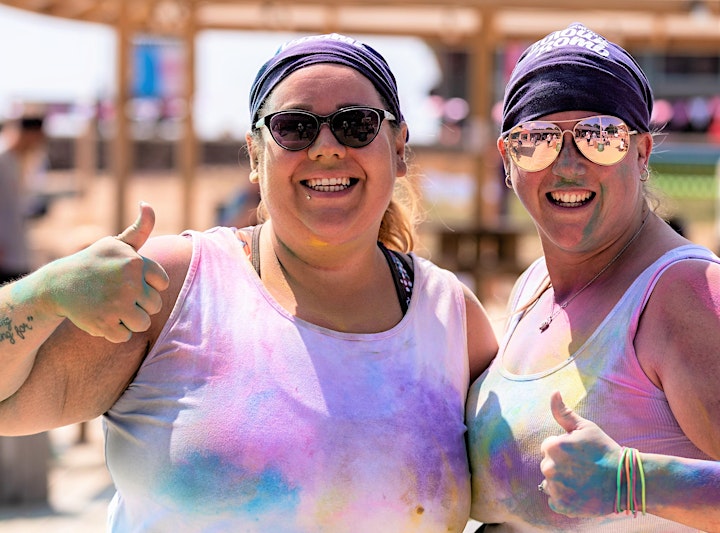 Corporate Teams (4 adults)
This year we're delighted that Exmouth Chamber are partnering the event and together we are encouraging all businesses in Exmouth and the surrounding areas to enter a corporate team. Demonstrate your support of this local event, engage your customers, do some staff team-building and have some fun!
Corporate teams will be made up of four 'Colour Bombers'- so you can enter one team of four from your company and pit yourselves against other businesses, or enter more than one team from your business and go up against each other!
All corporate team runners (teams of four) receive an event 'Buff' and a medal.
Raise money for the Deaf Academy and receive event rewards including Queens Drive Space food outlet discounts, unique Colour Bomb water bottle, and LED gym, bowling and swim sessions - more details to follow.
Plus top corporate fundraiser prize - Afternoon Tea at Lympstone Manor plus the corporate cup!
Raising Money
Pleas be aware that your registration fees cover the cost of the Colour Bomb event. Please raise as much as you can to help support the Deaf Academy and make a difference to young Deaf lives.
Easy ways to fundraise: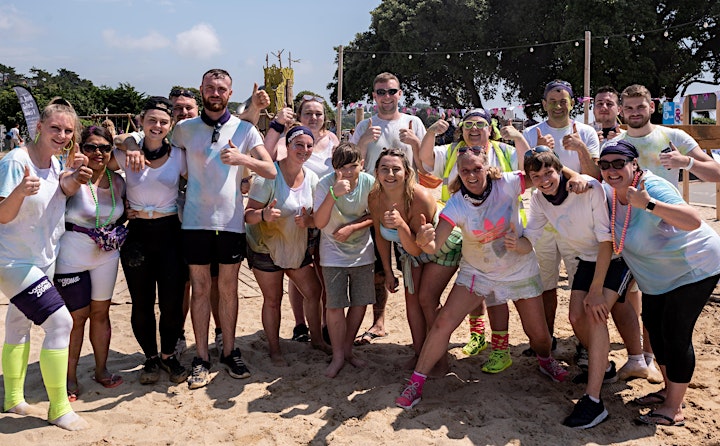 Frequently Asked Questions
How old do you need to be to take part in the Colour Bomb? The Colour Bomb is open to anyone aged 5 years and over. Event participants aged 5 to 15 years must be accompanied by a participating adult. Please note that paint marshals are briefed to throw paint carefully at our younger runners.
Do I need to be a good runner to take part in the Colour Bomb, or can I walk? The route takes place on the beach and is approximately 4km in length. You do not need to run and are welcome to walk. If you have any concerns about your fitness or health regarding taking part in this event please consult your doctor prior to registration. Please note that the beach is not accessible for wheelchair users.
What are my transport/parking options for getting to and from the event? - Exmouth has a rail station and plenty of bus routes to the town. There is also adequate parking in a number of local car parks. Please visit East Devon County Council website for more details about Car Parks.
Do I need to register on the day? - Yes, you will have needed to secure your place via this EventBrite website and will need to register on race day at Ocean, on Queens Drive in Exmouth. Registration will open at 10am.
What should I wear to the event and will it get ruined? - Come along in something white that you don't mind getting messy. Whether that's a white t-shirt, or fancy dress, so long as it's white then you'll be able to see the colour bombing in all it's glory by the end of the event. And of course, colourful fancy dress additions (deely boppers, boas, stockings etc) will just add to the effect! The paint colour pigment should wash out of most fabrics, but some of the darker colours may stain certain fabrics, so please wear clothes that you don't mind getting stained. Well-fitting trainers are recommended but please don't wear your expensive ones, as they may end up very colourful! The paint is water-soluble so you can wash the clothes as normal, but avoid washing it with nice clothes. As with anything dirty, the sooner you wash it, the better.
Should I wear sunglasses to protect my eyes? - We suggest all runners wear sunglasses to prevent paint drifting into your eyes. It is the adult's responsibility to ensure children in their group wear sunglasses during the event. The holi powder is not toxic, but powder in your eyes in general is not pleasant. If holi powder comes in your eyes we advice you to flush with water, which will be available at the Colour Bomb Stations.
Is water available on the route? To help reduce single use plastic we will not be providing water along the route. We ask that you bring a re-useable bottle from home and Ocean and vendors at Queens Drive Space will be happy to refill these.
Is there anywhere to leave a bag whilst I am running? - There will be no area to safely leave belongings at this event so please come with limited personal belongings or leave them with friends/family who are coming to support you. You can take part in the fun run with a small rucksack. The Deaf Academy cannot accept responsibility for any belongings left unattended.
Can I use my phone at the event - you are welcome to use your phone at the event. If you want to take shots in the middle of the paint stations we recommend covering cameras/phones with plastic wrap or bringing a disposable camera.
Can I bring my dog to the event? - Unfortunately dogs are not allowed at the Colour Bomb event as they are not allowed on this area of Exmouth Beach at this time of year.
What is the paint made of and does it harm the environment? The paint is provided by Kingdom of Colours and is certified non-flammable, EU certified and eco-friendly. It is made of 99% cornstarch and 1% food grade dyes. There are no heavy metals in the coloured powder.
What if the weather isn't good? - The event will still take place unless the weather conditions are extreme. In the event of extreme weather notices will be placed on the Deaf Academy facebook page.
I don't wish to run, can I volunteer to help at the event? - We would love your help as a volunteer at the Colour Bomb event. for Health and Safety reasons, our partners LED will be managing the Colour Bomb stations but we still need volunteers to help with marshalling, entertainment and registration. Please email fundraising@thedeafacademy.ac.uk or call 01392 267019.
What is your refund and transfer policy? - Unfortunately we are unable to transfer your place, and registration fees are non-refundable. Should the event date be changed; your registration will be automatically transferred to the new date, or a refund offered on request. In the unlikely event that the Deaf Academy has to cancel the event, all participants will automatically be refunded their registration fees, and any sponsorship money received can be refunded on the request of the sponsor.