Description
This will the change the game for all of us! There is no clear picture of how Britain will trade with other countries after 2018, yet we already see a major push to expand international trade.
With a weaker pound, there are real opportunities to grow. How you respond in the coming months will determine the future for your business. So, we've created an informative and interactive event for Oxfordshire businesses.
Diane James, MEP for South East England, will give her perspective on the challenges and opportunities offered by Brexit.
Rob Lewtas from the Department of International Trade (DIT) will introduce a new source of funding to support international expansion.
Dale Harper, Head of Business Development WMP Creative will share their experience and plans of a servicies business in international trading.
There will also be small group discussions and a panel debate, with experts in relevant fields available to facilitate and contribute.End your evening with canapes, drinks and networking - the chance to make new contacts and discuss further.
---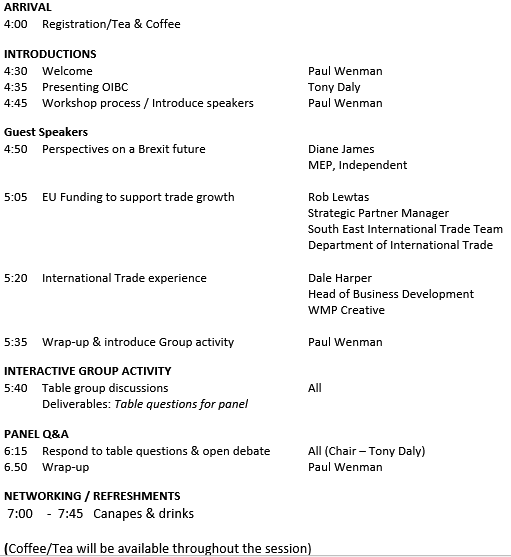 ---
Diane James - MEP for South East England
Diane James MEP has worked in the healthcare sector for more than 30 years. Elected as an MEP in 2014 for the South East of England, elected leader of UKIP September 2016 and resigned from the Party in November, she currently sits as an Independent MEP. She currently sits on the European Parliament's Constitutional Affairs Committee (AFCO) and Petitions Committee (PETI)..
Rob Lewtas – Department for International Trade
Rob specialises in international business development and marketing with experience across both public and private sectors. Rob's role in DIT is to work with UK based FTSE 250 companies and hi-growth SMEs to develop new opportunities and to win business in new markets. Rob's particular specialism is identifying and securing hi-value procurement contracts and accessing large scale investment programmes in complex markets.
Dale Harper - Head of Business Development (WMP Creative)
With a passion for connecting people, organisations and design, he enjoys holding the key role of Head of Business Development at WMP Creative. As lead NBD, Dale has in many ways become the face of WMP representing the organisation both home and abroad. He frequently attends international trade shows and was instrumental in creating the foundations for WMP's Asian explorations.