Description

SAP SE is a global software vendor providing enterprise management software to help companies sell things, buy things, make things, distribute things, account for costs and employee people. (SAP is also involved with many other types of software and services, including business intelligence and analytics, cloud platforms, procurement management platforms and much more). SAP has an expected revenue for 2016 of around 22 billion euros.
This visit to SAP UK & Ireland (London) is free to all students of the Portsmouth Business School and the School of Computing at the University of Portsmouth.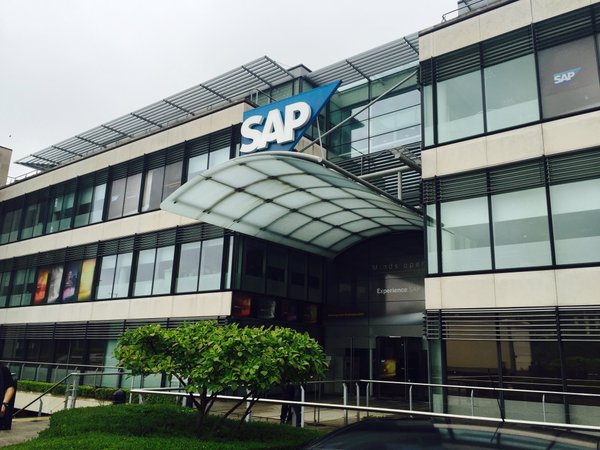 The 'Experience SAP' Centre at the UK headquarters of enterprise software company SAP is near the M25 on the outskirts of London. It's a fully interactive, physical, digital – and frankly mind-blowing – experience that shows how SAP is contributing to a better run world, from business to sport, crime to community.
'Earth Runs SAP' demonstrates how data analytics can help deliver aid faster following natural disasters such as Typhoon Haiyan. With this multi-sensory experience, SAP shows how big data can make a difference to people's lives when it really matters.
'Sport Runs SAP' is an opportunity for you to experience the thrill of driving an F1 car. In Formula 1, the difference between winning and losing can be a millisecond. See if you can beat Jenson Button in the Abu Dhabi circuit (good luck with that!), and learn how McLaren uses real time data analytics to ensure that each lap is faster than the last.
'Future Runs SAP' is for fans of Sherlock and CSI. It's all about how SAP works with law enforcement agencies to help them solve crimes more quickly and to prevent crimes in the future. The demo lets you play detective, throwing you into the heart of a crime scene in 2020, as you use SAP analytics to work through the clues and close in on the culprit.
To learn more about the Experience SAP Centre, please watch:
https://www.youtube.com/watch?v=daBpIYW2738
SAP has spent a six figure sum upgrading the 'Experience SAP' Centre this year.
Visit Overview
After a welcome from the Marketing Director, you will visit the various simulations and effects rooms within the SAP UK 'Experience SAP' area and take part in a 'Design Thinking' workshop. After lunch you will hear from experts in the field of business intelligence, data analytics, and big data, and be able to talk to current interns working for SAP. Interns receive a number of perks, including paid holiday, a computer, and a paid visit abroad, including to the SAP Palo Alto Design Centre in the USA.
Joining the Visit
The coach will leave from outside Burnaby Terrace Cottages (opposite Richmond Building) around 8am, arriving at SAP UK about 9.30am, and leaving to return to Portsmouth about 4pm.
Please register for this event here to gain a place on the coach. The coach will be a Lucketts vehicle. We can take a maximum of 70 people (including the academic staff members going - so book early.
Last year all students attending rated this trip either 'Very Good' (4/5) or 'Excellent' (5/5). (Did we mention that it is free?) Your lecturers will allow you to attend, and will set homework to allow for the loss of in-class teaching time for those of you with Monday lectures, seminars or labs.
Reasons to Attend
For the fun, and its free
To learn new things
To see how a corporate enterprise works
To get a look inside before applying for a placement at SAP
Currently available SAP Placements for the coming year are listed at: