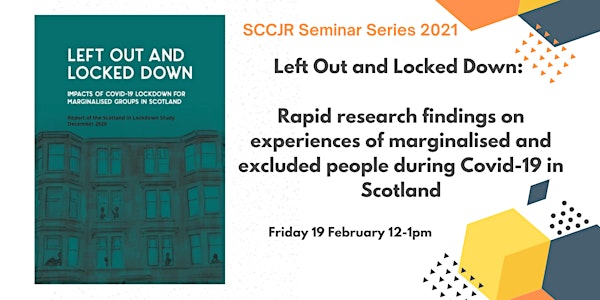 Experiences of marginalised and excluded people during Covid-19 in Scotland
Left Out and Locked Down: Rapid research findings on experiences of marginalised and excluded people during Covid-19 in Scotland
About this event

Speakers: Professor Sarah Armstrong, Professor Michele Burman, Dr Marguerite Schinkel, University of Glasgow.
Chair: Dr Cara Jardine, University of Strathclyde
Abstract:
Between July and December 2020 a large team of researchers at Glasgow University explored the experiences of four groups already facing isolation prior to the pandemic: people seeking asylum and refugees; survivors of domestic abuse and sexual violence; people under criminal justice control; and people living with disability or long-term health conditions.
This talk will overview key findings of the research including the nature of vulnerability faced by many in these groups, with investigators leading on investigation of criminal justice and domestic abuse cohorts speaking to specific findings in these areas. Methodological challenges of researching during a pandemic might also be a topic for discussion.
Full results of the study are reported on the project website: https://scotlandinlockdown.co.uk/findings/
Zoom links will be emailed to you from rachelle.cobain@glasgow.ac.uk so please check your inbox in the days leading up to the seminar. Thanks.
Organiser of Experiences of marginalised and excluded people during Covid-19 in Scotland
The Scottish Centre for Crime and Justice Research is a collaboration between the Universities of Glasgow, Edinburgh, Stirling and Strathclyde that aims to produce excellent research and develop excellent researchers so as to better the development of policy, practice and public debate about crime and justice. Though based in Scotland and determined to analyse and address crime and justice in Scotland, our work is international both in its influences and in its influence. We work for, with and through fellow academics, policymakers, practitioners and others involved with justice all over the world, believing that Scottish criminology and Scottish criminal justice has much to learn from and much to teach others.