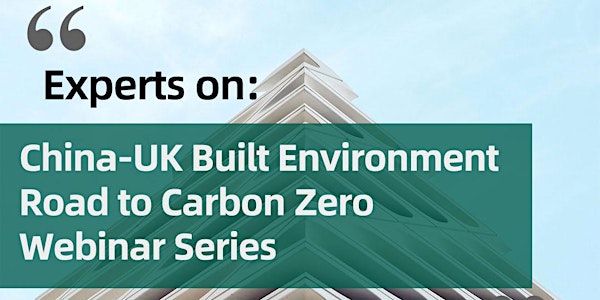 Experts on: Carbon Neutralisation in UK-China Built Environment Industries
Top experts sharing insights on plans for carbon neutralisation in China and UK/EU in the construction and building material industry
About this event
This is the first session of "Experts on: UK-China Built Environment Road to Carbon Zero" Webinar Series. The series aims at exchanging expertise, generating collaborations, and raising awareness amongst all professionals in the construction and building material industry in UK and China.
In this webinar, experts will give insights on the plans to achieve carbon neutralisation in the construction and building material industry. Following the expert presentations, there will be a 30-minute Q&A session. Our guest expert speakers include:
• Claude Lorea: Claude is the Executive Cement Director or Global Cement and Concrete Association (GCCA). She leads all aspects of GCCA work related to cement and works to continuously improve the sustainability performance of the industry through innovation and developing and sharing good practices and global guidelines. She has led the development of the European Cement Industry Low Carbon Economy Roadmap.
• Jingjiang Liu: Jingjiang is the director of the Agricultural Housing Construction and Green Building Materials Division at the Ministry of Housing and Urban-Rural Development in China, and a professor-level senior engineer. He has long been engaged in the promotion of science and technology in the field of urban and rural construction and is currently leading the project "Implementation Roadmap of Carbon Neutrality in China's Building Materials".
• Dr. Junpeng Huang: Junpeng is the founder of iGreen.org. He has lead numerous Chinese and international research projects on green building and has been author and editor of academic papers and books including "Green Building Assessment", "LEED GA/LEED AP Preparation Guide", "Low Carbon Real Estate Investment and Development Guide". WELL AP, LEED AP, AH AP, built environment Simulation expert.
The following sessions include:
Experts on: UK-China Reducing Carbon Emission in Cement and Concrete
Link: https://www.eventbrite.co.uk/e/experts-on-uk-china-reducing-carbon-emission-in-cement-and-concrete-tickets-252036065657
Experts on: UK-China Low Carbon Applications of Wheat Straw Building Materials
Link: https://www.eventbrite.co.uk/e/experts-on-uk-china-low-carbon-applications-of-wheat-straw-build-materials-tickets-252029646457
The "Experts on" series is co-hosted by Arcas & Callisto Consulting, Futurebuild, China Ecological Building Material Association at the China Building Material Federation, and China State Key Laboratory of Green Building Materials.