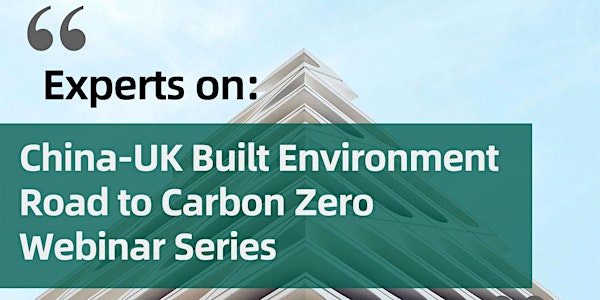 Experts on: UK-China Low Carbon Applications of Wheat Straw Build Materials
Top experts sharing insights on the low carbon applications of wheat straw as a building material in China and UK (Recording)
About this event
[This event has happened. Register to watch it on YouTube.]
This is the third session of "Experts on: UK-China Built Environment Road to Carbon Zero" Webinar Series. The series aims at exchanging expertise, generating collaborations, and raising awareness amongst all professionals in the construction and building material industry in UK and China.
In this webinar, experts will give insights on the low carbon applications of wheat straw as a building material in China and UK. Following the expert presentations, there will be a 30-minute Q&A session. Our guest expert speakers include:
• Dr. Jihao Chen: Jihao is
Dr. Jihao Chen: Jihao is a professor-level senior engineer of China Building Materials Academy. Since 2006, he has been engaged in the research and development of environmental functional materials and building energy-saving materials. He led the national project on "Research and integrated demonstration of key technologies for the preparation of straw-based green building boards".
Dr. Seyed Ghaffar is an Associate Professor of Civil Engineering. He is a Chartered Civil Engineer (CEng, MICE), a Member of the Institute of Concrete Technology (MICT) and a Fellow of Higher Education Academy (FHEA). Dr Ghaffar's research covers a number of construction materials, with a focus on the development of low carbon technologies suitable for new and retrofitting applications by combining materials sciences and innovative technologies.
Luming Wang: Luming is the Vice President of Yancheng Institute of Technology, Head of Jiangsu Province Straw Ecological Building Material Engineering Center and Jiangsu Province Ecological Building Material Innovation Service Platform. He is committed to the research of inorganic low-alkali cementitious materials, comprehensive utilization of straw, ecological building materials of straw, and utilization of solid waste resources.
The other sessions include:
Experts on: Carbon Neutralisation in UK-China Built Environment Industries
Link: https://www.eventbrite.co.uk/e/experts-on-carbon-neutralisation-in-uk-china-built-environment-industries-tickets-252039596217
Experts on: UK-China Reducing Carbon Emission in Cement and Concrete
Link: https://www.eventbrite.co.uk/e/experts-on-uk-china-reducing-carbon-emission-in-cement-and-concrete-tickets-252036065657
The "Experts on" series is co-hosted by Arcas & Callisto Consulting, Futurebuild, China Ecological Building Material Association at the China Building Material Federation, and China State Key Laboratory of Green Building Materials.